AV News to Know Aug 27, 2021: New Products, Cool Projects and People in New Places
In this week's edition: apologizing for talking on mute is a thing of the past, new LED display solutions, PTZ Camera distribution partnerships & more.
Leave a Comment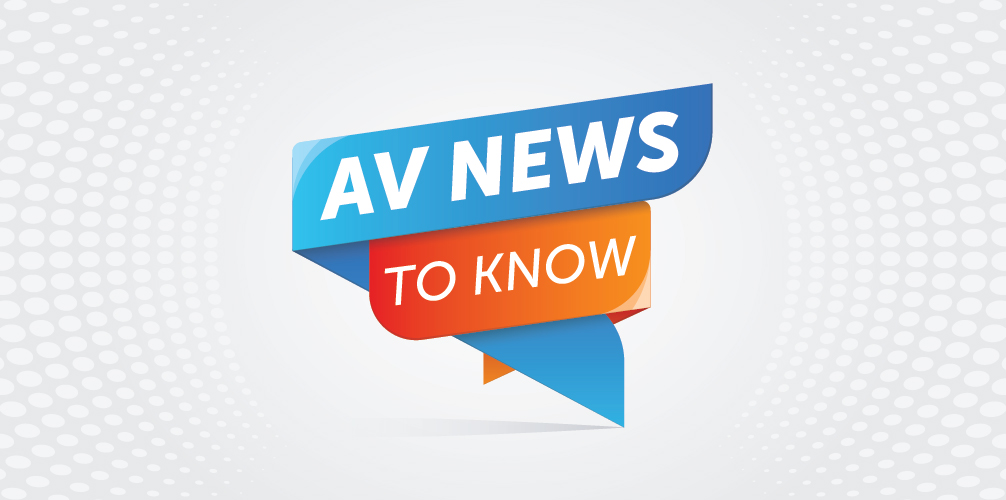 Here's a closer look at some of the AV news, products and projects you might have missed this week. We call it AV News to Know:
New AV Products
NanoLumens Launches All-In-One Captivate Series for Hassle-Free Integration
NanoLumens, Inc., creators of LED visualization solutions, has launched its Captivate Series, an all-in-one LED display solution. Aimed at simplifying installation and easing user control, Captivate is a easy to integrate dvLED solution for Corporate Meeting Rooms, Houses of Worship, Higher Education Facilities, and much more.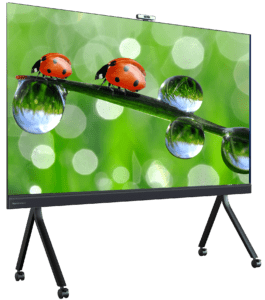 "Captivate is a complete solution that eliminates the need for additional components and eases the design and installation costs typically associated with dvLED displays. This all-in-one display is the perfect choice for any organization that is looking for cost efficient options in one powerful package. Our dvLED solution comes in 120", 150", and 180" sizes, all in native HD resolution. Each display comes standard with HDMI inputs and remote control for out of the box operation. With Captivate, you'll realize faster delivery, a simpler installation, and an easy-to-use meeting room solution. We developed Captivate with the integrator in mind, as it's easy to sell and install, all at an attractive price point for their customers," says Brice McPheeters, Vice President, Product and Planning for NanoLumens, in a statement.
Captivate Series gives users all the benefits of traditional dvLED solutions, while offering the simplicity of a traditional LCD display, delivering sharp images and perfect clarity in a scant 2.0 inches of depth.
The Captivate Series is a complement for any Unified Communications & Collaboration space; the built-in HDMI inputs make integrating common room hub systems fast and easy. Installation in virtually any space is made simple by using the standard wall mount or an optional display stand for mobile applications.
Available in full HD resolution for exceptional visual performance, brightness, and clarity.
NanoLumens has teamed with Synnex Corporation as a distribution partner for the Captivate Series. Captivate Series products will be available to ship in 4th Quarter 2021.
Almo Professional A/V Enters Distribution Partnership with AVer To Provide PTZ Streaming Cameras and Controllers
Pro A/V distributor Almo Professional A/V has entered into a distribution partnership with AVer Information Inc. USA, a business communication and collaboration solutions provider.
Almo is making AVer's complete line of Pro AV auto tracking PTZ streaming cameras and controllers available to its integrator and reseller community. AVer has also joined Almo's E4 AV Experience and will exhibit on the tour this fall
"Demand for PTZ and tracking cameras is at an all-time high in schools and businesses, and at the same time, supply is short across multiple categories within the industry. Our distribution partnership with AVer provides Almo integrators and resellers with access to product inventory, along with the project support to help efficiently complete those installs," said Rob Ziv, Vice President of Business Development and Strategy, in a statement.
"At the integration level, providers seek easy-to-deploy products compatible with various other technologies for consistent results. The AVer auto-tracking and streaming cameras meet these requirements as they do not require a second external camera or lanyard and integrate easily with all current methodologies, from HDMI and USB to SDI and NDI," he says.
AVer Products Available Through Almo:
TR331 30X HD PTZ Live Streaming Camera. Opens a new world of streaming video to small training studios, home video producers, classrooms and worship facilities. Features 30X optical zoom, a 2MP camera and full HD resolution. Its artificial intelligence (AI) technology allows for speaker tracking or pre-set shoot zones.
TR311HN 12X NDI® PTZ Live Streaming Camera. A sleekly-designed and affordable camera that features 12X optical zoom and full HD 1080p60 video resolution, making it ideal for distance learning classrooms, worship facilities or training environments. The AI effectively tracks speakers without a dedicated camera operator.
CL01 Professional PTZ Camera Controller. A robust and intuitive option to manage video capture and broadcast needs. The CL01 is able to manage up to seven cameras for the power of a mini studio on a desktop. Includes compatibility with all AVer Auto Tracking and PTZ cameras and a variety of other brands.
Poly Introduces Voyager 4300 UC Series Headset Designed for Flexible Work
Poly announced the addition of the Voyager 4300 UC Series to its family of Voyager wireless Bluetooth headsets. Designed for the new way of working, the Voyager 4300 UC Series keeps workers connected and productive at home or in the office.
As the dynamics of work have shifted, the Voyager 4300 UC Series offers a wireless headset that frees users from their desk, allowing them to roam up to 50 meters from their computer.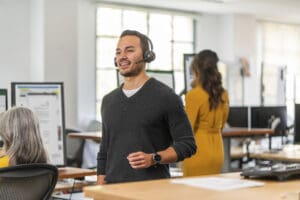 It's packed with high-quality audio and multiple connectivity options – all at an accessible price point. The Voyager 4300 UC Series has seamless connectivity to any smartphone or computer via the included BT700 USB adapter to provide users with the flexibility they need throughout the day.
Users can also remain confident and in control of one of the biggest pain points of remote meetings – their mute state. This headset comes with an easy-to-find-and-use mute button so you can remain confident that you are the only person that must hear the dog howl at the delivery man. Dynamic Mute Alert notifies users when they talk while muted, meaning that talking to yourself or needing to apologize for talking on mute is a thing of the past.
The Voyager 4300 UC Series offers flexibility to work with the partner of your choice. The Microsoft Teams-certified version comes with a dedicated Microsoft Teams button on the headset that instantly invokes the Teams app and provides visual alerts when a Teams notification occurs.
For a seamless out-of-the-box Zoom meeting experience, this Zoom-certified headset includes remote call control and mute sync to simplify the way you connect.
Pro-Grade Audio Quality
Poly's Acoustic Fence technology blocks out unwanted background noise so the person on the other end only hears the speaker's voice, not disruptive background noises. Poly SoundGuard Digital technology ensures a safe and comfortable listening experience with natural sounding speech to provide a best-in-class audio experience for everyone on the call.
John Lamarque, Poly's Senior Vice President and General Manager for Voice Collaboration and Professional Headsets said, in a statement, "Over the last 18 months we have seen demand skyrocket for a flexible, reliable, and affordable solution for workers that are working remotely or from the office. The Voyager 4300 UC Series brings a combination of pro-quality audio, freedom to roam, all-day comfort, and connectivity, wherever you work."
According to Frost & Sullivan's latest research, the global professional Bluetooth UC headset market grew by 88.2% in 2020 to $591.6 million. "As companies and employees navigate the future of hybrid working, having the right communication tools to support this is crucial," said, Alaa Saayed, ICT Industry Director & Fellow – Connected Work, Frost and Sullivan, in a statement. "Poly's Voyager 4300 UC Series offers a compelling combination of flexibility, connectivity, and high-quality audio at an approachable price point."
The Voyager 4300 UC Series also offers:
Easy set up and use in the office or at home, without the need for IT support.
All-day wear and wireless connectivity up to 50 meters, freeing users from their desk (or kitchen table) and is available as a two-ear stereo version or single-ear mono wearing style.
The Voyager Office base is an optional accessory for deskphone users, which also charges the headset. Alternatively, you can opt for a Voyager 4300 UC charging stand, designed to keep the device charged and ready to use at any moment (sold separately, also compatible with the Voyager Focus 2)
World class support with Poly Lens – A personal device support service, a 2-year limited warranty and access to Poly's standard support. For additional peace of mind Poly+ paid subscription service is available and offers 24/7 technology support for personal devices around the world and a three-year warranty.
Audio Visual Projects
PK Sound Powers Bass-Heavy Eclipse Stage at Sunset Musical Festival
When the gates first opened for the 2021 edition of the Sunset Music Festival on May 29th, eyes all over the world were seemingly locked on Tampa, Florida. After all, this year's event was one of the first major festivals to return on a full-scale post-pandemic lockdown. Wanting to deliver an experience worthy of the pent-up anticipation, organizers brought together an exciting and eclectic lineup and spectacular production packages across its three stages – including a Trinity robotic line source system from PK SOUND for the bass-heavy Eclipse Stage.
"As Florida's first festival back, Sunset Music Festival's objective was to spare no expense to deliver the finest experience possible," said John Santoro, Owner of Sunset Events, in a statement. "When selecting a speaker brand for the Eclipse bass stage, we knew we needed the industry's gold standard. PK SOUND has a well-earned global reputation for delivering powerful, high-impact audio. It's the go-to system for many of the world's top artists and DJs and our audio team loves it, too."
Over the course of the festival's two-day run, producers Sunset Events and Disco Donnie Presents welcomed high-profile artists including Zomboy, 12th Planet, Riot Ten, Midnight Tyrannosaurus, and Sullivan King to the Eclipse Stage.
To satisfy the performers and the thousands of fans packed in front of them, Florida's ESI Productions sourced a PK SOUND Trinity system and Gravity subwoofers from St. Louis, MO's Logic Systems.
The deployment featured main arrays of eight Trinity robotic line source elements per side, 20 Gravity 218 subwoofers lining the front of the stage in stacked pairs, and six medium-format T10s serving as front fills.
"The Trinity system was a great fit and easily handled everything we threw at it over the course of the festival," said ESI's George Tzouanopoulos, the Eclipse Stage's FOH engineer for the weekend, in a statement. "Having real-time control over the coverage with the array already deployed definitely helped get the energy everywhere we needed it and nowhere we didn't. Plus, the Gravity 218 subwoofers were killer. I haven't been that impressed by a sub in a long time."
Ultimately, Sunset Music Festival welcomed 64,000 fans and 74 performers for what EDM.com called its "dazzling 2021 return," adding: "There was a special energy that could be felt. The event brought a true sense of unity and shared togetherness to all the people in attendance."
People and Places
Corey's Audio Visual Announces Additional Principal
Oklahoma based audio-video company, Cory's Audio Visual, announced senior vice president Britt Gotcher, as an additional partner of the 68-year-old, third generation, family-owned company.
The announcement comes as Cory's Audio Visual prepares for the future of ever-changing business communication. It also marks the company's commitment to growth and innovation as the post-pandemic world is using technology systems to connect more than ever.
"Britt Gotcher is just as dedicated to excellence and committed to our clients as a member of the Cory family," said CEO Brad Poarch, in a statement. "From helping to navigate a tough year in 2020 to planning for an even brighter future, his work is immeasurable. This partnership will help our business grow and allow our services to expand while remaining committed to our very high standard in communication technology and exceptional customer service."
Gotcher began his career in hotel audio visual services after studying organizational leadership from the University of Oklahoma. His strong entrepreneurial background, ability to connect businesses, and appeal to customers' needs also led him as the owner of Bedlam Clothing Company and a corporate fundraiser for Feed the Children.
Gotcher's talents have focused on selling large, permanent audio-visual systems for the last seven years at Cory's Audio Visual for businesses such as Chalk, Dolese Bros, OG&E, University of Central Oklahoma, and more
If you enjoyed this article and want to receive more valuable industry content like this, click here to sign up for our digital newsletters!