AV News to Know Aug 6, 2021: New Products, Cool Projects and People in New Places
In this week's edition: A new IP control gateway, QSC brings audio to Disney, and find out more of the latest employee comings and goings.
Leave a Comment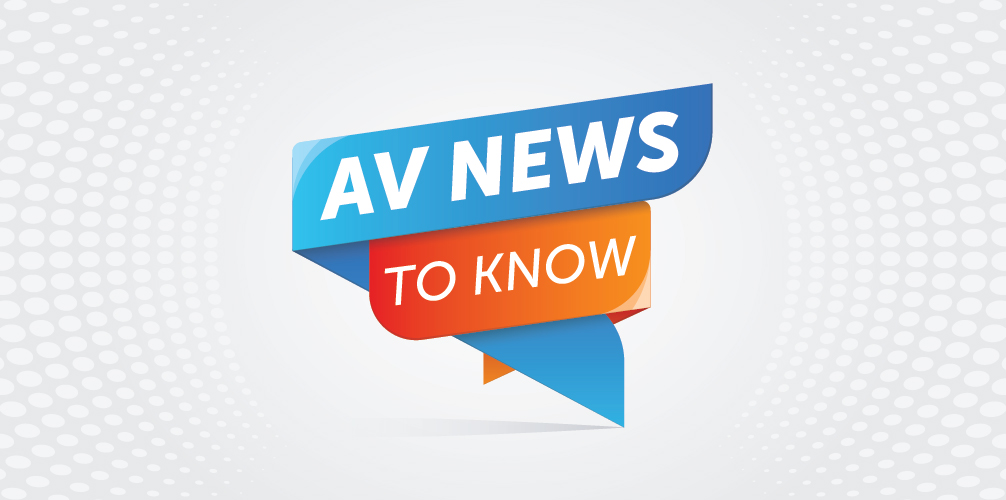 Here's a closer look at some of the AV news, products and projects you might have missed this week. We call it AV News to Know:
New AV Products

Atlona Announces Cost-Effective Wallplate HDMI and USB Extender for Classrooms and Small Meeting Spaces
Atlona is making inconspicuous AV and USB signal extension more affordable for classrooms and small meeting rooms with the launch of the AT-OME-EX-WP-KIT-LT wallplate extender. Available immediately, the new transmitter/receiver kit extends 4K/UHD HDMI® video, embedded audio, power, control signals, and USB data over HDBaseT for video conferencing, distance learning, and many other applications.
The newest extension product in Atlona's Omega™ Series of AV integration solutions for modern workspaces and meeting environments, the OME-EX-WP-KIT-LT offers the rich core functionality of Atlona's popular AT-OME-EX-WP-KIT in a lower-priced configuration optimized for small spaces with shorter extension requirements.
"Our existing OME-EX-WP-KIT is ideal for providing long-distance signal transport with discreet AV connectivity in large spaces like lecture halls and auditoriums, but its 330-foot extension capabilities are unnecessary in smaller AV environments such as classrooms," said David Shamir, Vice President of Product Management, Atlona, in a statement. "The OME-EX-WP-KIT-LT provides a cost-effective option for smaller rooms while delivering the same feature richness and visually unobtrusive aesthetics that have made its sibling the preferred choice of systems integrators and end users."
The OME-EX-WP-KIT-LT extends 1080p60 HDMI and USB data signals up to 230 feet (70 meters) over HDBaseT, while 4K/UHD HDMI video – at 60 Hz with 4:2:0 chroma subsampling, or 30 Hz with 4:4:4 – can be extended up to 130 feet (40 meters). HDCP 2.2 compliance enables the transport of protected content.
The OME-EX-WP-KIT-LT's USB 2.0 extension capabilities make it ideal for soft codec and web-based conferencing applications. Supporting a host PC and one peripheral device at the transmitter plus two ports for peripherals at the receiver, the extender can easily integrate a PC and speakerphone or microphone near the presenter with a camera or soundbar at a wall-mounted display elsewhere in the room. The kit can also provide AV and USB extension for a touch-enabled display, enabling remote PC control at a lectern or other location.
The AT-OME-EX-TX-WP-LT transmitter features a space-efficient, U.S. single-gang wallplate form factor with interchangeable black and white trim kits, enabling inconspicuous, flush-mount installation into walls and floor boxes or furniture such as lecterns and desks.
The corresponding AT-OME-EX-RX-LT receiver measures just one inch high and can be installed discreetly behind a display or above a projector with included surface mounting hardware.
Power for the transmitter is supplied remotely over HDBaseT from the receiver, simplifying wiring while maximizing installation flexibility.
An LED indicator on the transmitter enables quick visual confirmation of the HDBaseT link between the transmitter and receiver, while a free software utility provides real-time link status plus detailed HDBaseT and HDMI signal information.
Like other Omega Series solutions, the OME-EX-WP-KIT-LT is backed by Atlona's 10-year limited product warranty.
Xilica and Barco Optimize BYOD Landscape for the New Workplace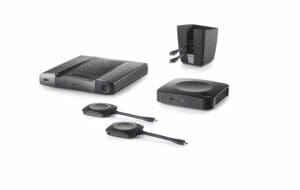 Xilica®, a global AV technology provider focused on driving authentic interaction, has partnered with Barco, a world leader in professional visualization technologies, to bring complete collaboration solutions to corporate AV environments.
The partnership provides customers with tightly integrated video and audio components to support BYOD presentations, ensuring a fully compatible wireless ecosystem within meeting spaces and conference rooms that will also support hybrid meetings.
The technical architecture integrates Xilica Solaro Series DSPs with Barco's ClickShare Conference wireless conferencing system, establishing a one-click operation to quickly bring BYOD presentations to life.
The workflow both streamlines the process of launching a presentation and connecting to meeting room AV peripherals. It also establishes a touch-free operation for the presenter — a critical strategy for employee safety as workers return to offices.
"Collaborating with Barco helps us drive a more seamless meeting experience for end-users in the workplace of the future," said James Knight, COO, Xilica. "With a single click, audio and video join to create immersive communication environments for anyone – regardless of device."
Introduced last year, ClickShare Conference builds on its predecessor ClickShare by automatically and wirelessly connecting laptops and mobile devices to cameras, microphones, speakers and other AV components in the room.
This allows presenters to deliver an immersive conferencing experience that supports wireless presentations to in-room displays, as well as soft codec conferencing systems such as Microsoft Teams, Cisco WebEx and Zoom for remote and hybrid meetings.
Xilica's Solaro Series DSPs boost voice intelligibility, eliminate noise and echo, and deliver seamless room control in alignment with ClickShare Conference via USB connectivity. The two products immediately lock in once a presentation is launched, with Xilica processing and managing all audio moving in and out of the DSP.
Options include the flagship Solaro FR1 and its compact, quarter-rack-width sibling, Solaro QR1. ClickShare Conference's compatibility with Xilica's full range of Solaro products ensure flexible options for integrators, including local processing with a small footprint, or AoIP-based centralized processing to handle the wider building.
"Partnering with Xilica provides our customers with a far more robust audio solution that will drive stronger engagement with people in the room and those dialing in from home," said David Fitzgerald, Vice President, Global Alliances for Barco. "This shines a brighter light on the power of ClickShare Conference, and effectively creates a true 'Bring Your Own Meeting' solution that offers genuine ease of use and simplicity in any meeting room."
Fitzgerald notes that while the initial go-to-market strategy will address corporate AV environments, the two companies will expand their horizons to support K-12 and higher education, with flexible options for traditional classrooms, lecture halls and large auditoriums.
Screen Innovations Streamlines and Simplifies Programming of Motorized Shades and Screens with New Brand-Agnostic IP Control Gateway
The latest in Screen Innovations (SI) is the company's Troy IP Control Gateway. The Troy IP Control Gateway's built-in programming software is accessible via any web-enabled device, including Mac or PCs as well as mobile devices. On these devices Troy presents an intuitive user interface that steps integrators through the entire setup process, resulting in quicker, more accurate deployments of shades and screens.
Programming can be handled prior to installation, and should any setting need to be adjusted post-installation, Troy can be accessed on the job site for on-the-fly software modifications.
Through Troy's programming interface, shades and screens can be assigned unique ID addresses eliminating redundant and costly programming. This adds efficiency when grouping products together and delivering repeatable designs, which is particularly helpful for MDU installations where shading and screen installations are often identical across multiple residences.
Troy has been engineered to integrate with SI's range of popular 485, Zigbee 3.0, and RTS shade and screen motors, including Zen, Nano, Solo Pro 2, and MOTO 3 and 5 Series. It also facilitates the integration of SI shades and screens with control systems from leading manufacturers, including Control4, Crestron, Savant, and coming soon for Crestron Home, Elan, RTI, and URC.
Completing a shade and/or screen installation, Troy automatically detects and recognizes 485 keypads and RF receivers on the 485-based control network, presents them on the software's user interface, and in a similar fashion to shade and screen configuration, walks integrators through the process of assigning commands to specific buttons.
Measuring 4.1" x 8.5" @1RU, and boasting a plenum-rated attractive industrial design, the Troy IP Control Gateway mounts neatly, horizontally or vertically, into a standard equipment rack.
Renkus-Heinz Brings Flexibility and Interoperability to Iconyx Compact Series with Audinate's Dante

Renkus-Heinz, manufacturer of professional loudspeakers announced the latest products in its new Iconyx Compact Series: the ICC 12/3-RD1, 24/3-RD1, 36/3-RD1 and 48/3-RD1.
The new -RD1 lineup completes the Iconyx Compact Series portfolio – a line that first launched in 2020 as a response to integrators seeking coherent and steerable sound solutions in highly problematic acoustic spaces. With its compact footprint, the series brings performance and directivity to spaces where even the classic Iconyx arrays might be too large.
The -RD1 models add improved interoperability and flexibility through Dante audio-over-IP functionality. They also bring new control options with integration into Crestron's remote control solutions and environments.
"The -RD1 versions allow for quick, cost effective, and easy integration using Audinate's highly integrated Dante Ultimo chip," said Graham Hendry, Vice President of Strategic Development at Renkus-Heinz. "The Ultimo platform is perfect for the smaller footprint Iconyx Compact Series where the diminutive dimensions also mean there is a need for more space-constrained network devices featuring a lower channel count. The -RD1 ICC family supports all the features that have driven widespread adoption of Dante technology: auto-discovery of devices, label-based routing of signals, true plug-and-play operation, and superb audio performance over standard networks."
The very narrow profile allows the Iconyx Compact Series to blend into nearly any environment, while exceptional directivity helps control even the most challenging acoustics. This brings the premium performance of beam-steered line arrays to even the most architecturally sensitive spaces and provides more opportunities for integration in the house of worship, corporate, transportation, education, and government markets.
The new products also offer full RHAON II beam-steering with the latest U.R.G.O beam algorithms, a movable acoustic center, multiple beam opening angles and high-pass filtering of individual beams. That means all the fidelity and musicality expected of a Renkus-Heinz product – just found in a footprint 40 percent smaller than the classic Iconyx.
The included wall-mount brackets make mounting easy and is nearly invisible behind the arrays. Standard RN units have analog and AES inputs.
Audio Visual Projects
QSC Brings Audio Adventure to the World Premiere of Disney's "Jungle Cruise"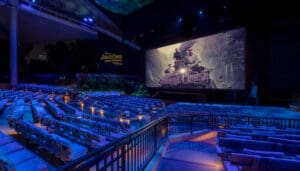 QSC provided the audio system for the world premiere of Disney's "Jungle Cruise", held at the Fantasyland Theater in Disneyland on July 24, 2021. A small team of QSC experts designed, built, and installed the enormous QSC audio system, helping transform the 5,000 square foot outdoor amphitheater into a state-of-the-art movie theater, setting the stage for moviegoers to travel deep into the heart of the Amazon jungle.
The QSC system for Disney was brought to fruition by a small team of five, dedicated QSC designers and technicians, led by QSC product manager and veteran studio/live sound system designer and recording engineer, Jon Graves. Before the build, the QSC team spent weeks designing and testing the system at an offsite facility, which helped expedite the rapid install over seven after-hours nights in the park.
"After we collaborated on the audio solution for the world premiere event of "Avengers: Endgame" in 2019, we had no doubts about working with QSC for this blockbuster premiere event. They once again delivered a flawless system that brought our latest movie to life with unmatched audio performance," says Michael Kern, VP, Special Events Production and Technical Services, Walt Disney Studios.
Just as Jungle Cruise skippers proudly show their visitors "the backside of water", the QSC team enlisted the Q-SYS™ Platform for the backside of their audio solution to process, route, and tune the entire high-performance audio system, with the film's screen channels supported by QSC WideLine line array loudspeakers and Q-SYS CX-Q Series amplifiers.
In addition, they utilized the system redundancy capabilities built into the Q-SYS Platform for processing, networking, and amplification, along with emergency analog failover – for this mission-critical scenario.
"Whether it's for a spectacular movie premiere with some of the biggest movie stars on the planet, or a crucial business meeting or intimate conference room call, we take great pride delivering innovative, flexible, and scalable solutions for a wide variety of high-value spaces, with the reliability and performance for which the QSC brand is known for," says Anna Csontos, EVP, Chief Market Officer and Chief of Staff, QSC. "We are delighted to once again provide Disney with a larger-than-life audio system along with the dedication, expertise and passion that goes into every QSC solution and partnership."

People and Places
Atlona CEO and Co-Founder Ilya Khayn Departs Company
Atlona announced that CEO and co-founder Ilya Khayn will depart on September 15, nearly three years after Panduit's acquisition of the company. Jamey Swigert, Atlona's Director of AV Sales and Business Development, will assume the company's top leadership role as Executive Director on September 15.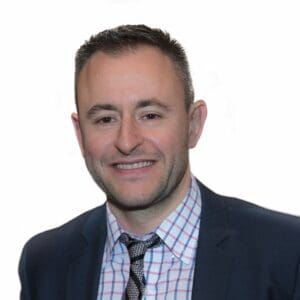 Ilya co-founded Atlona in 2003 with his brother Michael, Atlona's Vice President of Engineering through October 2020. The two young entrepreneurs transformed Atlona from a two-person, garage-based company focused on home AV connectivity products to a leading global supplier of AV collaboration, control, and distribution solutions. Ilya was largely responsible for strategizing Atlona's now-global partner network, which has established the company's brand in key business regions worldwide.
Atlona's early and aggressive push toward AV over IP product innovation captured the attention of Panduit, a leader of IT networking and infrastructure solutions. The acquisition has differentiated Atlona from its competition by introducing the brand to an entirely new base of IT consultants, resellers and integrators seeking networked AV solutions for their end users.
"One example of our successful integration is the increased collaboration of our two sales teams to uncover new business opportunities," said Khayn. "Our mutual partners are finding the combination of AV and infrastructure products offered by Panduit and Atlona to be advantageous. The company continues its aggressive new product program with a stronger focus on quality assurance to build a solid foundation for winning enterprise AV and IT projects worldwide. With a strong and experienced leadership team and knowledgeable professionals in all key positions, the time is right to transition following 18 years of hard work."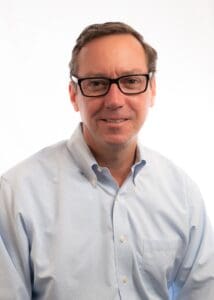 Ilya adds that it will be "business as usual for Atlona" as Jamey assumes the leadership role and anticipates that Panduit's proven strategic approach to product quality, innovation, and simplicity of deployment and operation will lead to a new era of substantial growth and success. This includes a continued emphasis on making high-quality AV products that are IT-friendly.
"Nearly three years ago we entered into an exciting growth industry through our acquisition of Atlona," said Swigert. "We understood how important it was to invest in talent, product innovation, and business strategy while allowing Atlona to operate without interference. I have worked very closely with the incredible Atlona team over this period and I am honored to lead the company and continue the legacy of developing customer-centric AV products and solutions that Ilya and Michael created."
The tenure of the brothers is accentuated by several important milestones along the company's initial 18 years. These positioned the company as an innovator ahead of industry trends including the launch of 12, 4K/UHD commercial AV products in early 2015; early-generation AV over IP (OmniStream™) and BYOD solutions in 2016-17; Velocity™, the industry's first IP-based AV control solution in 2017; and the Omega™ series of collaboration and presentation systems for corporate and education customers – the company's fastest-growing product line to date – in 2019. Ilya also worked closely with Panduit to develop the company's new quality assurance strategy, which includes rigorous product testing and validation with an eye towards achieving ISO-9001 certification.
Hall Technologies Adds Another RSM to their Growing Team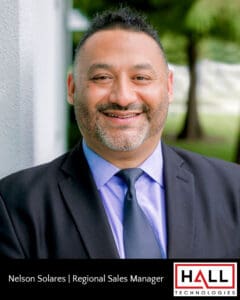 Hall Technologies has appointed Nelson Solares as Regional Sales Manager to grow sales in the TOLA and LATAM region. Solares will be responsible for sales and outreach for Hall Technologies.
"Our global presence is growing, and we are thrilled to bring Nelson Solares aboard as RSM for the TOLA and LATAM regions. His knowledge of this region coupled with his sales prowess will support our efforts to grow Hall Technologies as a contemporary for AV technology solutions. We feel he's a great fit for our team and will add a much-needed presence in these territories," said Hal Truax, V.P. of Sales and Marketing of Hall Technologies.
Solares is a seasoned AV technology sales veteran with a surplus of product knowledge. He will manage current accounts, as well as grow Hall's reach through strategic customer acquisition. Nelson will also be responsible for managing Hall's manufacturer reps in the territory.
"Joining Hall Technologies is a step in the right direction for me. I believe the team culture at Hall is the foundation of growth. I am eager to continue growing and reaching untapped markets in this new season. Hall's innovative approach will shift the AV industry and I'm excited to be along for the journey," says Nelson Solares, RSM for Hall Technologies.
Planar welcomes Naomi Rivas and Steve Fitch to its Northern California and New York sales teams
Planar recently announced its expansion of the company's U.S. sales force, welcoming Naomi Rivas and Steve Fitch to the company's Northern California and New York sales teams.
As a new regional account manager for Planar, Naomi Rivas will manage the company's sales efforts in Northern California. Rivas is based out of the San Francisco Bay Area and brings nearly 25 years of marketing and sales experience in the AV industry, most recently serving as a channel sales manager for Samsung. Prior to Samsung, she developed opportunities in the broadcast, corporate, house of worship, government and higher education markets for Sony, working as a senior account manager for channel sales.
With nearly 20 years of experience in the AV industry, including roles in sales and business development, Fitch also joins Planar as a regional account manager. Based out of Long Island, Fitch will manage the company's sales efforts in the New York Metro region with Tani Klein and Tom Petershack. He previously worked at ADI Global, where he specialized in commercial audio and video. Fitch's  background also includes roles at AVAD LLC and Harman International, developing opportunities for business and commercial digital signage solutions as well as managing sales teams and distributors in the Eastern region.
Almo Professional A/V Reveals 2021-2022 Dates and Locations for E4 Program
Almo Professional A/V has revealed remaining 2021 and all 2022 dates and locations for its E4 Experience regional, in-person and E4 Evolution (E4v) virtual programs.
The E4 Experience offers AV professionals regional, in-person educational experiences featuring the industry's most sought-after presenters who deliver critical trends and business content, most worth AVIXA CTS Renewal units.
Launched in spring of 2020, the E4 Evolution (E4v) is a live, virtual extension of the E4 Experience. The E4v helps attendees evolve and thrive by providing educational content delivered live but available virtually at a time and place that is most convenient for attendees.
Save the Dates
The 2021-2022 E4 programming includes:
E4 Experience Boston: Oct. 7, 2021
E4 Experience Dallas: Nov. 30, 2021
E4 Evolution (E4v): Dec. 14-15, 2021
E4 Experience Anaheim: March 22, 2022
E4 Experience Chicago: May 3, 2022
E4 Experience D.C.: Sept. 23, 2022
E4 Experience New York: Oct. 20, 2022
"Integrators and resellers are working harder than ever right now but are still looking to reconnect, learn about the latest industry trends and see the newest available products, which makes the single-day, regional focus of an E4 Experience ideal," said Melody Craigmyle, vice president of marketing and communications for Almo Corporation. "For those who are unable to break away, our virtual E4v programming gives them the same opportunity with the flexibility to integrate learning into their schedules from anywhere and at a time that is convenient for them."