AV News to Know November 12, 2021: New Products, Cool Projects and People in New Places
Here's a closer look at some of the AV news this week that includes a new whiteboard, display screens, a modern retail technology project, and more.
Leave a Comment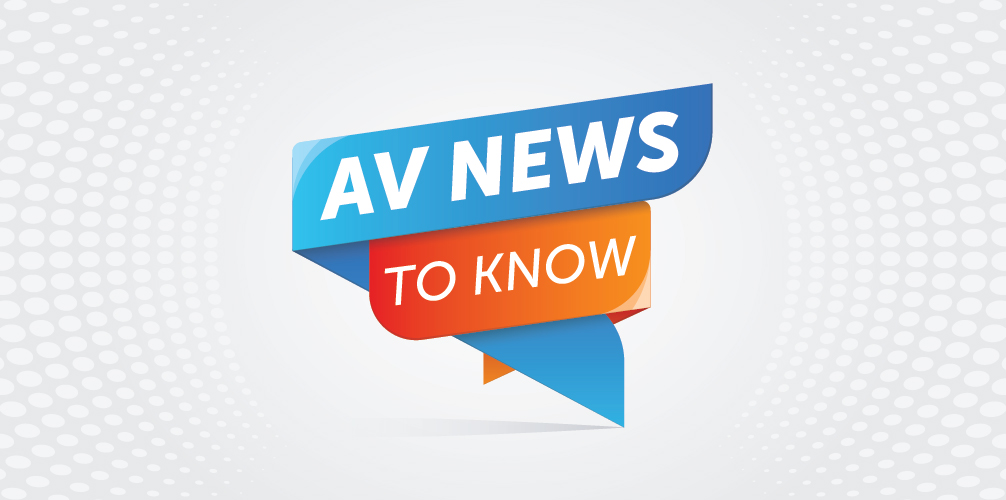 Here's a closer look at some of the AV news, products and projects you might have missed this week. We call it AV News to Know:
New AV Products
Owl Labs Introduces Whiteboard Owl for Hybrid Meetings
Owl Labs, the 360-degree video conferencing solutions company for hybrid organizations, recently announced the launch of the Whiteboard Owl camera device that enables everyone to see the whiteboard in meetings.
According to research conducted by the company, with hybrid work becoming the norm accelerated by the pandemic, and organizations looking for solutions to ensure their office spaces accommodate everyone equally. Owl Labs found that nearly two-thirds of remote workers (63%) say not being able to see the whiteboard is a challenge during hybrid meetings.
Owl Labs added that the Whiteboard Owl device, designed by roboticists, is a camera that adds any in-room whiteboard to video conferences, allowing remote participants to clearly see the whiteboard and ensuring everyone is part of the conversation.
When paired with the Meeting Owl Pro, Owl Labs' flagship product, the Whiteboard Owl is a versatile remote whiteboard solution with flexible camera positioning options.
The products can be mounted on a wall, ceiling or tripod and allow anyone to move freely throughout the room to share ideas and spark inspiration, without worrying about the location of the camera and whiteboard.
Owl Labs stated that the camera works with any magnetic whiteboard by placing Whiteboard Tags in two corners of the board and flipping them over to seamlessly toggle between views of the board and the meeting participants, resulting in an inclusive meeting experience.
Furthermore, it is compatible with Zoom, Google Hangouts, Slack, BlueJeans, GoToMeeting, Microsoft Teams, and other popular video conferencing platforms.
The company also expanded on some of the features of the Whiteboard Owl:
Whiteboard Enhance: Technology that improves whiteboard visibility with increased clarity and shadow reduction.
Speaker Transparency: AI and computer vision that makes the presenter transparent when they step in front of the whiteboard, so it is never blocked from view for remote participants.
360-degree views via Owl Labs ecosystem: Pairs with the Meeting Owl Pro to enable simultaneous viewing of the whiteboard and 360-degree views of the room.
Whiteboard Capture: Automatically captures high-resolution whiteboard images in real time throughout the meeting, which attendees can view, download, and zoom in on from their web browser so collaboration can continue after the meeting.
Flexible Setup: Multiple mounting options for different room layouts and automatic cropping based on whiteboard size. The device can be mounted on a wall, ceiling or a tripod within 7 to 16 feet of the whiteboard. At 16 feet, the Whiteboard Owl works with any magnetic whiteboard of up to 15 feet x 20 feet.
WiFi-enabled Updates: Software updates are automatically installed through a WiFi connection.
Camera Quality: 4208 x 3120 pixel resolution and 1080p output resolution with a 68-degree horizontal field of view.
Owl Labs' study found that 73% of U.S. remote workers have returned to work in person at least one day a week, and more than 75,000 organizations have adopted the Meeting Owl Pro for collaboration solutions.
"We believe the future of work is hybrid and 100% of employees will never be in the office together 100% of the time again, due to shifting work trends accelerated by the pandemic," said Frank Weishaupt, CEO of Owl Labs. "With this in mind, it's crucial to wire your spaces for seamless remote work, to fully engage all team members…but organic brainstorming is hard in a hybrid setting. The Whiteboard Owl makes it possible to spark moments of surprising inspiration for both people in the room and those joining virtually."
Absen Launches Clear Cobalt Series into US Market
Absen Inc. announced the availability of the Clear Cobalt (CL) Series, one of its main products at the InfoComm 2021 exhibition, for purchase in the US market.
Clear Cobalt Series (CL Series) is the new generation of display products from Absen. Using several innovative technologies to provide visual performance versus traditional LED products, the CL series supports 2K/4K/8K for higher HD display requirements. According to a statement, the series will produce visuals for professional control rooms, corporate lobbies, TV studios, large conference rooms, and luxury living.
Absen revealed that features of the CL Series incorporated the following:
a pixel pitch range of 0.9mm – 1.2mm pixel pitch.
high brightness of up to 1200 nits
a high contrast ratio of 20000:1 for superior layered visuals.
COB technology, that provides protection to physical collision & environmental factors
Absen black coating and calibration technology that creates a deep black, non-reflective surface.
The CL Series also incorporates flip chip technology that increases power efficiency and reduces heat generation. Absen added that the CL Series brings a monumental screen with optional edges and wall-mounted frames and provides high-quality, simple installation which submerges into the surrounding environment.
Audio Visual Projects
Samsung Display Technology Enhances Modern Retail Experience at Saatva
Samsung disclosed its Display technology will be integrated nationwide at Saatva, a luxury sleep brand with stores across the U.S..
Following the opening of its Manhattan store, Saatva recently opened its second location in Washington, D.C., where its Logan Circle Viewing room is an immersive, two-floor, 5,800-square-foot space conceptualized by renowned interior designer Vicente Wolf.
Designed to be more than a standard mattress store, Saatva added that its new viewing room is the prime destination for an integrated mattress exploration, education, and modern retail technology experience.
Installing the Technology
According to a statement, Saatva's D.C. viewing room is outfitted with Samsung dynamic display signage and behavior-sensing technology to help customers discover, personalize, and build their ideal sleep experience.
Powered by a robust and intelligent content delivery and analytics platform, Saatva's retail environment can turn each display into a platform to deliver in-depth product information and can be adapted in real time to create a richer discovery experience.
Additionally, the Saatva mattress displays feature the QB13R-T touch, a compact all-in-one solution that delivers high-definition content. Located on a podium, it enables on-demand product discovery with the help of MagicINFO 8, Samsung's content and device management software solution. Customers are invited to lay on a mattress while simultaneously learning about that model's construction and comfort options through the displays.
While customers enjoy the modern retail technology experience, Samsung said that MagicINFO's Analytics solution actually helps Saatva analyze customers' behaviors to display the most relevant and customized content. MagicINFO Analytics also delivers performance reports, allowing retail managers and marketers to better understand promotion results and plan future marketing campaigns.
Reshaping Modern Retail Technology Experience
On the accessories wall, visitors can pick up and touch the brand's bedding, pillow, and other top-of-bed collections and a nearby LFD screen on the wall will change to display pertinent product information, per Samsung. In the children's bedding area, there is also a 55-inch Flip, Samsung's interactive e-board, available for interaction.
To further enrich the customer journey, Samsung announced its partnership with Fast Sensor to create scheduled automatic content based on physical space activities and through MagicINFO's Analytics. According to the company, this collaboration demonstrates how retailers like Saatva can display a wide range of messages including in-store promotions, wayfinding and more.
Additionally, the product arrangement enables a self-guided space, inviting consumers to use the information stations to self-educate and make a purchase that permits them to sleep soundly.
Examining the Impact
Over the next year, Samsung stated that it looks forward to providing display technology and solutions that continue to deliver on Saatva's mission of changing the way consumers shop for mattresses.
"Samsung prides itself on driving innovation and delivering unique experiences for its customers," said Harry Patz, SVP and general manager, Display Division, Samsung Electronics America. "To see how a company like Saatva, a traditional direct-to-consumer brand, is using display technology to create a customized shopping experience for its customers at brick-and-mortar stores is inspiring. They are using technology to forever change the way people buy mattresses and we are thrilled to be a part of their story."
People and Places
Andrew Mortimer Appointed as Director of Operations at Digital Labor Solutions
Digital Labor Solutions (DLS), a resource provider of installation, programming, configuration, commissioning, and audiovisual trade, hired Andrew Mortimer as its new Director of Operations.
Joining the company with almost 15 years' experience in project supervision and management, Mortimer says of the new position, "I decided to join Digital Labor Solutions to reunite with colleagues, Sean Purcell and Tim Hennen, whom I have known for my entire career in AV. We work well together and hold ourselves to high standards that ultimately result in exceptional output for our customers."
Hennen adds, "Andrew's addition enables us to focus more closely on exceeding our integrator partners' expectations. Our motivation and drive are aligned, making us that premier labor and solution provider for audiovisual, security, and low voltage specialists."
Mortimer concludes, "I am particularly experienced in helping DLS continue to provide this level of service, especially while driving toward growth and expansion."
Matt Shaw joins as VP of Business Development, Collabtech Group
Matt Shaw recently joined Collabtech Group as Vice President of business development bringing with him over 10 years of experience at Microsoft and knowledge about the ever-evolving hybrid workplace.
According to a statement, Shaw took the lead on major projects at Microsoft within the unified communications arena, and was the global marketing lead for the Microsoft Surface Hub, establishing it as an industry-leading front-of-room collaboration device for the modern workplace.
As VP of business development at Collabtech Group, Shaw said that he will be using his in-depth understanding of customer behavior and needs to develop new lines of business that include a focus on modern management of the meeting space, a strategy for supporting and refining the digital workflow and proactively supporting the channel with forward-thinking knowledge acquisition.
Shaw explains, "I've always been hugely impressed by the work of Collabtech in advancing collaboration in the workplace. Even more so when the pandemic hit and improving AV collaboration practices became centre stage. With fresh challenges around the deployment, adoption and maintenance of new AV solutions, there has never been a more exciting time to be joining the team as they continue to lead into the unknown but exciting hybrid future with new business ventures."
Jon Sidwick, president of Collabtech Group, adds, "We've seen some fascinating tactical and responsive activities happening across numerous areas of digital collaboration…It's great to have Matt, and his extensive experience, joining us at this crucial time as we launch new initiatives to support the channel across these areas."
Riedel Expands R&D Hub in Vienna
Extending its leadership in IP-enabled hardware and software solutions, Riedel Communications announced its expansion of the new R&D hub in Vienna. It also acknowledged its mission to drive technical innovation and accelerate Riedel customers' path toward the IP future.
According to the company, this expansion doubles the size of Riedel's Vienna offices, enabling further growth of the company's development team and even more robust support for customers across Central and Eastern Europe (CEE).
"The team at our Vienna R&D hub has the talent and creativity to deliver products with forward-looking functionality that has the power to transform the broadcast and event industry," says Gernot Butschek, head of Development at Riedel's Vienna location. "As the broadcast industry undergoes major disruptive change with the transition to IP-based transport of media signals, our R&D team meets that challenge with innovation."
Riedel disclosed that its Vienna team is responsible for front- and backend development, automated test software, FPGA programming, PCB layout, and mechanical design. In significantly expanding its Vienna facilities, Riedel added that it is not only hiring additional software developers and boosting its R&D capabilities, but also committing greater resources to the company's growing customer base across CEE.
"Our offices are well-situated for our growing development team, and they serve as a convenient base for supporting increasing customer activity across CEE markets," says Jürgen Diniz-Malleck, Riedel Communications general manager, Austria and CEE. "This is an exciting period of growth for Riedel, and I look forward to seeing the impact of this investment on the Riedel product line and in the success of Riedel customers."