AV News to Know Sept 17, 2021: New Products, Cool Projects and People in New Places
In this week's edition: new laser projectors, outdoor menu boards, touchless authentication, strategic alliances, promotions and more.
Leave a Comment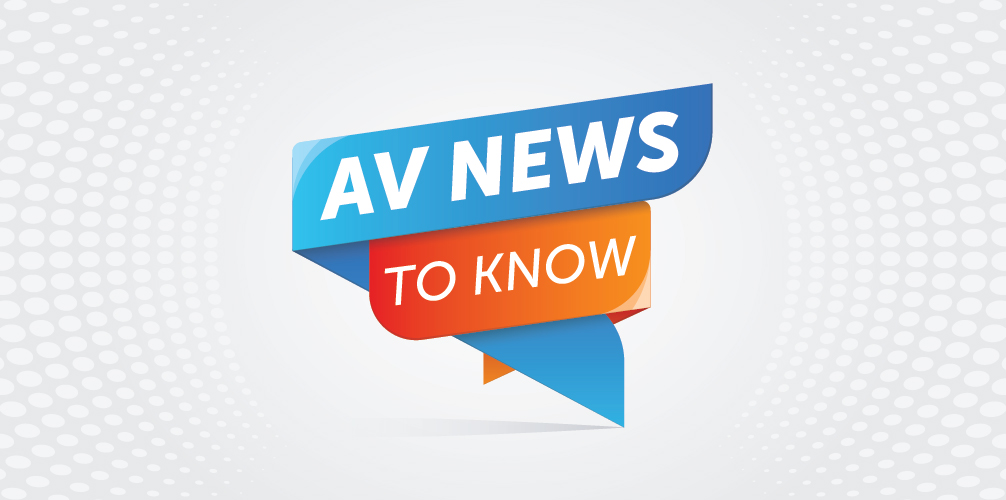 Here's a closer look at some of the AV news, products and projects you might have missed this week. We call it AV News to Know:
New AV Products
Christie Unveils New M 4K25 RGB Laser Projector
Christie® announced the M 4K25 RGB laser projector, a small, lightweight and quiet all-in-one RGB laser projector. The new M 4K25 RGB continues the original M Series legacy of reliability, ruggedness and innovation.
Introduced in 2007, the original M Series was a game-changer for the ProAV industry. "The M Series packed a lot of features in a small package," says Larry Paul, executive director, technology and custom solutions at Christie in statement. "Features like the intelligent lens system and embedded Twist for blending and warping were unique at the time, plus its small size and weight, helped it to become Christie's best-selling line of projectors and lenses."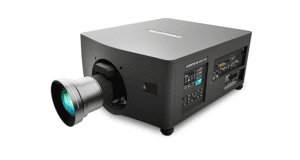 The new 25,000 lumen 4K UHD resolution M 4K25 RGB pure laser projector reinvents the series, with Christie engineering packing industry-leading features into a small, market-leading form factor weighing in at 92 lbs. RGB pure laser technology delivers twice the color of the original M Series for vibrant, bright images that approach Rec. 2020 color volume, a color standard closest to what the human eye can see.
With TruLife+ electronics all the needed connections are built-in, eliminating the need for optional input cards. TruLife+ also features electronic color convergence (ECC), which allows users to correct color convergence imperfections and individually adjust red, green, and blue via remote, so there's no need to climb a ladder to make adjustments. The intelligent lens system (ILS1) makes swapping lenses easy for rental and staging, and offers motorized zoom, focus and offset via remote. Existing Christie owners can use their M, J and Crimson Series lenses, as well as the M Series rigging frame, with the M 4K25 RGB for added cost savings.
Christie's proprietary precision pixel-shift technology, which reduces or eliminates typical artifacts found in other pixel-shifting technologies, provides UHD 4K resolution at up to 60Hz.  With the optional Mirage upgrade, the M 4K25 RGB can support up to UHD 4K at a full 120 Hz for 2D and 3D stereoscopic applications, and the optional Mirage Pro upgrade can support frame rates up to 480Hz at UHD resolution.
"The new M 4K25 RGB doubles the brightness, doubles the color volume capability, and quadruples the resolution over our legacy M Series projectors," says Paul in a statement. "And with an unprecedented 50,000 hours of illumination performance and a field replaceable light source, we've gone way beyond the legacy of the M Series as an industry workhorse in terms of long life and durability."
The original M Series projectors are in use around the world, including at The Barbican in London, the Washington Metropolitan Area Transit Authority, and China's Dai Show Theater, to deliver bright visuals in a reliable and rugged package.
Christie M 4K25 RGB ships November 2021.
Peerless-AV® Introduces Universal Outdoor Digital Menu Boards for QSR, Fast Casual and Retail Drive-Thrus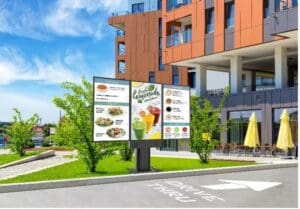 Peerless-AV®, a designer and manufacturer of audio and video solutions and accessories has announced the launch of an upgraded iteration of its Outdoor Digital Menu Boards. Designed to support 55″ outdoor commercial display brands, Peerless-AV's latest Outdoor Digital Menu Boards (KOF555-1/2/3) offer maximum flexibility at the best value.
The sleek, new Outdoor Digital Menu Board models can support up to three displays to enhance outdoor drive-thru efficiency. These all-weather rated, outdoor units are UL 48 certified and offer a low operating cost, modular design, and a simplified two-man installation process.
Compatible 55″ outdoor digital signage display models include:
Peerless-AV Xtreme™ High Bright Outdoor Displays (XHB553)
Samsung OHF Series Displays (OH55F)
LG XE4F-M Series High Brightness Outdoor Displays (55XE4F-M)
Along with being able to choose the preferred display brand, customers have the ability to customize their solution, with a variety of options to create an ideal digital drive-thru solution, which include:
Speaker/Microphone Kit (KOF-OPT-SPK)
Media Storage Fan (KOF-OPT-FAN)
Internal Media Player Shelf (KOF-OPT-SHELF)
UL Rated Electrical Box (KOF-OPT-ELECTRICAL)
"Seamless performance, weatherproof, visually appealing, and cost-effective – this was exactly what our team was looking to do in order to up the ante of digital signage solutions for QSR, fast casual, and retail applications – especially with the increased demand created by the pandemic" said Nick Belcore, executive vice president at Peerless-AV in a statement. "We're proud to be able to develop innovative ways to further enhance drive-thru aesthetics and experience. With the launch of our new universal Outdoor Digital Menu Boards, this product line has opened up an entirely new era of digital signage flexibility."
The Outdoor Digital Menu Boards (KOF555-1/2/3) are available through Peerless-AV direct sales representatives and authorized distribution networks.
Alcatraz AI Launches Initiative to Promote Touchless Authentication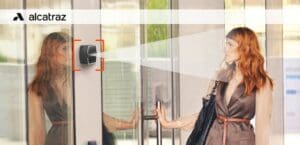 Alcatraz AI, a physical security technology provider announced an initiative to promote touchless authentication while returning to the office. As companies decide how to safely return to work, Alcatraz AI is providing the opportunity to try its frictionless authentication solution, the Rock, which minimizes touchpoints and provides facemask verification to ensure COVID safety. Until October 31st, companies who sign up will get a 45-day free trial of the Rock.
Alcatraz AI is reimagining the way one enters secured spaces using one's face as credentials. Alcatraz AI's state-of-the-art product, the Rock, transforms access control by leveraging artificial intelligence and analytics to make powerful decisions. With features like touchless or multi-factor authentication, tailgating intelligence, and video at the door, the Rock makes companies' physical security strategies future-proof.
One of the challenges with bringing workers back into workspaces is controlling access, including creating controlled or separate entrances and exits, monitoring who has access into facilities and when, and even dividing work areas into zones to limit large numbers of people congregating. The Alcatraz AI Rock provides effective access control for the new normal world. The Rock can also function as an ONVIF camera, certified with Profile S and Profile T to provide IP-based video streaming.
With an ever-increasing demand for new solutions in safety and security, companies like the Los Angeles Football Club and MLK Hospital are already using the Rock to secure their spaces. The Rock is bringing these organizations into the future of smart buildings with its touchless building access, while solving problems currently presented by the pandemic. For a 45 day free trial of the Alcatraz AI Rock, visit Alcatraz AI's website and sign up by October 31. The timeline in which companies will receive their demo kit is based on availability.
Optoma Debuts Advanced Remote Management Solution for Audio Visual Displays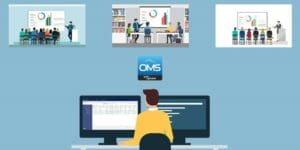 Optoma, a manufacturer of large visual display products announced its new Optoma Management Suite (OMS)™, an intuitive display management solution to streamline operations by monitoring, diagnosing and controlling audio visual displays via a local area network and wireless connectivity from a single platform and location.
OMS is the first management solution that is compatible with other displays that are connected via PJLink, enabling integration into existing display fleets while offering differing levels of access and control for users, ensuring devices are securely managed.
OMS allows IT administrators and technicians to monitor, manage, and diagnose multiple displays simultaneously, providing seamless control across multiple devices while maximizing productivity.
With an easy-to-use interface and 24/7, real-time monitoring and control, OMS enables users to check the status of display devices and make configurations to optimize performance. IT administrators and technicians can easily dispatch and broadcast emergency messages, alerts and announcements across every on-site display.
Users can also remotely program and schedule devices for usage only during primary operating hours, as well as implement immediate shutdown for emergencies, reducing energy consumption and lowering operating costs.
"As a leader in audio visual display products, it was a natural fit to develop an advanced display management suite empowering users to effectively manage and control their displays from one central platform," said Brian Soto, director of product management at Optoma Technology, Inc., in a statement. "With the addition of OMS, we are able to offer our customers a complete end-to-end solution to meet the ever-evolving needs of the ProAV market, as well as key segments including education, corporate, museums and leisure markets.
The Optoma Management Suite solution is compatible with Optoma's Creative Touch 5-Series interactive flat panels, LED displays and professional projectors, including: ZK1050, ZK750, ZU860, ZU720TST, ZU720T, 606 series, 506 series, 406 series, 403 series, as well as all projector brands with PJLink.
Xilica and Sennheiser Enter Strategic Alliance for Frictionless Collaboration Experiences
Xilica®, a provider of collaboration products has partnered with global audio specialist Sennheiser to develop a tightly integrated room solution that minimizes installation time, improves audio quality, and enhances collaboration for end-users. The partnership will leverage audio products from both companies, offering integrators a seamless way to deploy adaptable, IT-friendly audio-conferencing systems.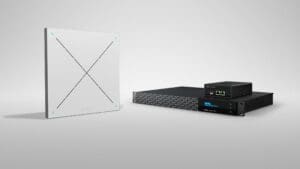 The complete solution, which pairs the Sennheiser TeamConnect Ceiling 2 beamforming microphone array with Xilica's ecosystem of DSP, user interfaces and network endpoints, ensures speech intelligibility for physical and remote participants in hybrid spaces.
This gives end-users the flexibility to move throughout their space and present in their own style, while eliminating risk of inaudibility. Integrators and end users benefit from the Sennheiser TeamConnect Ceiling 2's seamless integration with Xilica Solaro processors and Xilica Gio network endpoints, enabling an easy, no-code setup with pre-validated compatibility.
As part of the alliance, Xilica has enabled support for the TruVoicelift functionality of Sennheiser's TeamConnect Ceiling 2 (TCC2) across its Solaro Series of DSPs, which simplifies the installation of multiple Sennheiser TCC2 microphones through automatic testing and calibration of audio, saving hours of time during system commissioning.
Additionally, TruVoicelift offers noise reduction, speaker amplification and creates targeted zones to hone in on participants speaking in busy spaces. When paired with Xilica's proprietary noise reduction and HearClear echo cancellation algorithms, the combined solution offers a robust defence against meeting distractions.
Sennheiser TeamConnect Ceiling 2 and Xilica Solaro processors offer end-to-end mute status sync for Microsoft Teams. This enables a software-based mute action, such as clicking a button in the Microsoft Teams application to be reflected throughout the chain and back to the Sennheiser TCC2's status indicator LED. Similarly, when using Xilica user interfaces, a mute action can be reflected both to the Sennheiser TeamConnect Ceiling 2 and back into the Microsoft Teams application – giving room users complete visibility.
"Modern meetings have more remote participants than ever, and they need to hear clearly without being distracted by background noise and interruptions," said Charlie Jones, Global Alliance and Partnerships Manager for Sennheiser in statement. "TruVoicelift is perfect for large conference spaces and lecture halls that allow everyone to hear a presenter, or a question from a student that is raised. Together with Xilica DSPs, end users are assured high-quality, dependable audio with exceptional room and user control."
Audio Visual Projects
Genesee Valley School District Takes Security and Emergency Preparedness to the Next Level with AtlasIED
As the decades-old PA system at Genesee Valley School District's K-12 building continued to struggle, technology director Jeff LaBenne began looking for a replacement—not just an even swap, but something much more robust and feature-rich to satisfy the evolving communications needs of the school.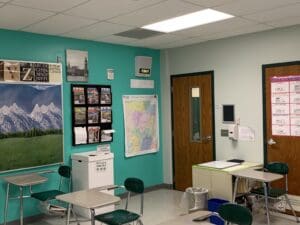 The administration had recently secured funding for a capital improvement project, so the timing was ideal to explore options for a more advanced and effective campus-wide communications system. "Security preparedness has become an increasingly important facet of school communications, and IP-based solutions are leading the way," says LaBenne, who keeps a close pulse on new technologies that help provide safer, more productive, learning environments.
"When I looked at a replacement paging system with additional IP-enabled clocks, it got expensive quickly," he says. "The alternative, IP endpoints with speakers from AtlasIED, that could also display the time, plus play audio for both paging and bell schedules, turned out to be a more affordable option."
Another benefit: the IPX family of IP endpoints could utilize the school building's existing Ethernet network to derive power and distribute audio and video. "Because we wouldn't need to get power to every IP speaker location, placement would be easier and more flexible," LaBenne explains. "Speakers that required new cabling would have made the project much more costly and laborious—plus we'd be missing out on some of the useful features bundled into AtlasIED's IPX series endpoints."

Seamless Integration of Speaker and Software
Some other schools in the area had already transitioned from antiquated paging systems to IPX-based communications systems from AtlasIED and were thrilled with the results, so the Genesee Valley administration had no reservations about pressing forward with LaBenne's plan.
LaBenne spent a few days outlining the school's communications needs, identified complementary software from Singlewire to manage the messaging, and plotted ideal positions for a variety of AtlasIED's IPX series endpoints in classrooms, hallways, gymnasiums, auditoriums, and more. AtlasIED weather-resistant, vandal-proof IP speakers were selected for exterior spaces, ensuring that critical announcements are heard during recess, football games, and other outdoor activities.
Handling the project largely on his own, LaBenne started the process in the summer of 2019 and had the system up and running by fall in time for the start of school.
Flashers and Scrolling Text Enhance Classroom Communication
A system that supports bell schedules and live announcements may have been at the top of LaBenne's shopping list, but the AtlasIED solution came with several other perks. The IPX family of IP endpoints integrate seamlessly with the existing Singlewire communications software running on a Cisco server.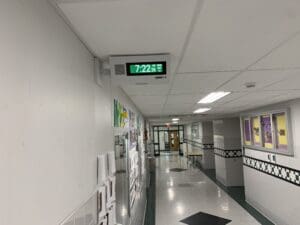 The school district had been using Singlewire previously to distribute alerts over the school's existing Cisco phone system, so all it took was some additional licensing to introduce additional security and communications features to the new IP network. The IPX built-in flashers and display enhance school communications further.
For example, flashers on each endpoint can illuminate in red to convey an emergency situation—with or without any audible messaging. "Previously, administrators had to make real-time announcements on the fly, sometimes during duress—never a good situation," LaBenne says.
Now, should someone initiate an emergency alert by dialing a special extension or pressing an emergency button on any phone, the IPX endpoints flash in a red color and scrolling text with instructions appear on the speakers' displays.
To simplify emergency communications for staff, LaBenne programmed one-button activation of pre-recorded messages for situations including shelter-in-place, lockdown, lockout, and all clear. "And because the speakers in the IPX endpoints are so efficient, we can play the volume of messages much louder than other speakers would allow," he adds.
Customized Bell Scheduling Supports Varied K-12 Routines
The AtlasIED/Singlewire pairing also excels at delivering routine, non-emergency announcements, including bells throughout the school day. Six hundred elementary-, middle-, and high-school students are housed in a single building yet follow different schedules. The Singlewire software allowed LaBenne to group specific AtlasIED speakers and IP endpoints together and create a bell schedule for each zone. The schedule can be easily modified, and audio zones altered to reflect events like an early, campus-wide dismissal due to inclement weather conditions.
IPX Speakers Blend into Classroom Environments with Ease
Certainly, it is the technology inside the IPX endpoints that makes them a wise investment for schools like Genesee Valley. But it is what's on the outside that makes them a pleasing addition to the classroom environment.
"The IPX family of IP endpoints from AtlasIED simply look better than any speaker on the market," LaBenne professes. "With their built-in clock, which was programmed to display the same green as our school color, and attractive housing and mounting options, they make our school look great."
Plus, the colored-coded messaging enables the school to communicate events more effectively—red for emergencies, green for routine announcements, for example. At a glance, students and staff understand the nature of the message, enhancing safety protocols and procedures dramatically for the school district.
Getting More than Bargained For
Thanks to a variety of design options in AtlasIED's IPX endpoint line, LaBenne was able to choose the perfect product for every area of the school—more than 200 IP speakers throughout the 230,500-square-foot building and several outdoor locations.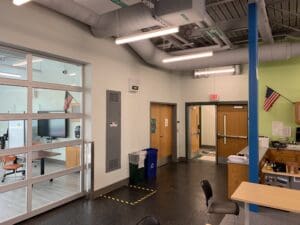 In hallways, he went with dual-sided IP-DDS endpoints so that students could see and hear messages no matter which direction they were walking. Surface-mounted IP-SDMF endpoints with integrated flashers, meanwhile, went into most classrooms, offices, and gymnasiums, with flasher colors customized to illuminate in green for non-critical events and red for emergencies. To deliver audible messages to restrooms and stairwells, LaBenne used IP-SM speakers, and for outdoor areas, some existing analog speakers were replaced with IP-HVP speakers.
For the few existing outdoor analog speakers that remained, LaBenne employed a gateway that converts digital audio signals to analog so they can relay the same audible notifications as the IPX endpoints.
From corner to corner, top to bottom, the entire Genesee Valley School campus is covered. What started as a quest to replace a PA system, turned into something much more.
In addition to supporting the school's PA needs, the AtlasIED IPX family of IP endpoints enhance the efficiency of Genesee Valley's emergency and safety protocols through modern, flexible technology that eliminates the manual, dated communications processes of the past.
AtlasIED Technology Used:
(150) IP-SDMF PoE+ Compliant IP Dual-Sided LCD Endpoint with Speakers and LED Flasher
(23) IP-SM PoE+ Indoor Wall/Ceiling Mount IP Endpoint
(30) IP-DDS PoE+ Compliant IP Dual Sided LCD Endpoint with Speakers and LED Flasher
(18) IP-HVP PoE+ Vandal and Weather Resistant Wall-Mount IP Endpoint
"Few organizations are truly innovating in the market today, so I am very excited to join Nureva, a company with a culture of technology and industry leadership," said Root in a statement. "Nureva products are in tremendous demand, and I look forward to working with the team to build on the many successes they have created."
People and Places
Nureva Appoints Tim Root as VP, Strategy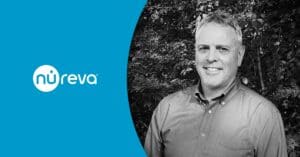 Nureva Inc., a conferencing solution provider, announced the appointment of Tim Root as its VP, strategy. In this newly created role, Root will focus on leveraging Nureva's unique, patented technologies to further develop and implement the company's long-term vision for its platform and products. He brings deep technical knowledge across all current audio and video platforms and products, as well as a proven ability to deliver new innovations and opportunities.
His deep understanding of the col-aboration market, with a track record of emerging customer needs, and his extensive network of relationships throughout the industry uniquely equip Root to advance Nureva's product and go-to-market strategies.
Root has held similar leadership positions at Poly and Revolabs (acquired by Yamaha). In his role as general manager of Poly's video business, he helped develop Poly's award-winning enterprise and consumer products along with key business partnerships with leading UCaaS players like Microsoft® and Zoom.
Nureva continues to expand its market presence, with a focus on making it remarkably easy for customers to enable collaboration in their meeting and learning spaces without the complexity and cost of traditional solutions. This focus is fueled by the development of patented Microphone Mist™ technology, which fills a space with thousands of virtual microphones so that everyone can be heard with-out complicated microphone hardware and software setups.
Over the past several months, Root has contributed to Nureva as a consultant on the evolving vision of the core technology and its applications. Now, as a full-fledged member of the executive team, he will play a deeper role in envisioning and creating products that break the mold of traditional approaches to enabling collaboration.
"Few organizations are truly innovating in the market today, so I am very excited to join Nureva, a company with a culture of technology and industry leadership," said Root in a statement. "Nureva products are in tremendous demand, and I look forward to working with the team to build on the many successes they have created."
RoomReady Promotes Jamie Huff to President & Chief Operating Officer
Meeting room technology provider RoomReady announced the promotion of Jamie Huff to President and COO. Prior to joining RoomReady, Huff was President of Pii (Progressive Impressions International a subsidiary of Taylor Corporation) where he was responsible for accelerating revenue growth by acquiring and building relationships with Fortune 500 companies.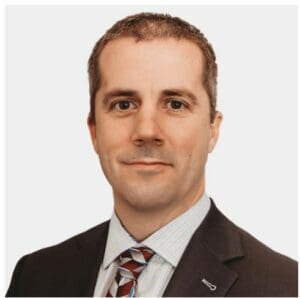 Since joining RoomReady in early 2019 as COO and EOS Integrator, Huff has successfully spearheaded an increase in profitability by focusing on foundational internal processes as well as establishing and growing regional locations in the northeast and northwest as part of a nationwide expansion effort.
In his new role, he will be driving the ongoing growth strategy through continued geographic and service offering expansion through new markets and acquisitions.
Aaron McArdle, Founder and CEO, said in a statement, "I met Jamie through YPO and when I was restructuring our leadership team and starting EOS, I knew he would be an awesome addition to join the team. Jamie has made a huge impact on our company from day one. He has established foundational efficiencies that are helping RoomReady evolve into an organization ready for the next chapter of our journey."
If you enjoyed this article and want to receive more valuable industry content like this, click here to sign up for our digital newsletters!