D-Tools Enhances D-Tools Cloud Integrator Tool
D-Tools has announced a number of updates to its D-Tools Cloud solution to make the sales and proposal processes easier.
Leave a Comment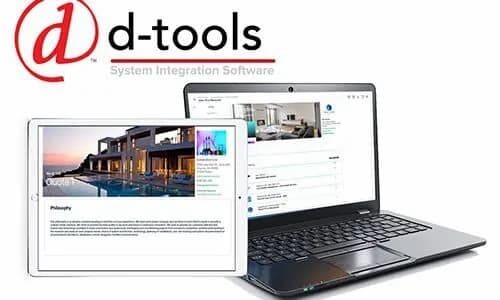 D-Tools, Inc., a global provider of core business management software that improves financial results for thousands of system integrators, has announced improvements that help salespeople streamline and customize their proposals in D-Tools Cloud.
"Demand for electronic systems integration services is at an all-time high, and the backlog for getting proposals out the door is growing, placing client relationships at risk," says Randy Stearns, CEO of D-Tools.
"New enhancements to the D-Tools Cloud platform turbocharges proposal throughput while at the same time increases proposal accuracy and appearance."
D-Tools Cloud Sales Process Management Enhancements
Highlighting some of the improvements made to the dealer tool, the D-Tools Cloud updates offer these new features:
Client and Contacts CSV Import: Import contact information from QuickBooks, MS Outlook, Google Contacts, D-Tools System Integrator, and more in order to hit the ground running and begin quoting immediately.
Proposal Email Templates: Save time during the sales process by creating and standardizing on email templates that are customizable with your company's branding and designed to suit various sales scenarios.
Automated Proposal Reminder Emails: Automatically send email reminders to prospective clients before the proposal's expiration date. Stay top-of-mind (and at the top of their inbox) to avoid sales opportunities slipping through the cracks.
Payment Integrations: In addition to ProPay, D-Tools Cloud users can now collect contract deposits using CardConnect and Stripe as part of the proposal acceptance process, giving your clients more flexible and convenient payment options
Proposal improvements to D-Tools Cloud include:
Line Item Discounts: Apply discounts to products within a quote. Display the discount as either a percentage or dollar amount, and close more sales.
Live Proposal Editing: Live proposal editing makes it easier than ever to design and customize stunning proposals that create improved client engagement.
Proposal Order Ranking: Sort items in a proposal alphabetically, by price, or simply drag and drop them to the desired position to ensure that highlighted products are prominently displayed.
Proposal Valid-Until-Date: Set an expiration date and time for the proposal to prevent shopping around and keep forward momentum in the sales process.
Avalara Automated Tax Compliance (U.S. Dealers): To avoid the risk of improperly calculating taxes, Avalara, a leading tax lookup, calculation and compliance tool, is now integrated into D-Tools Cloud so taxes are automatically and accurately calculated on proposals.
This article originally appeared on Commercial Integrator's sister-site, CEPro.com.
If you enjoyed this article and want to receive more valuable industry content like this, click here to sign up for our digital newsletters!