HP Unveils New Products for Hybrid Workforce at CES 2023
The new HP laptops, collaboration devices and monitors showcased at CES 2023 are designed with hybrid work and sustainability in mind.
Leave a Comment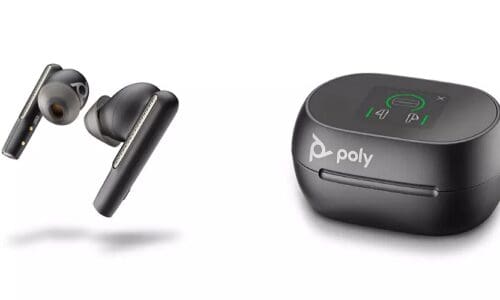 With a third year of distributed work upon us, HP's new products being showcased at CES 2023 are largely designed to accommodate the hybrid workforce, including new hybrid work-designed laptops and PCs and wireless earbuds.
CES, taking place this week in Las Vegas, comes as organizations and the tech industry supporting them dive into a third year of distributed work, with new products and services frequently catering to those organizations and workers embracing a hybrid work model. HP, which acquired videoconferencing peripherals manufacturer Poly last year, appears to be all-in on that trend with its newest products.
Laptops and monitors
This includes the new HP Dragonfly Pro portfolio, which HP says is marketed toward freelancers with needs for multitasking and heavy workloads. According to HP, the new devices are designed to reduce friction in users' lives, featuring powerful audio, camera and touchscreen; all-day battery life; and 24/67 live concierge support and services. Included in the portfolio are both a Chromebook model and Windows version.
The 14-inch Dragonfly Pro Chromebook is designed with what HP calls the "world's first" 8-megapixel user-facing camera in a clamshell Chromebook along with the "world's biggest" touchscreen display.
Meanwhile, the Dragonfly Pro was co-engineered with AMD using the company's adaptive platform management framework that optimizes performance for real-world productivity scenarios, HP says, adding that this is the first HP device to feature one-touch access to HP's 24/7 live concierge support directly via hot keys.
Both computers are built with recycled metals and plastics, the company adds.
HP also introduced new monitors, including the new E-Series G5 Monitors designed for both home and offices. The G5 series include displays ranging from 21.5 inches to 44.5 inches with features designed to help hybrid workers stay focused, such as 4K resolution on select models, curved and ultrawide screens, 99% RGB and matching accessories.
Other new monitors are the HP M24h and M27h FHD Monitors designed for home workers, learners and entertainment users.
Collaboration
Also being featured at CES 2023 are the collaboration capabilities featured in the HP Dragonfly G4, HP EliteBook 1040 G10, and HP Elite x360 1040 G10. These features include support for a multi-camera experience that allows users to show their faces and an object or whiteboard simultaneously, intelligent face-tracking, automatic cropping and flattening of whiteboard or document images and more.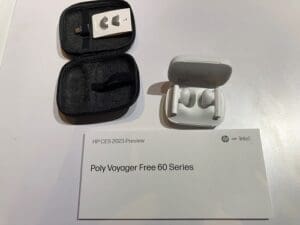 HP and Poly are also featuring the Poly Voyager Free 60 Series line of pro-grade wireless earbuds designed for hybrid workers. According to the combined company, the earbuds provide up to five hours of talk time with adaptive noise cancelling and background noise blocking. The earbuds come with a smart charging case and features an OLED touchscreen display with easy access to volume and mute functions, battery life insights and call status.
Speaking on the new Voyager Free 60 Series earbuds, Global Public Relations Lead Shannon Shamoon says they work with all major videoconferencing platforms and can be paired with the company's Poly Lens mobile app to allow IT managers to remotely manage the devices for wherever employees are.
"It's really about giving today's hybrid workers the flexibility that they need to do the best work they can wherever they are," Shamoon says.
Also in the way of videoconferencing tools is the HP 620/625 FHD Webcam, a Zoom-certified FHD 1080p webcam with dual noise-reduction microphones, an adjustable field of view, auto-focus, intelligent face framing and background light enhancement. The webcam is also designed with security in mind with Windows Hello facial recognition compatibility.
Sustainability
According to HP's announcement, the company's new products are designed with sustainable materials such as recycled materials, but the company is going a step further by introducing HP Carbon Neutral Computing Services, a new service designed to help organizations offset their carbon footprint of eligible HP business PCs. According to HP, organizations can choose to offset the carbon released during production and system delivery or through the entire lifecycle so their PCs remain carbon neutral through the end of use.
This article originally appeared on Commercial Integrator's sister-site MyTechDecisions.com.
If you enjoyed this article and want to receive more valuable industry content like this, click here to sign up for our digital newsletters!