InfoComm 2018: It's the Most Wonderful Time of the Year
Almo Partners for Growth at InfoComm 18
Content from our Sponsor
Leave a Comment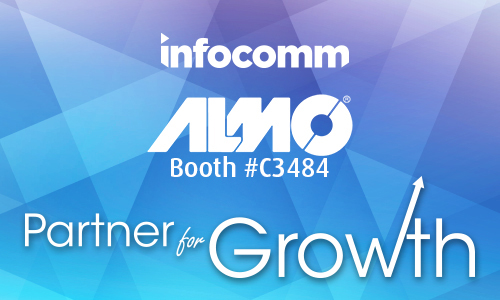 "It's the most wonderful time of the year…" You know the song.
For the AV industry, instead of whistling this tune in December, we sing it every June. The excitement builds all spring as we await the avalanche of incredible AV gear that puts us all into sensory overload. We make appointment after appointment, booking out breakfast, lunch and dinner and every other available moment to make sure we connect with everyone and see everything we possibly can before the magic of the season is over.
Here's how Almo Pro A/V (Booth #C3484) is participating in the industry's "favorite holiday" of the year:
VIP Sponsor of Opening Reception: Almo is a VIP sponsor of the InfoComm Opening Reception at the OMNIA Nightclub at Caesars Palace. Almo is hosting customers and partners in an exclusive loft space overlooking the main floor.
nobox Ad Campaign: nobox is designed to shift the focus beyond products and to managed services, which is where the sustainable opportunities lie. Almo introduced the managed services model several years ago starting with digital signage content creation, then added installation, control programming and telecommunications services. The results of the nobox ad campaign are expected to help drive the future of services in the AV industry.
Almo/Biamp Experience Room: The Almo/Biamp Experience Room features the Devio® product line, which is offered by Almo throughout the U.S. and Mexico. Live demonstrations are taking place in the Almo onsite meeting space (#N240) throughout the show.
Almo/NEC Raspberry Pi Media Player: The Almo booth includes ongoing demonstrations of the NEC V554 with Raspberry Pi (RPi), an open-platform SoC that is both flexible and scalable. Almo has written exclusive custom programming that automatically plays the content. The combination of the RPi platform with the Almo Content is one of the most powerful and cost-effective digital signage options for integrators and their customers.
Samsung TV Q Series: Almo is the only exhibitor on the InfoComm show floor to showcase the new Samsung Electronics QLED home entertainment TV. Launched in March, the expansions to the QLED line are designed for today's consumer who is mindful of the aesthetics of their space.
We look forward to celebrating the most wonderful time of the year with you – see you in Las Vegas!