Logitech Introduces New Brio 500 Webcams and Zone Headphones
The Brio 500 series of enterprise-grade webcams and the Zone Vibe wireless over-the-ear headphones are Logitech's latest remote work tools.
Leave a Comment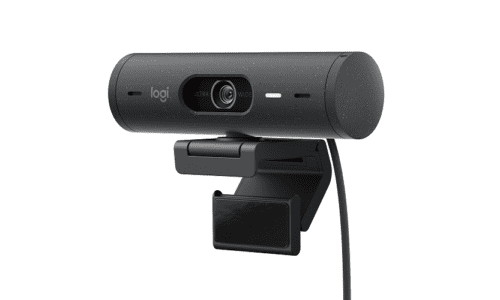 Logitech is launching two new webcam and headphone product lines–the Brio 500 Webcams and Zone Vibe wireless headphones–designed to meet the needs of hybrid workers and make it easier for IT managers to equip their remote and hybrid workforces in a sustainable way.
The new product series are the Brio 500 series of enterprise-grade webcams and the Zone Vibe wireless over-the-ear headphones. The Brio 500 series will initially include two products, while the Zone Vibe headphones will include three editions.
According to the Newark, Calif-based Logitech, the Brio webcam line features the Brio 500 and Brio 505, both of which feature enterprise-grade audio and video quality for remote and hybrid conferencing. The webcams feature Show Mode, a tool that makes it easy to share sketches or other physical objects on a user's desk.
The webcams also come with an innovative mounting system and built-in sensor that allows users to tilt the camera down to focus on objects, and the webcams will flip the image to render the correct orientation on video calls.
Like other Logitech webcams, the Brio 500 series feature AI-enabled technology to automatically frame the user and correct substandard lighting.
Meanwhile, Logitech says its new Zone Vibe series of headphones are the first wireless headphones in the market that "combine business-grade performance with comfort, style, and affordability." The headphones weigh just 6.5 ounces, making them comfortable to wear throughout the workday. To start, the series includes the Zone Vibe 100 ($99.99), Zone Vibe 125 ($129.99) and Zone Vibe Wireless ($129.99).
Both new product lines also feature some IT management capabilities, the company says. The new Brio webcams are plug-and-pay and are compatible with most videoconferencing platforms and are certified for Zoom, Microsoft Teams and Google Meet. An integration between the Brio 505 and Logitech Sync allows IT admins to update firmware and troubleshoot problems .
The Zone Vibe Wireless headphones also offer IT admins the ability to push updates through Logi Tune and Logitech Sync, according to Logitech.
Both new product lines are also certified carbon neutral.
The Brio 500 webcam series and Zone Vibe 100 and 125 headphones will be available globally in September 2022 on logitech.com and at other global retailers. Zone Vibe Wireless headset will be available in December at authorized channels.
Learn more about Logitech collaboration devices at AV-iQ. 
This article originally appeared on Commercial Integrator's sister-site MyTechDecisions.com.