MuxLab InfoComm 2019 Preview: IP Control with the MuxControl App
The MuxLab InfoComm 2019 booth will showcase its MuxControl app, an IP control solution for 4K and other applications. Find them at booth #2575.
Leave a Comment
The MuxLab InfoComm 2019 booth will showcase IP control with their MuxControl app. Read our interview with director of product management Joe Teixeira to learn more about the company's trade show plans. Find them at booth #2575.
CI: 1) What is the top product at the MuxLab InfoComm booth this year, and what makes it unique or special?
We're most excited to continue to build upon our IP-based line of solutions that deliver uncompressed 4K basically anywhere when connected to an Ethernet network. One of our most exciting offerings is the ability to configure and control all of our IP-based products using our MuxControl app.
We spent a lot of time designing an app that integrators can feel confident about. They can turn over a super sophisticated system that is truly easy to operate. New features on the app include the ability to support multi-zone functionality, giving access to multiple locations from the palm of a hand.
Repetitive tasks can be preconfigured and instantly activated. Users can create very expansive video walls of almost any user-defined size that support up to 4K@60Hz resolutions. Users can swipe right to access various rooms. It supports the creation of control presets that are typically supported by RS-232 and IR interfaces.
And users can create their own unique, virtual remote controls with these and other commands, completely tailored to them. Buttons can be customized by size, color, placement and shape to make a remote control created by the user, for the user.
CI: 2) What other products or offerings would you like to highlight, and what are some of their unique qualities?
At the MuxLab InfoComm booth, we'll also be showcasing streamlined and attractive wall plate enclosures in different finishes for delivering 4K around any residential or commercial environment in an attractive way as well as new AV over IP solutions that offer compatibility with Dante systems for cutting edge system integration
CI: 3) What else is new or noteworthy about the company for 2019?
Our products were used to create an immersive video wall experience at Stars 'N' Bars Abu Dhabi IT's a sports bar that aims to provide the quintessential Monte Carlo experience—think sports bar by day, and club scene by night—in the heart of Abu Dhabi.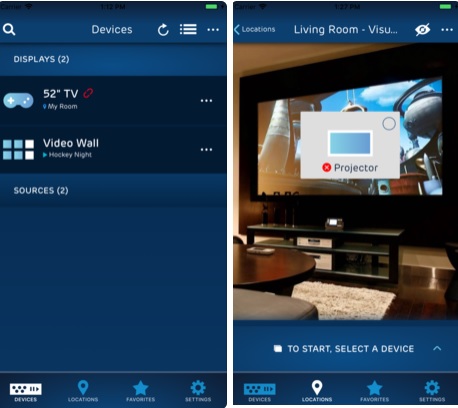 The IP-based video walls were installed by Link Data Systems and features 4k multi-screen video viewing on 60 displays fed by nine sources.
Content from nine different sources is routed throughout the facility using our Video Wall over IP solutions.
Specifically, 50 MuxLab 4K over IP receivers, four Video Wall over IP receivers and nine MuxLab 4K over IP transmitters, each with PoE capabilities deliver AV from each source to any and all selected displays.
MuxLab's Video Wall solutions allow 4K@30Hz to be connected and extended to create a video walls of any user-configurable size supporting nearly unlimited displays, depending on network bandwidth.
Our ProDigital Network Controller is interfaced with RTI and enables DJs and restaurant staff to very easily select sources and direct content throughout the venue. They're thrilled with the results.
CI: 4) What do you see as some of the top opportunities in the marketplace right now and how can you help integrators/consultants tap into them?
We see the user experience continuing to take precedence and that's one of the reasons we continue to shift our design and engineering efforts on the user experience. Our MuxControl app demonstrates this very clearly.
Our new DigiSign CMS, which manages and schedules content on our Digital Signage Media Players also aims to enable an easy, yet powerful interface that provides everything an end user needs to create stunning experiences.
CI: 5) What's the one lasting impression you'd like integrators to have after visiting the MuxLab InfoComm 2019 booth?
MuxLab is really leading the way in creating reliable, future-proofed IP-based infrastructures. Our resellers and our customers realize this. We'd like the entire InfoComm world to understand this and turn to us for insights and innovations in this vastly expanding space.