PPDS Launches Philips Professional Soundbar Designed For MediaSuite TVs
The Philips Professional Soundbar with a built-in subwoofer has been designed and configured exclusively for Philips MediaSuite TVs.
Leave a Comment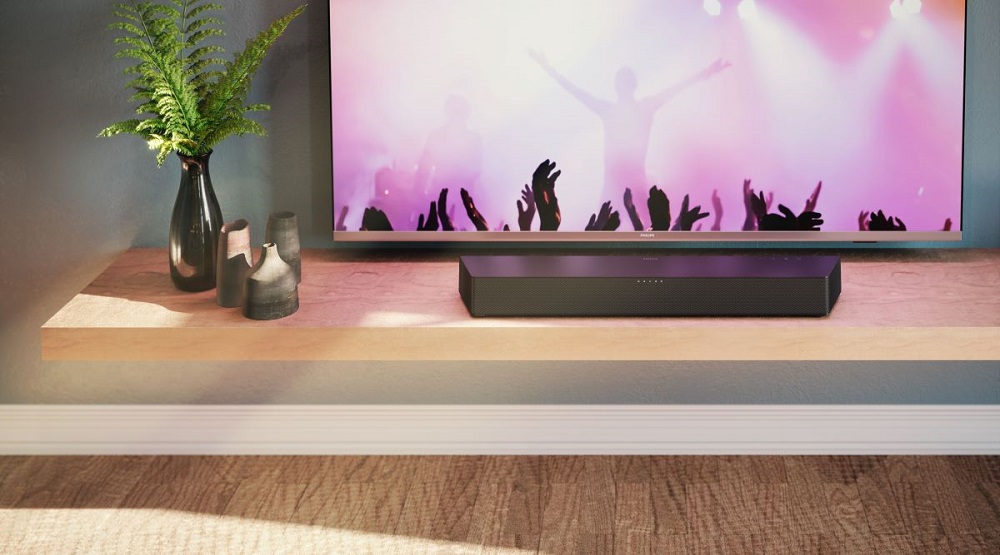 PPDS has launched a two-in-one Philips Professional Soundbar HAL5023 with built-in subwoofer, designed for Philips MediaSuite TVs. PPDS, is of course, the exclusive global provider of Philips professional displays and dedicated AV software solutions.
Continuing the company's "total solutions" strategy, the new soundbar combined with Philips MediaSuite transforms hotel guest rooms in North America into highly immersive cinematic experiences, says the company.
The new soundbar was designed and built in collaboration with TP Vision's Philips sound team the slick and stylish trapezoid-design features a professional 2.1 channel setup, with an output power of 200 W max / 100 W RMS (10% THD), bringing clear audio performance. The built-in subwoofer adds an extra punch, immersing guests even deeper into the action, says PPDS.
Philips Professional Soundbar Installation
Back-end controls through Philips MediaSuite TVs also allow for specific configurations to be put in place, including volume limits, ensuring surrounding rooms are not impacted or disturbed.
The freestanding or wall mountable (brackets included as standard) Philips Professional Soundbar, can be easily configured using the setup menu on the Philips MediaSuite TV. All related settings can be quickly and efficiently copied and transferred to the entire TV fleet remotely through cloning via PPDS CMND, saving significant installation times and costs, says the company.
Controlling your experience
Removing the need for multiple controllers, the Philips Professional Soundbar can be controlled using the standard Philips MediaSuite TV remote. Alternatively, the Philips Soundbar can double as a high-end speaker system for guests wishing to play their preferred music, podcasts, and radio stations via apps and accounts on their own personal devices. This can be achieved either through Bluetooth or via Philips MediaSuite's inclusive Chromecast built-in technology.
With security a key feature on Philips MediaSuite TVs – and all PPDS solutions – all customer data, including Bluetooth pairing information from personal devices, is immediately cleared upon check out from the hotel.
Conforming with Philips MediaSuite's near cable-free presentation, the soundbar also comes equipped with a custom-designed power cable adapter, enabling it to be powered via a single power socket, shared with the TV. An anti-theft cable to help prevent unauthorized removal of the device is also included.
Powerful Sounding Audio
Jeroen Verhaeghe, global business development director, hospitality, says, "Philips MediaSuite was designed to enhance and, in many aspects, reinvent the hotel room experience, accommodating all the features and services guests are accustomed to in their own homes, within the hotel room. With a long-term commitment to offering Chromecast built-in technology, together with unrivalled relationships with streaming giants, such as Netflix, we've revolutionized the way people can access and enjoy their favorite movies and shows on the road. Today, we're providing the opportunity for hoteliers to take that experience to the next level, with the Philips Professional Soundbar."
Jan van Hecke, global product manager professional TV, adds, "With today's announcement, the industry's most advanced professional TV solution has just been given the perfect upgrade with even greater, more powerful sounding audio. With Philips Professional Soundbar, the in-room experience, for many, can now surpass that enjoyed at home, changing guests' perceptions of hotels, and helping to ensure positive reviews and repeat business."
Per a statement, the Philips Professional Soundbar is due to be available in warehouses Q4, 2023.
If you enjoyed this article and want to receive more valuable industry content like this, click here to sign up for our digital newsletters!