WyreStorm Launches MXV-0808-H2L to Reduce Installation Costs
WyreStorm announced its new matrix, the MXV-0808-H2L, with key features and options for reducing installation costs.
Leave a Comment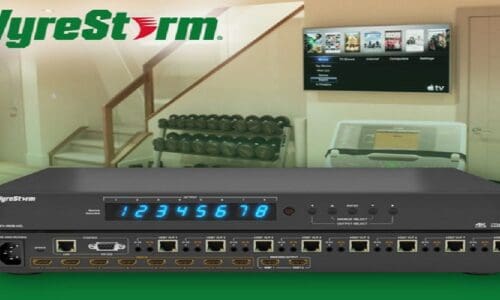 WyreStorm, the N.Y.-based manufacturer of AV distribution and unified communication solutions, unveiled its new matrix, the MXV-0808-H2L. According to the company, the product aims at lighter footprint installations and reduced cost. At the same time, it will maintain the same key features for an HDBT switcher. Thus, WyreStorm says it ticks all the boxes keeping the key features usually needed for the AV installation.
The company adds that the matrix is geared towards high bandwidth video distribution. As a result, users will avail all highlights and features from the MXV platform without the added cost of audio distribution in certain applications. These include applications where it is not needed such as residential, retail stores or digital signage.
Also Read: 3 Questions with James Meredith of WyreStorm
WyreStorm further states that the the MXV-0808-H2L HDBaseT 8×8 Light Matrix Switcher will join the Matrix Solutions line of products. Per a statement, the release stems from WyreStorm's strategy for ensuring quality products and meeting clients' requirements.
The H2L carries the familiar power of the MXV platform. This offers transmission of HDMI content up to 4K/60 4:4:4 & HDR to 35m/115ft. It also pairs powerful HDBaseT and WyreStorm's variable light compression technologies. Additionally, the MXV-0808-H2L has 8 Class B HDBaseT zone outputs with PoH and 2 mirrored HDMI outputs. This enables the transfer of power in conjunction with data signals over a single Ethernet cable. In doing so, it further reduces the installation cost.
The new matrix switcher has additional features and options. These include CEC & RS-232 Routing, two Mirrored HDMI outputs. Besides these, it has audio breakout ports, Low Power Saving Mode during downtime, distribution and signal zone control and Embedded Web UI.
If you enjoyed this article and want to receive more valuable industry content like this, click here to sign up for our digital newsletters!