Best Hotel/Hospitality Project: Bloc Hotels' SYMBIoT Control System
Boxbuild, Crestron help U.K.-based Bloc Hotels adapt existing hardware with connected hotel control solution SYMBIoT.
Leave a Comment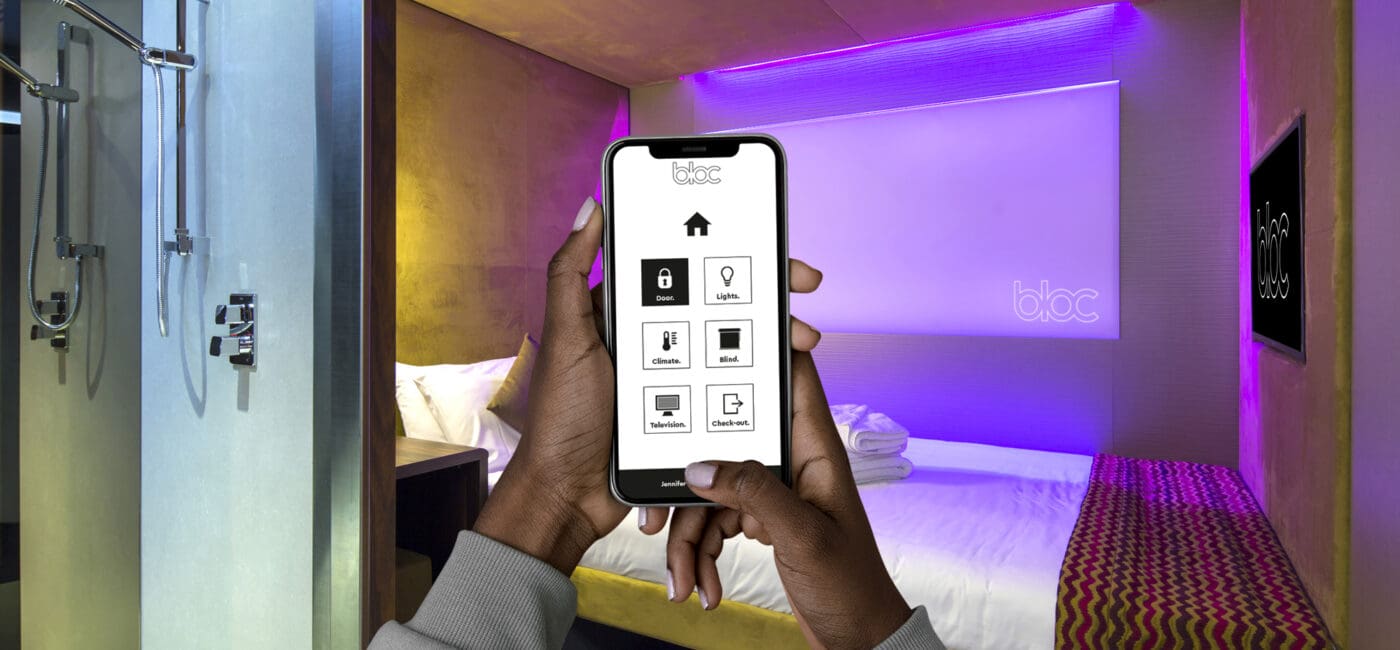 Photos & Slideshow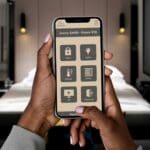 ---
Bloc Hotels, a U.K. based hotel chain known for its innovative design of hotel rooms, realized they had to adapt their existing hardware and create inventive software to realize their vision of offering a superior experience for guests. They needed a control backbone that would be both resilient and secure.
"Initially, we wanted to develop a completely new hotel stay experience for our customers that was seamless, touchless, and secure," explains Olivier Delaunoy, Bloc Hotels' Chief Technology Officer. "However, the technology we needed to control our rooms was not available, as no one had attempted this before in the hotel industry."
The SYMBIoT Solution
Boxbuild, a hospitality-focused integrator, offers a connected hotel solution SYMBIoT, which gives guests total control directly from their mobile device. SYMBIoT is the brain at the center of next generation, smart hotel rooms. The solution is easy to install and inexpensive to maintain while driving every part of guest experience and hotel management.
Bloc Hotels turned to Crestron and SYMBIoT to create this experience. A contactless technology solution, SYMBIoT provides a bespoke cloud-based room control management system that integrates with the hotel's property management and POS systems to control the entire hotel experience and environment.
Read next: Best Health Care Project: SKC Communications & University of Kansas Hospital
The solution allows guests to control door entry, lights, climate, blinds, and TV in the room from their own smartphone or tablet, as well as check in and out. They can even operate the elevators and be guided to their room. There's also no need for a key card or for guests to download an app. Nothing else is needed to access the system.
"Guests receive a confirmation email with a clickable electronic key, and away they go! What's more, it's included with their stay. For those guests who prefer the more familiar analog methods, such as key cards, the hotel offers that option, as well.
This marks a huge shift at the right time!" says Delaunoy. SYMBIoT's integrated technology platform works with the Crestron control system, allowing guests to check in, access and control their room from their phone.
The staff at Bloc Hotels are able to detect, manage and maintain operational efficiencies across your property. The Crestron hardware eliminates the need for bulky on-site architecture and helped create a cloud-based room management system that allows guests to manage their experience from their personal device.
The Installation: Crestron & SYMBIoT
Using secure and stable Crestron hardware that eliminated the need for bulky on-site architecture, a cloud-based room management system was created that allows guests to check-in remotely, access their room and control all in-room technology from their personal device, without the need to download an app.
The contactless solution also provides hotel operators with an easy to install and inexpensive to maintain package that includes through streamlined housekeeping and maintenance with front desk and safety information directed to guest's devices by way of automated processes and real-time operational insights.
Working alongside a hotel's traditional infrastructure, the plug-and-play software can further be expanded to offer real-time diagnostics on other maintenance devices, from lights to leak detection.
Customer Reaction
While the system was designed before COVID-19 disrupted the world, the fact that it reduces contact with surfaces that are commonly touched is a very fortunate by-product. "Crestron has helped safeguard our hotel by reducing guest contact. We are now adapting our technology further to embrace that element," Delaunoy says.
Bloc Hotels plans to open additional hotels in the near future and will roll out this technology to all of them. SYMBIoT is also making the technology available for implementation at other hotel chains, and it is currently being rolled out internationally.
Equipment List (all Crestron)
3-Series Control System®
AV3
3-Series Control System®
CP3
3-Series® Media Presentation Controller 101
MPC3-101
DIN Rail 60 Watt Cresnet® Power Supply
DIN-PWS60
DIN Rail High-Voltage Switch with Digital Inputs
DIN-8SW8I
Digital QMT® Shade Motor for QMT3 Series
CSMI-QMTDC-163-1-EX