Best Health Care Project: SKC Communications & University of Kansas Hospital
The University of Kansas Hospital commissioned SKC Communications to update its existing executive boardroom.
Leave a Comment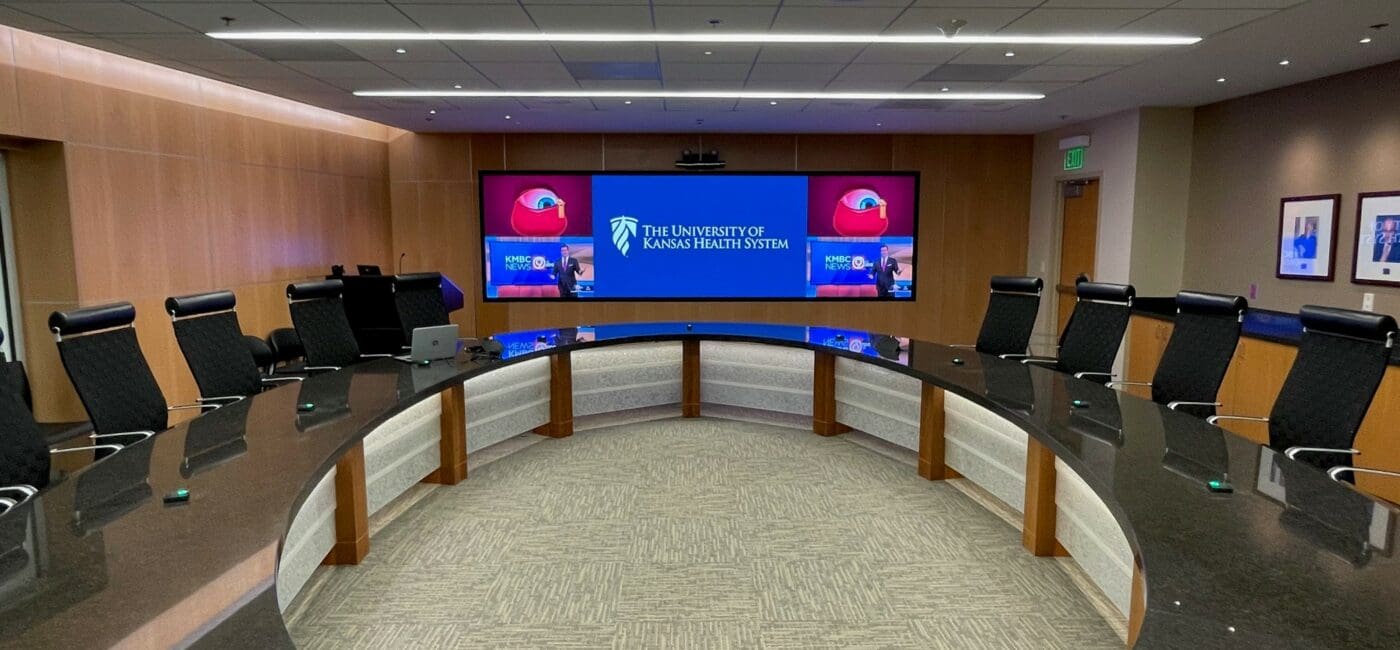 The University of Kansas Hospital was a target account for SKC Communications for over eight years. SKC received the opportunity two years ago with smaller projects and proved their expertise through its services and support.
The relationship grew, and the timing was right for the University of Kansas Hospital's highest-level conference room to be upgraded.
Updates included replacing an existing rear screen display set up with a state-of-the-art video wall, updated video camera tracking, and dual Crestron touch panels with custom code and switching. The executive boardroom is highly effective in bringing a first-class experience to the hospital.
SKC Communications deployed numerous technologies to work together to provide a state-of-the-art executive boardroom.
The Technology SKC Communications Installed
First, a Primeview FusionMax 1.2mm videowall runs 192-inches by 108-inches at the end of the boardroom. The Primeview FusionMax direct-view LED wall had to be rushed from overseas to meet the install timeline.
In order to fit the wall into place, the University of Kansas Hospital had to modify the custom millwork that already existed in the space.
The seamless wall allows for an uninterrupted view of content and remote attendees of various meetings. To that end, Poly video conferencing dual cameras were installed to allow for tracking of attendees within the room for videoconferencing sessions with remote guests.
See Next: Best Government Project: Ford AV & Wyoming State Capitol
As the space is a Microsoft Teams room, custom programming was created to allow for one touch dialing for those executives holding meetings within the space. For content distribution, the team at SKC Communications implementing Crestron DM NVX. Finally, Biamp DSP was implementing for audio upgrades to ensure intelligible audio on both ends of videoconferences.

Customer Reaction
All of the University of Kansas Hospital executives that participated in the room reveal and training were extremely happy and impressed by the video wall as well as the other technology implemented in the room by SKC Communications.
The innovative and cutting-edge technologies work together to provide the organization virtual as well as real-time experiences for their executives, employees, and clients.
Equipment SKC Communications Installed:
Primeview FusionMax video wall
Poly dual cameras
Crestron DM NVX
Biamp DSP