Boardroom Technology Solutions Crucial to Sky Mart's Competitive Edge
Sky Mart CEO explains the value of great presentation and boardroom technology solutions that he says attracts talent and closes deals.
Leave a Comment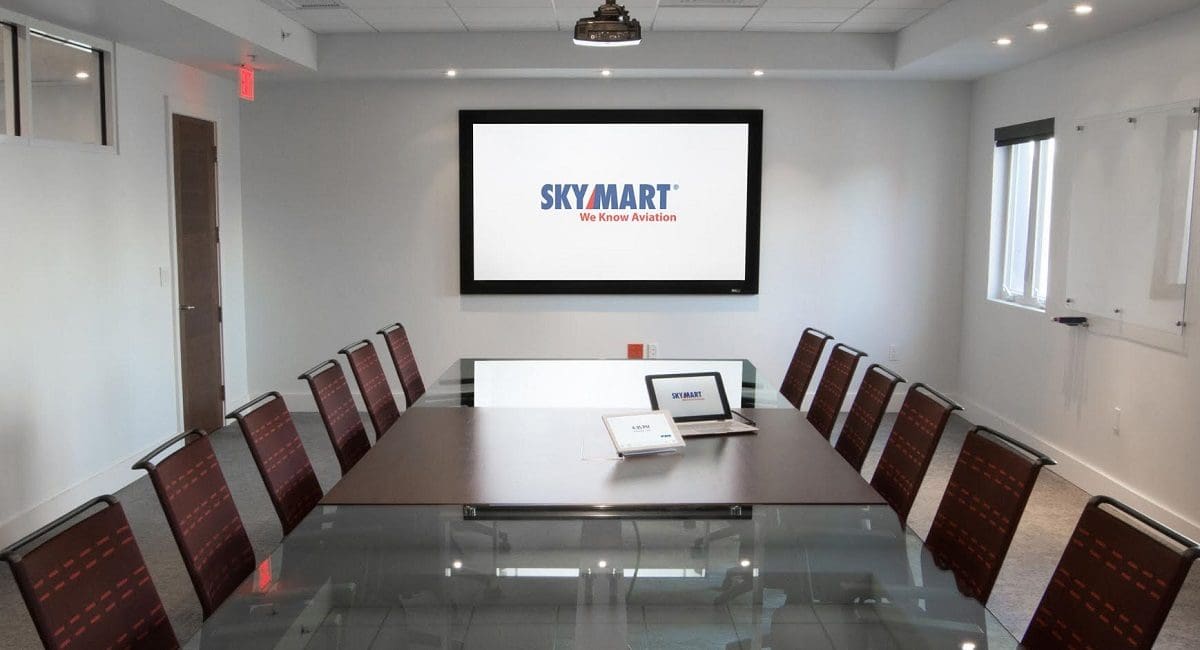 Juan G. Robbin has strong ideas about his headquarters and his boardroom — especially the boardroom technology solutions recently installed there.
"We needed a place that showcases who we are, that differentiates us from the typical aviation business," he says. "Having the latest boardroom technology solutions has been a key to our success for the last three years."
Sky Mart, of which Robbin is the CEO, is a Miami-based distributor of lubricants and parts for passenger and cargo airlines around the world. In many ways, the products they sell are the ultimate commodities, because their quality, age and even their sourcing must be carefully documented.
Instead of selling a better product, Sky Mart must offer a better service, and find ways to show the industry that they are more trustworthy and reliable than competitors.
"We needed to show our clients that we are stable and responsible, a company that people want to buy from," he explains.
The space, with powerful boardroom technology solutions from Fort Lauderdale-based Think Simple, does just that.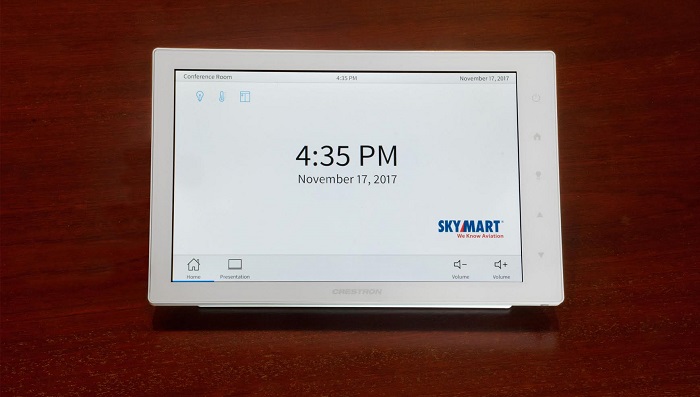 Why Sky Mart Brings Customers Inside as Often as Possible
Founded in 1985, Sky Mart is a family-owned business with a client list that includes Lufthansa, JetBlue, LAN, Avianca, Atlas Air and many others.
In 2013, seeing an opportunity for expansion, management purchased an older, 36,000 square-foot industrial building near Miami International Airport, which they completely rebuilt.
Robbin asked Will Gilbert, a partner in Think Simple, to design the board room technology solutions for the new room.
Gilbert and his team created a presentation system using nearly all Crestron components, including a DigitalMedia Presentation System, hardwired and wireless laptop connections, plus Crestron Saros in-ceiling speakers, Crestron motorized shades and Crestron lighting.
A 10" Crestron control panel provides simplified operation of the AV system, lighting, shading and climate. There's an Optoma projector and Draper Onyx screen as well.
"We bring clients in here as often as possible," Robbin explains.
"That's important because, if you walk into a place and think, 'This is a company with people who are knowledgeable and strong,' that's a company you want to work with."
The technology, he says, helps communicate that crucial message.
"The video and sound quality are very high, and it's almost magical how the pieces work together, how the lights dim while the shades go down and the presentation begins."
If Robbin is in a negotiation, he believes the room helps give him a subtle, but critical advantage.
"I think nothing is more powerful than creating the desire to work together," he says. "Once you have that, the details become much easier to work out."
The room is a recruiting tool as well. "Finding and retaining talent is one of the single biggest challenges we face," he says.
"We want people that are not only focused, driven and professional, but very friendly. Our company culture is all about being very cordial and helpful, with people taking care of each other as well as our clients. So when you find someone who fits that profile, you want to make sure they're impressed."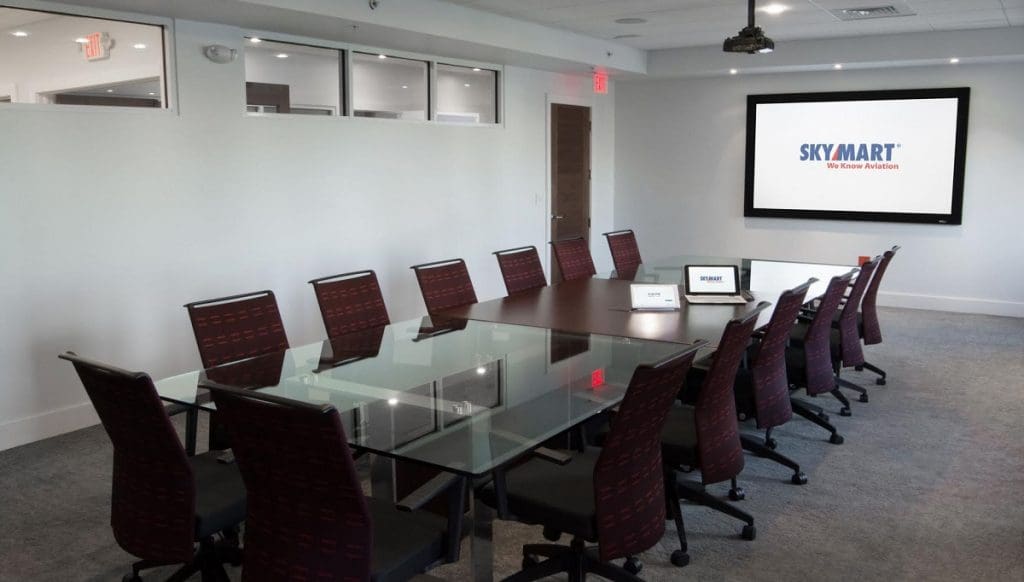 The Decision to Choose Think Simple
Robbin says he chose Think Simple as his boardroom technology solutions integrator because he saw a similarity to his own company's culture.
"The aviation industry is extremely driven by safety and reliability," he explains.
"There's always the sense of predictive outcome, that you know something is going to work, that if it can't be perfect, it has the minimum chance of failure. So I want everything around me, including my people and my headquarters, to embody that kind of philosophy. Will runs his company the same way."
Attention to detail has helped Sky Mart achieve a sustained, 15-20% growth rate since 2013, and Robbin expects to double the size of the company within the next four years.
"The word credibility keeps coming back when we talk about this room," he says.
"Sometimes you can communicate that very quietly, with the heft of a door, the the ply of the carpet, or how smoothly the electronic systems work together…The whole point is to start people thinking, 'We want to do business with this company.'"