Zytronic Touch Combines Kiosk and Video Wall in One Solution
Zytronic Touch provides movie goers with an interactive video wall experience and convenient touch-based ticket purchases.
Leave a Comment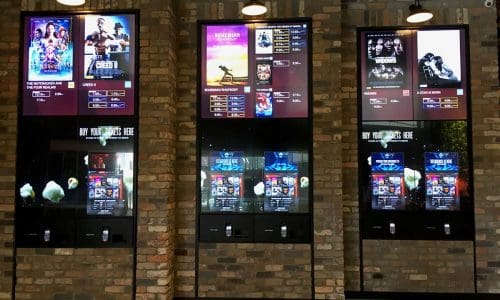 Self-service ticket kiosks have become the preferred mode of customer interaction of movie theaters across the globe.
They free up manpower to focus on other tasks, minimize bottlenecks in the movie theater foyer, provide a way to track and analyze customer purchases, and deliver an way to better engage consumers—especially Millennials who crave the DIY power to purchase what they want, when they want, and without having to wait in line.
As people have grown increasingly comfortable with kiosk-based purchases, companies are looking for ways to make the experience even more dynamic—to differentiate themselves from their competition.
Zytronic Touch in Australia
Movie theaters in Australia are moving in this direction by combining the convenience of a touch-based kiosk with the visual enticement of a graphically dynamic video wall.
Driving this concept in the theater space is a collaborative effort by Zytronic, a supplier of durable, high-performance Projected Capacitive Technology (PCT and MPCT) touch sensors, and Brisbane-based digital solutions provider TouchMate.
Together, they have produced a complete front-of-house solution to help simplify and expedite guest services for Australian movie theaters.
A Two-Pronged Approach Saves Money
Self-service ticket kiosks have wide acceptance in movie theaters, but TouchMate saw the potential in combining the widespread use of video walls in cinema foyers with kiosk-style features. TouchMate director, David Ellsworth, explains: "Our system is an evolution of the current technology.
Traditionally, the cinema might spend more than $50,000 on a video wall, and then install eight self-service kiosks that might cost an extra $50,000+. If you merge the two technologies, you halve the capital costs and costs of maintenance. You save space and money."
Automation Through Proximity Sensors
Customer acceptance is instantaneous. Patrons immediately understand the proposition — as soon as they see the attendant EFTPOS facilities, they know they have the opportunity to buy cinema tickets. As they approach the machine, proximity sensors switch the video wall's content, such that the customer can find their desired screening and complete the transaction. Once complete, the content automatically switches back to the in-house CMS programming.
The Secret to Maintaining a Slim Profile
Crucial to the success of the TouchMate digital solution is the Zytronic ZXY500 touch controller. The new technology allows the touch sensors to be designed with sub-10mm borders.
David Ellsworth continued, "We've been working with Zytronic since 2002 on a whole variety of products in a whole range of different industries. The new ZXY500 controller is a real step forward. The success of our cinema product is dependent on an edge-to-edge full-screen glass touchscreen, and Zytronic has achieved that. In this case, the bezel width of the touchscreen is right down to 1.8mm either side — 3.6mm from screen to screen in total. It's almost seamless."
Zytronic and its local partner, JEA Technologies, worked closely with TouchMate to design a custom, printed 53-inch Zybrid touch sensor with ultra-narrow borders, made from 6mm-thick toughened anti-glare etched glass.
Rejecting Interference for Fool-Proof Operation
An additional advantage of the new ZXY500 controller is its compatibility with contactless technologies increasingly being integrated alongside displays to enable payments, customer tracking and battery-charging technologies.
RFID, NFC and Qi phone charging all generate wireless signals that can interfere with the operation of conventional touch screens, but the new controller has industry-leading signal-to-noise ratios and sophisticated algorithms that change dynamically to reject electromagnetic interference in the operating environment.
Zytronic tested each of these technologies with the ZXY500 controller and demonstrated that they can be implemented very close to active touch area without impairing the performance of the touch screen.
"Competing projected capacitive touch sensors have issues with electromagnetic interference," says Ellsworth.
"This occurs when you attempt to place two touch panels close by or in contact with each other.
"Effectively, this interference prevents the touchscreens from working properly, which would be a deal-breaker in this application. The Zybrid touch sensors working with the new ZXY500 multitouch controllers don't suffer from this issue."
This cinema foyer self-service solution is a bespoke TouchMate product that boasts two technology patents. The package has taken TouchMate years to perfect and is now becoming widely accepted among new-build cinemas as the preferred one-stop customer-facing foyer solution. TouchMate backs the product with industry-leading service and support.