ABLOY Key-in-Knob Cylinder is UL Listed
ABLOY CY436T Key-in-Knob cylinder earned UL 437 security rating, known as a standard of safety in key lock products.
Leave a Comment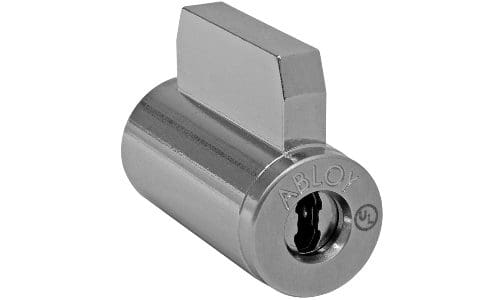 ABLOY USA introduces the CY436T Key-in-Knob cylinder, which has earned the UL 437 Standard security listing.
This latest ABLOY Protec2 key system is the only hybrid high security solution that offers mechanical, electro-mechanical and Bluetooth products, according to the announcement.
"Critical infrastructure projects often prove to be very complicated," comments Jerry Burhans, managing director of ABLOY USA Critical Infrastructure.
"These type of projects are usually spread out over vast, remote areas incorporating unmanned locations requiring a multitude of technologies. We have the ability to provide products — such as the new CY436T door cylinder — that meet the very best standards in the industry. Projects that require the UL437 security rating will now be able to look to ABLOY for a complete, high security cylinder solution."
Underwriters Laboratories is recognized as a global safety science leader that helps companies demonstrate safety, strength security, manage risk and achieve regulatory compliance.
Related: ISONAS Access Control Used at Kentucky Distribution Center
The UL 437 security rating is regarded as a standard of safety for key locks. Products designated with the UL Listed Mark are considered to have representing samples that have been evaluated by UL and meet applicable safety standards.
Joining the ABLOY Protec2 family of ANSI North American cylinders puts the CY436T in good company, the announcement states. ABLOY's patented rotating disc technology offers simple and reliable functionality, even in extreme environments.
Designed to retrofit cylindrical locksets, padlocks and deadbolts, it features the durability of brass construction and can be operated with just a single key.
This post premiered on our sister site, Security Sales & Integration.