Shooter Detection Systems Receives Gunshot Detection Patent
Guardian Tester from Shooter Detection Systems is a field testing device used by authorized dealers during scheduled maintenance visits.
Leave a Comment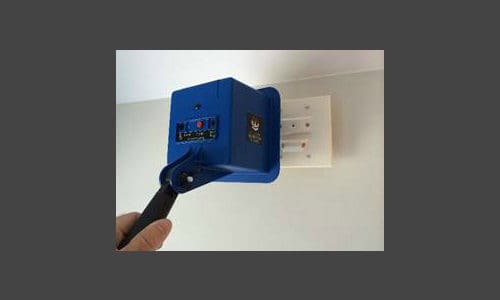 Shooter Detection Systems has issued its fourth patent for gunshot detection, Patent No. US 10,830,866 B1, Testing of Gunshot Sensors.
The technology described in the patent is a handheld device used for the evaluation and testing of gunshot detection sensors that uses a series of tones and known infrared pulses that assess the functionality of the acoustic and infrared operation within the sensor.
The device is also said to test mass notification functionality by sending the technician a text message with the condition of the gunshot sensor. Although the tester does not emit the sound of a gunshot, the tester housing is surrounded by soundproofing insulation so that the device may be used while a building or area is populated without causing a disturbance.
The foundational concepts and designs in the patent are what Shooter Detection Systems sells as The Guardian Tester, a field testing device used by authorized dealers in the commissioning of a Guardian System and during scheduled maintenance visits. Similar to fire or smoke alarm testing equipment, the Guardian Tester can be used by hand or attached to a standard threaded pole.
With the Guardian Gateway and Situational Awareness (SA) software application in test mode, the technician places the tester over the Guardian sensor and receives Pass/Fail results on the SA map and in a text message to a mobile device.
"We created the Guardian Tester as a practical tool to enable our partners to commission a new gunshot detection installation and provide follow on maintenance for their customers," says Richard Onofrio, vice president of hardware engineering for the company.
Related: These Updates to the School Security PASS Guidelines Present Opportunities for Integrators
Onofrio personally designed the tester and authored the patent with CTO Ronald Fowler. "It is extremely rewarding to see this invention patented and see the Guardian Tester's unique design and capabilities recognized," he says.
Earlier this year Shooter Detection Systems was awarded three patents titled Indoor Gunshot Detection with Video Analytics, Indoor Gunshot Detection Analysis During Ongoing Fire Alarm, and Gunshot Detection Within an Indoor Environment.
This story premiered on our sister site, Campus Safety.