Almo Celebrates 75th Anniversary
Almo Corporation celebrates its 75th anniversary this year. Here's how they grew from a radio company into a billion-dollar powerhouse.
Leave a Comment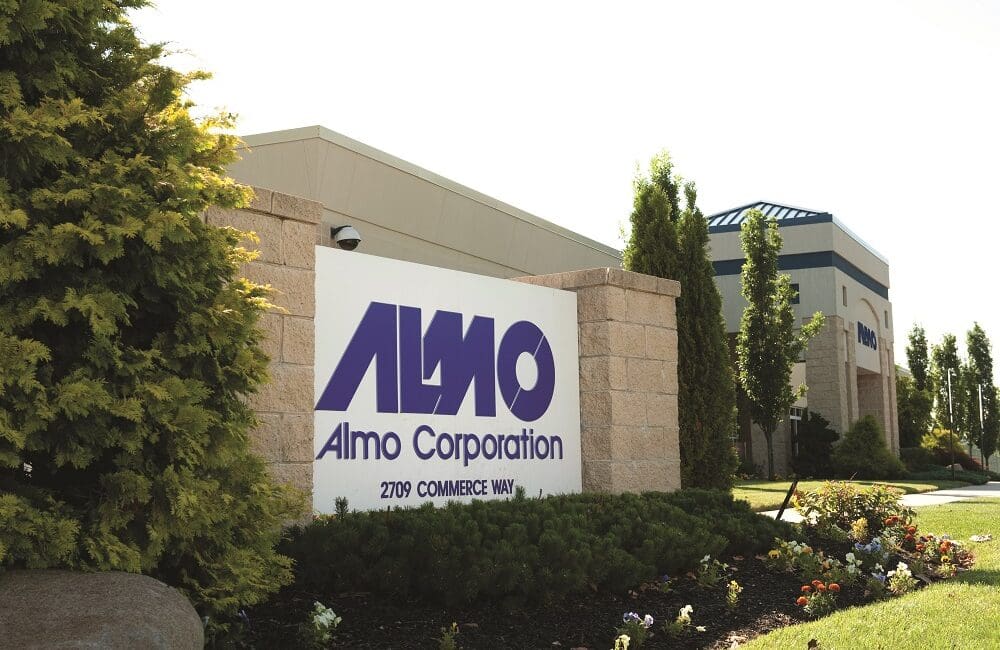 Photos & Slideshow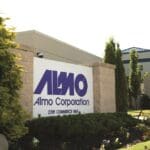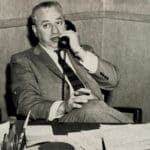 ---
In 2013 Gene Chaiken met with Almo's Professional A/V division group at the National Constitution Center in Philadelphia near the company's national headquarters. He took attendees to a window to tell a story.
He pointed to a tree about a hundred yards north of Fifth Street and Arch Street. "That's where Almo was," he said. "That's where we started at 509 Arch Street."
Gene notes that Almo started in the same area that the United States started. There is a thread to be drawn. Although Almo Corporation services some of the largest companies in the world such as Amazon and Walmart, it is the independent, family-owned, small and medium businesses that have served as the meat and potatoes of the company's business over the past 75 years.
"We need to continue doing that," says Gene Chaiken. "We need to continue to help our customers grow and help them stay healthy so we can stay healthy."
Related: How They Got There – Warren Chaiken, Almo
As Almo Corporation celebrates 75 years of service to customers and continual growth, all eyes are set firmly on the future and continuing the company's success. However, it is as important to garner lessons learned from a vast history of business that includes many sales, acquisitions, pivots, new business ventures and continual growth.
With that said, let's take a look back and learn how Almo managed to thrive and become a billion-dollar company over the past 75 years.
A History of Almo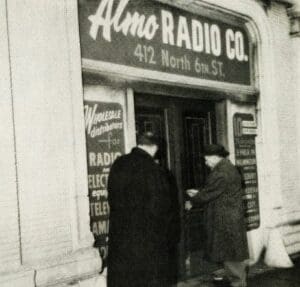 Almo Corporation was founded in 1946 by Morris Green and Albert Margolis as a contraction of the founders' first names (Al + Moe = Almo). It also helped keep the company at the top of the yellow pages, a boon in the days before Google or company websites with contact information readily available.
It was then Almo Radio Company, a replacement parts for radios and WWII surplus shop. In the 1950s, television and industrial electronics had fallen under Almo's purview. In 1954 Al Margolis passed suddenly, leaving Morris Green as the sole owner of the company.
Come 1961 the decision was made to split the company based on workload. The replacement parts business became the dealer business, while the industrial business became Almo Industrial Electornics, Inc. The latter went public the following year.
"At that point we had two corporations, one selling dealers replacement parts and the other selling OEMS like Honeywell, RCA, General Electric, etc.," says Gene Chaiken, Chairman of the Board, at Almo and son-in-law to Morris Green. "It worked well for a while. I joined the company in 1963. By 1967 we realized it was very difficult running a public and private company."
In July of 1968 both divisions were sold to Sterling Electronics in Houston, Texas. The move wouldn't last long, and in 1970 Morris Green bought both companies back and unified them under the name Almo Electronics Corporation.
"At that point the family owned the entire business, and we've been private since 1970," says Gene Chaiken.
Morris Green passed in 1973, leaving Gene Chaiken as Chairman of the Board, President and CEO of Almo Electronics Corporation. "At that point, being a second generation, you have to start making changes," says Gene Chaiken. "We started focusing on different areas. We went into major appliances and consumer electronics businesses."
Read: Nureva and Almo Professional A/V Announce Distribution Agreement
In 1980, Almo sold off the balance of its parts business to focus on industrial electronics, major appliances, and consumer electronics. Throughout the early 1980s Almo acquired a number of distributors in these areas, and in 1989 again decided to pivot when it sold the industrial electronics business to focus on computer products.
"When we sold industrial electronics, we had a focus of, basically, computer products, major appliances, and consumer electronics," says Gene Chaiken.
In 1994 Warren Chaiken, Gene's son, joined the company and made Almo a true third-generation organization. In 1998 Almo sold the computer parts business and focused back on consumer electronics.
"We continued the acquisitions, we continued to grow, and in 2004 Warren became the President and COO of the company," says Gene Chaiken. "In 2014 Warren then became the CEO of the company while I remained the Chairman. In 2016 we bought IAVI (International Audio Visual, Inc.) which made Almo a billion-dollar company."
Today, Almo is a $1.37 billion company with 2.5 million square feet of warehousing space in nine facilities, with four sales offices and over 650 employees.
"We didn't get there by ourselves. We got there because of people," says Gene Chaiken. "We have people working for the company that are second generation and third generation working for the family, besides our family. We have mothers and fathers in the company, and they have children in the company. We have married couples in the company. We have one family which the mother and all four of her children work for us.
"We have a lot of long-term stability in our company. As a matter of fact, my assistant has been with us for 49 years," he says. "We do believe in long-term relationship with our people, our vendors, and with our customers."

Almo Professional A/V
Almo Professional A/V is a division of Almo Corporation that began in 2009 and went on to become the largest Almo business segment. This is the piece of the business the majority of our readers will be most familiar with, as the division has become a distribution partner to a significant portion of the AV integration industry.
Sam Taylor, now EVP/COO of Almo, started the Almo Pro A/V division. "It was after a company that I had been president of had gone under during the recession," he says. "When we closed down that company I was looking for a company that was like it. We had a family culture there."
"In 2008, Sam came to us with 22 people, no inventory, no customers, and no vendors," says Gene Chaiken. "We hired Sam on that basis and it proved to be a very good decision."
Taylor was shopping his business plan to a number of companies, but sought a firm that would provide the same stability and emphasis on the employees that he appreciated about his previous firm. He found that in Almo.
"I believed in the people that I was going to be bringing along with me," says Taylor. "I knew it was the right place to go because they were going to hire the most amount of my people and we were able to restart with great people."
"I was one of those people that came over with Sam to start the division," says Melody Craigmyle, Vice President of Marketing and Communications at Almo. "It's been an incredible experience working with Almo. It's like a family."
Read: Announcing the 2021 Best Electronics Systems (BEST) Award Winners
"When Sam came to Almo it changed our company. It truly did," says Warren Chaiken. "It took us to the next level… not only from a revenue standpoint but more importantly from a cultural standpoint and who we became. We became a much more sophisticated company. We became much more creative and innovative. It really then trickled through the entire company."
"It's been a really good ride. I've really enjoyed it and getting to know Warren and Gene and their family, and becoming part of the family," says Taylor. "Now the people that I brought over has grown to 167 people that are in Pro A/V. That family has grown too.
"We started at zero and in 10 years we were over half a billion dollars in revenue," he says. "As Gene and Warren say, it's all about the people that make that happen."
Looking Ahead at Almo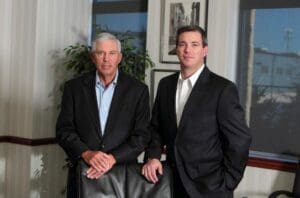 Almo plans to continue innovating and growing rather than resting on its laurels from an impressive 75-year history. The COVID-19 pandemic over the past year was especially eye-opening for the company.
"In the past year we went from a traditional office environment to completely virtual overnight. I'm so pleased and proud that we were able to evolve into what we are today which is a remote workforce which has really thrived in this environment," says Warren Chaiken. "As we move back into the office we understand that we will be able to be a hybrid environment that will be able to get the best of both worlds."
One of the great benefits of being a privately-owned company is that ability to change dynamically without the need for justification to stockholders and other interested parties.
"We're much more long-term thinkers," says Gene Chaiken. "We're not worried about whether an investment today is going to hurt us at the next 90-day report."
"You look at our competition that's public and they just have different thoughts and different ways to run their business," says Warren Chaiken. "With our business and the way we want to run it, being public wouldn't make sense."
The whole of Almo is certainly one that adds up to more than the sum of its parts. That's a result of the synergy between what otherwise would be disparate divisions.
"One thing that's really interesting about working for Almo is all the different divisions we have. Just sharing best practices," says Craigmyle. "There's a lot of collaboration that goes on. That's part of that family atmosphere. There's always a healthy spirit of competition amongst the business owners but it's that spirit of family and sharing, and taking the best practices and changing those for different audiences, that's a lot of fun."
That ability to work together and learn from different business divisions has helped Almo grow, and leadership at the company believes that will continue to be the case moving forward.
"We continue to evolve. We've gotten into a lot of different products and categories throughout the years in all our divisions. A lot of it is just because of experiments," says Warren Chaiken. "We're a fairly cautious company in that we're never going to do anything that's going to damage the company, but we're willing to try almost anything as long as it's thoughtful and we have a plan that makes sense."
Having a plan has been the unifying thread throughout the history of Almo. "It's OK to dream. It's OK to have a goal," says Gene Chaiken. "If you don't have a plan it's hard to get there."
Almo Corporation Milestone Timeline 75 Years
1946: Almo Corporation formed
1947: Began selling TV replacement parts
1948: Established a branch network in the Philadelphia area
1954: Al Margolis passes away, Morrie assumes responsibility and hires controller
1954: Almo purchases Standard Radio of Maryland to provide repairs to dealers of TVs and radios
1956: Transistors introduced: puts a boom on the electronics industrial business resulting in Almo's unprecedented growth
1962: Almo Industrial Electronics goes public
1963: GENERATION #2: Morris Green's son-in-law, Gene Chaiken, joins company
1968: Sterling Electronics acquires both Almo companies
1970: The Green family re-acquires Almo Electronics from Sterling, becomes Almo Electronics Corporation (private)
1973: Morris Green passes away, succeeded by Gene Chaiken as Chairman of the Board, President and CEO
1978: Enters major appliance business and expands industrial electronics businesses
1994: GENERATION #3: Warren Chaiken, Gene Chaiken's son, joins Almo
1994-1996: Purchases multiple consumer electronics and major appliance distributors
1999: Starts e-commerce business
2001: Moves corporate headquarters to current location: 2709 Commerce Way, PA
2004: Names Warren Chaiken President and COO, Gene Chaiken remains Chairman of the Board and CEO
2008: Acquires PMC, merged into Almo's e-commerce business, doubled size of business
2009: Forms Professional A/V Division, becomes the largest Almo business segment
2013: Wire and Cable Division sold
2014: Installs motion-sensing lighting in all warehouse space, reducing electric usage by 40-70%
2014: Names Warren Chaiken President and Chief Executive Officer, Gene Chaiken remains Chairman of the Board
2017: Formalizes FIIT (Family, Integrity, Innovation, Teamwork) values program with employees, partners and customers
2018: Adds rooftop solar panels to all warehouse facilities (by 2024) and converts forklift fleet from propane to eco-performance electric (by 2028)
2019: Warren Chaiken receives Philadelphia Inquirer's 2019 Top Leadership Award for Mid-Sized Companies
2020: Pandemic: Successfully transitioned to Work From Home while keeping the business running at full capacity
2021: Almo Corp. named Philadelphia Inquirer Top Workplace, Mid-Sized Companies for the 8th time.
2021: Celebrates 75th year anniversary and begins employee return to office
2021: A $1.37B company with more than 2.5 million square feet of warehousing space in nine facilities across the nation and more than 650 employees
Almo Professional A/V 10-Year Anniversary Timeline of Business Highlights
June 2009:        Formation of Almo Pro A/V announced at InfoComm
July 2009:         Almo Pro A/V officially opens for business, hires East and West Coast sales teams
Sept. 2009:       Introduction of partnership with InfoComm/AVIXA for E4 traveling distributor events with sessions worth CTS Renewal Units
Oct. 2009:        Hires/trains 25 employees, launched website, full sales team DSCE-certified
Dec. 2009:        FINANCIAL: Broke even after six months and became profitable
March 2010:     Creation of specialized Business Development Manager positions that changed the role of the distributor from just selling boxes
Dec. 2010:        FINANCIAL: Broke $100M in sales
March 2014:     Launch of Content Creation Services
Oct. 2014:        Launch of Installation Services
Nov. 2014:        Hit mark of issuing 1,000 CTS RUs at E4s
Dec. 2014:        FINANCIAL: Broke $200M in sales
April 2016:       Acquisition of IAVI
Sept. 2016:       Launch of Control Systems Programming Services
March 2017:     Launch of Hospitality Division
April 2017:       Hosted 25th E4 Event
July 2017:         Introduction of Almo Global Offices
Dec. 2017:        FINANCIAL: Broke $400M in sales
July 2018:         Acquisition of Insteo Digital Signage Content Company
Jan. 2019:         Launches the E4 Experience, a rebranded, enhanced version of the E4 AV Tour
Jan. 2019:         FINANCIAL: On pace to break $500M in sales
March 2019:     Expands Business Development Manager team to 16
2020 Pandemic: E4 Evolution (E4v), the virtual version of Almo's E4 Experience is born
2020 Pandemic: Forms Financial Relief Alliance to give partners 30 days of extended credit
2020: Pandemic: Produces WFH bundles and offers trio of screening, messaging & sanitizing products
2020 Pandemic: Becomes exclusive distributor for ARHT Media holographic telepresence