How They Got There: Warren Chaiken, Almo
Warren Chaiken, president/CEO of Almo, is the third generation of his family in charge – but he credits much of his success to Almo's people.
Leave a Comment
In 1946, Warren Chaiken's grandfather, Morris Green, opened Almo Corporation, a distribution firm in Philadelphia that originally wholesaled replacement parts for radios and later televisions to the dealer service trade. 
Our audience knows the company for its Almo Professional A/V division. In a manner of speaking, Almo was always a part of the AV industry—and always a part of Chaiken's life. 
"It has been a part of my life since the day I was born," says Chaiken, 53. His father, Gene Chaiken, was running the company through Warren's youth, and Almo was always a part of the family's day-to-day life, though it was not a given that Chaiken would go into the family business.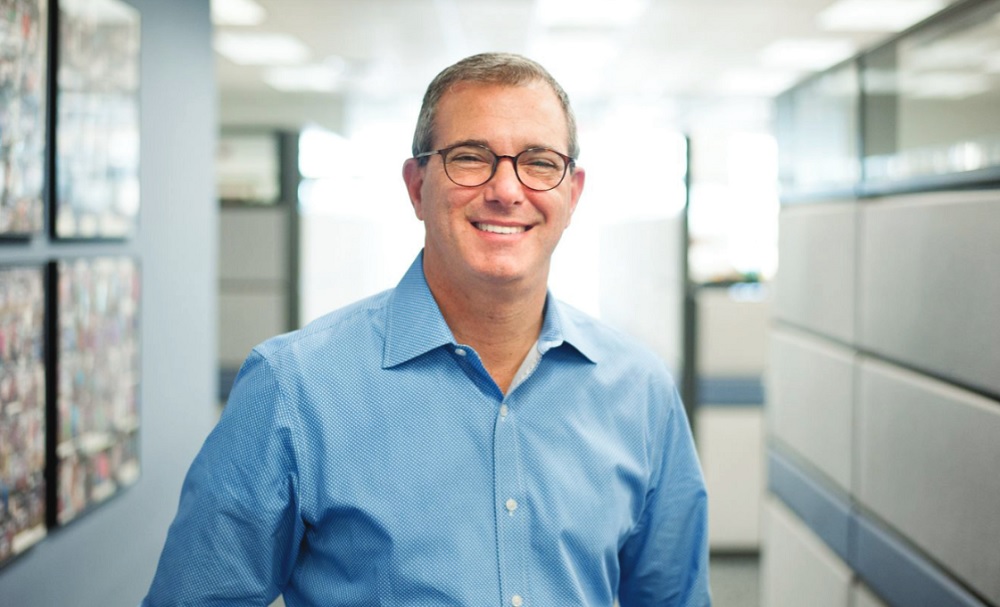 "It was always in the back of my head," says Chaiken. "When I was in high school, I would work summers in our warehouse and do clerical work. 
"I remember doing detailing of a chain down in Philadelphia called Clover where I would go and restock their video games section, and deal with returns or other customer service issues.
"At one point, we were selling Atari cartridges and other video games, and I would sell the product to friends and teachers," he says. 
"I was doing these types of jobs growing up, but the goal was always for me to find my own path and figure out what I wanted to do," says Chaiken. 
Chaiken attended Lafayette College. "I think liberal arts is an important degree to help figure out who you are and your place in the world," he says. "I got a lot of exposure to different ideas, and I gravitated toward the business and marketing side." 
Chaiken graduated and worked at a Philadelphia accounting firm doing audits for SMBs. It allowed Chaiken to get a better understanding of the financial aspect of business. 
After a year–and–a–half at the firm, Chaiken decided to attend Penn State's MBA program.  
"This program taught me to think differently, and work through solutions for problems that companies either knew they had or didn't realize they had," he says. 
Chasing Your Dream
"I got out of graduate school and chased my dream, which was my girlfriend at the time," he says, referring to his now–wife Diane, calling it one of the better choices he's made in his life. 
"I went to New York City and ended up living in one of the coolest places that I could at the time: Hoboken. As a suburbanite all my life, I couldn't give up my car," says Chaiken. 
Chaiken landed a job as a marketing manager at PaineWebber and found great success thanks to lessons he learned being part of a family business. 
"You do the tasks no one else wants to do, and that's how you get ahead," he says. "My job was to provide sales and marketing information to the brokerage team, but I ended up doing more than that. 
"I remember a closet that was a mess. One day I cleaned it up and got it organized – and it became a useful space for employees. It's the same thing at Almo Corporation today. If something needs to be fixed or cleaned, you can't wait for other people to do it," says Chaiken. 
"My dad is very proud of the building we own in Philly," he says. "If there's a spot on the floor or a piece of trash, he's the first one to pick it up or get the carpet cleaner to clean it. It's a matter of pride in where you work." 
Eventually, Chaiken moved on to Kidder Peabody on the IPO desk, where he was able to see how businesses move from private to public. 
One of his most important takeaways was when a furniture company went public and forgot to tell the analysts they weren't going to hit their first–quarter numbers. After losing that credibility, the company was out of business within a few years. 
"Running a private company is very different from running a public company," says Chaiken. "I learned to make sure that you're providing ongoing information to avoid surprises. One of our most important partners is our banks. 
"We stay in continuous communication because we want to make sure they know when there's an opportunity or challenge, we're on top of it," he says.  
The Value of Mentorship
While at PaineWebber, Chaiken learned one of his most important lessons in business – the value of finding a mentor. 
"I was fortunate to find a mentor who ultimately became the president of Kidder Peabody," he says.  
When looking to his mentor, Chaiken mentions that the connection was threefold. He admired his career, how he handled things professionally, and that they connected on a personal level. Chaiken expresses that all three are important in finding the right mentor. 
"Everyone has different personalities," says Chaiken. "My mentor was a very driven man. He was a natural-born leader. He was one that was willing to listen to anybody.  
"I'm also fortunate on the flip side as my career has gone on that I have my number one mentor, my father, but I didn't have to ask him," he says. 
Chaiken stresses that business leaders should be on board with mentoring when asked. As far as those starting out in careers that wish to find mentors, Chaiken has plenty of advice from his personal experience. 
 "First and foremost, you need to find the person that is willing to be your mentor," he says. "I was very honest and forthright with my mentor. I asked him if he would help guide me and help me along and gave him the reasons why I needed his support. 
"I think the right person with the right personality that mixes with you is important," says Chaiken. "Make sure they are able to give you their time. If you don't ask – and I guarantee most people won't ask because they're afraid of rejection – then you'll never get the answer you hope to get." 
Chaiken stresses approaching mentorship in a humble way. Express to them that you admire their career and how they do business. Ask them if they'd be willing to meet once a month to talk about what they do and how they got to where they are. Then go from there. 
Chaiken values the experience of being mentored by great business minds and would like to continue that and pass on his knowledge to others. 
"When someone reaches out to me, I'm happy to take the time to help them," he says. "It's always about giving back.  
"If you can give back in a small way such as a conversation or providing advice, or give back in a larger way of being a mentor and helping someone's career, in my opinion, it's one of the ultimate responsibilities and rewards you have as a leader," says Chaiken. 
The Family Business
"It is by circumstance that I am part of a family business," says Chaiken. "While I'm very proud of this, I'm also proud that I was able to walk into Almo Corporation with four years of professional experience and another two years of graduate degree experience before I started to work in the family business." 
For three years at PaineWebber and then Kidder Peabody, there was no expectation from Warren or his family that he would take a job at Almo.  
"On Wall Street, you work long hours," says Chaiken. "It also instills a work ethic that is important for growing into a leader. Things aren't handed to you, so you have to make your own luck by working hard and finding opportunities. 
"Three months before I started working at Almo, my dad called me and asked what I wanted to do," he says. 
His father said that he could continue with Wall Street and was sure he would have a successful career. But there was a separate path in joining Almo, learning the company, and working toward a leadership role. 
His father had to make a decision about what his own future with Almo would be, and Warren's decision would play a role in that. 
"That was really the first time we had a direct conversation about it," says Chaiken. "Diane and I talked and decided to go back to Philadelphia and start a new life and business career there. Part of it was deciding what to do from a family standpoint as well – being a Philadelphia native, I couldn't stand it if my kids were Mets and Giants fans. 
"From there I did every job possible to learn about every part of the business," he says. 
Chaiken continued this process for a full year. He worked in the warehouse, worked with the accounting department, travelled with the sales team to learn about customers, and more. It was a deliberate, thought-out plan to get a broad base of understanding about the company. 
"I just wanted to learn about the business and see what I could do to help the company be successful," says Chaiken. That's really how I operate even today." 
Chaiken finally settled into the product management group. He took on more responsibility over the years, and in 2004 he became president and CEO of Almo Corporation. 
When asked about the weight of legacy in running a company in its seventh decade, started by his grandfather, run by his father after that, and now headed by Warren himself, Chaiken brings it right back to his employees. 
"It really comes down to your employees and making sure they are aligned with the business goals," he says. "Life's too short. You get to go around one time as far as I understand it. 
"You should enjoy what you're doing, you should enjoy your coworkers, you should have fun, and you should feel like you're making a contribution. If you're not, you should find something else to do," says Chaiken. 
This article was originally posted on Oct 15, 2020
If you enjoyed this article and want to receive more valuable industry content like this, click here to sign up for our digital newsletters!