Combining Strengths to Meet Client Needs
POP Media and Jupiter leverage their customer-centricity and tech-forward mindsets to push customer outcomes to dizzying new heights.
Content from our Sponsor
Leave a Comment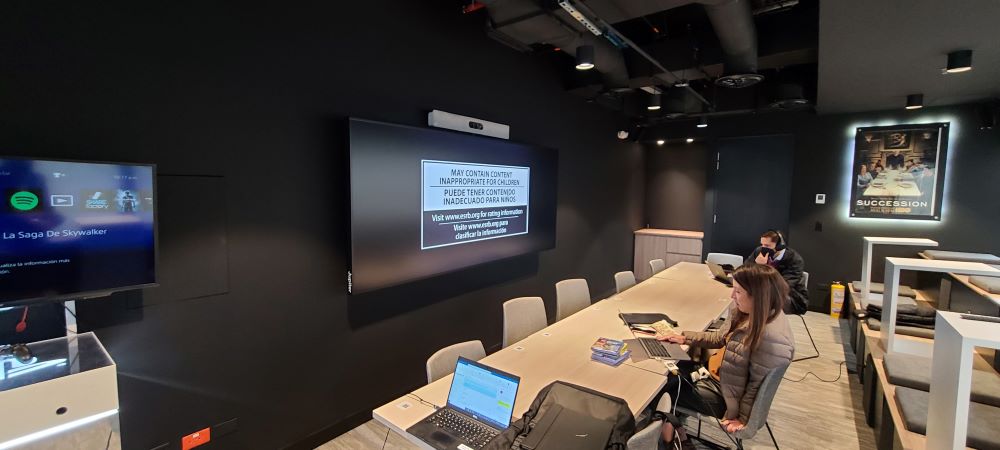 When integrators and their vendor partners develop strong bonds and work together in tight alignment, client outcomes can reach dizzying new heights. Scanning the landscape of commercial AV today, there is perhaps no better example of synergistic collaboration than POP Media Technology and Jupiter Systems.
POP Media is a renowned integrator, with branch offices in Mexico City, Mexico and Bogotá, Colombia, whose team is passionate about deploying cutting-edge technology and achieving outstanding client outcomes. Jupiter, meanwhile, has a 40-plus-year heritage of creating large-screen data-visualization experiences for mission-critical clients across the world.
As we'll learn in the paragraphs that follow, POP Media and Jupiter amplify each other's strengths, having developed the kind of consultative relationship where feedback flows freely from company to company. Clients across the world are the beneficiaries of the two organizations' productive partnership.
Showcasing POP Media
POP Media is among the most respected integrators serving the Latin American market. With specialist expertise in control rooms, collaboration rooms, corporate and education spaces, and digital signage networks, the company boasts a Mexico City team of roughly 30 — many with seven-plus-year tenures — and it has highly skilled personnel in Bogotá, where the company is known as Riegner POP Media. (This name reflects a partnership with Riegner, a long-tenured and respected Colombian firm.)
According to Gabriel López, commercial director, POP Media's team should be credited for the company's remarkable success. "The best part of POP Media are the skills and the experience of the people who work with us," he says with pride. López adds that the POP Media team loves nothing more than a highly ambitious technical challenge, saying, "We are always looking for customers who bring to the table the projects they have in their minds and that we need to make real."
Jupiter, which has done business in Mexico for more than 15 years, took notice of POP Media and the incredible environments it creates. According to Daniel LeCour, senior director of international sales with Jupiter, "They're a very well-known company, with a great reputation in Mexico, so I always wanted to work with them."
Aligning with POP Media's taste for the cutting edge, the integrator avidly embraced Jupiter's ultra-wide 21:9 Pana displays; in fact, POP Media was the first company to deploy Jupiter's Pana 105 around the world. "That shows you their willingness to pioneer new technologies and new products…to introduce products into the market," LeCour enthuses.
Embracing 21:9
POP Media and Jupiter's mutual embrace of the 21:9 aspect ratio's revolutionary benefits is key to their partnership these days. Jupiter pioneered 21:9 solutions in the market, touting what the company calls the "cinemascopic" approach. "When you go to the movie theater, what you see in the movie theater is 21:9," LeCour explains. "There's more room in the horizontal space because that's [how] the human eye perceives more information."
No less an authority than Microsoft has also embraced the revolution, adopting the 21:9 aspect ratio for its Microsoft Teams rooms. At a time when end users' expectations are heightened and experience quality is everything, additional screen real estate on the horizontal plane is invaluable. López acknowledges as much, citing "…more space and more width to see the complete information." Indeed, when you combine a 21:9 aspect ratio with Jupiter's Pana 105's 5K native resolution, end users have access to more and better information than ever before.
That attentiveness to quality is essential to satisfying POP Media's A-list clients. HBO, Comisión Federal de Electricidad (CFE) and HSBC Bank are just a smattering of the clients that POP Media outfitted with Jupiter technology. HBO was building out a screening room in Colombia, and, according to López, the media giant had inquired about 4K projection solutions and LED displays.
Playing its natural advisory role, POP Media recommended Jupiter's Pana 105 instead. Intrigued by 5K native resolution, HBO agreed to go with Jupiter and loved the result. "Customers get a really, really great experience with the product," López enthuses. "Nobody else has these characteristics."
CFE and HSBC are equally thrilled, with the former relying on Jupiter display wall processors as the brains of its control rooms and with the latter likewise benefiting from Jupiter-centric control environments.
Ongoing Consultation
For POP Media, being consultant and advisor is not limited to its clients; instead, the integrator embraces the opportunity to be Jupiter's "feet on the street," gathering end-user insights to help the manufacturer further hone its product line.
"Working together as a team is the only way that Jupiter can succeed," LeCour acknowledges. "After 41 years in the market, we've realized that companies like POP Media are really the ones that help us design the products that are going to be successful."
If you ask López, Jupiter distinguishes itself with its receptivity to market feedback. "There are other companies that, when you give them feedback, they just say, 'Well…maybe someday,'" he says with a chuckle. Jupiter, however, is entirely different. "They are always listening to the market and delivering new solutions that cover the needs that some other brands can't meet," López declares.
It's not only client feedback that POP Media provides, however; just as importantly, Jupiter leverages POP Media's in-house expertise to fine-tune its solutions portfolio. LeCour cites Jupiter's software to configure and manage videowalls — specifically, the graphical user interface that Jupiter introduced a few months ago.
"Most of the characteristics that you see in the product right now were requests from Gabriel and his team," LeCour explains, recounting that a couple of POP Media engineers traveled to Hayward, Calif., to meet with the Jupiter team. "Based on their experience and things that make the product more useful," LeCour continues, "they had several recommendations that were implemented into the latest version of our software solution."
And, if you ask López, it's a joy for a vendor with the name and reputation of Jupiter to be so responsive to integrator guidance. "To us," he says, "it's priceless to get the result of all the feedback that we offered."
Arm in Arm
Enduring integrator/vendor partnerships have at their heart a firm understanding that success or failure is always shared. For LeCour, who says Jupiter is very selective when selecting integrator partners, no consideration is more important. "When an integrator deploys a solution based on Jupiter products to a customer, if the integrator doesn't do a good job, the brand that is affected is Jupiter," he explains. "So, for us, it's critical to work with companies like POP Media that come not only to represent themselves but also to represent our brand."
In POP Media, Jupiter has found a partner of uncommon diligence and conscientiousness. "We don't look for 100% satisfaction," López declares. "We look for 150% satisfaction!" One can't be surprised, then, that the integrator's rapid growth is largely attributable to word-of-mouth recommendations and long-term client relationships. And a sizable percentage of those clients are benefiting from Jupiter technology. "There's a continuous flow of projects, which is a good thing for everybody," LeCour says happily.
Best of all, even amid unprecedented supply-chain snarls, POP Media and Jupiter are ready to fulfill client needs now. "We can provide the whole solution in a few days or maybe a week," López says with pride. "That's our value to the market." Specifically, he mentions that POP Media has Pana monitors and wall controllers in stock.
"The ability to deliver the right solution, at the right time, is critical for our customers and partners," LeCour declares, underscoring Jupiter's commitment to offering a nimble, agile response to meet clients' needs.
Although not every integrator and vendor can cement the unbreakable bond that POP Media and Jupiter share, their collaborative relationship is a case study of the absolute best in AV integration — the bringing together of not only technology but also people.
Jupiter Systems: www.jupiter.com
POP Media Technology (México) and Riegner POP Media (Colombia): www.popmt.com