LG Business Solutions Launches 2019 LG TechTour in Washington, D.C., on May 14
Coast-to-coast LG TechTour to showcase 'cutting-edge business solutions and partner technologies' in six stops around the U.S.
Leave a Comment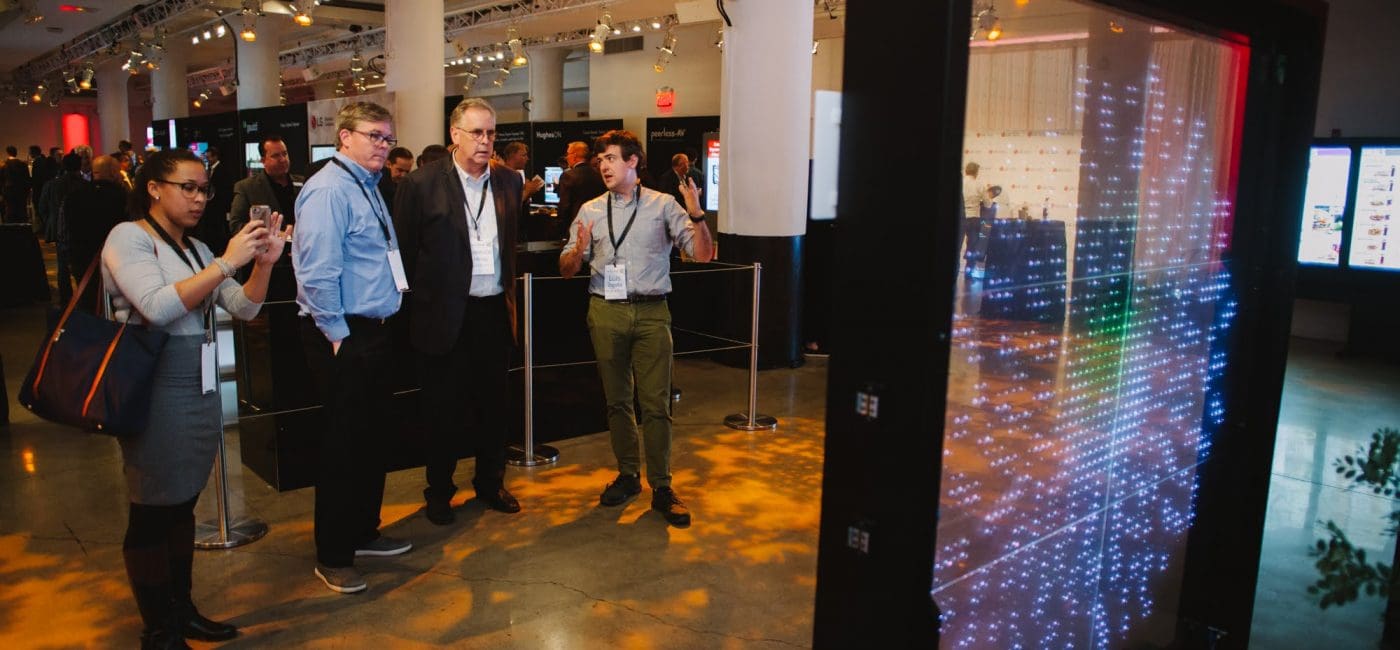 LG Electronics USA Business Solutions is taking its show on the road, launching its 2019 LG TechTour, a six-city "innovation road show" where business-to-business customers "will experience first-hand LG's broad portfolio of digital signage displays, renewable energy systems, enterprise mobile solutions and more."
Kicking off May 14 in Washington, D.C., the coast-to-coast 2019 LG TechTour—designed to educate partners, resellers, installers and end-users about B2B technologies and trends—will host workshops and technology demonstrations in Dallas; Los Angeles; San Jose, Calif.; Chicago and New York City this year.
Each stop on the LG TechTour will feature "the industry's broadest portfolio of commercial displays, led by a preview of the new Transparent LG OLED display, ideal for retail and museum applications," according to the company announcement.
"Attendees will marvel at how this advanced transparent panel harnesses LG OLED technology so viewers to view stunning images on the screen and objects behind at the same time," according to the company press release.
What Else Will Be There
Other commercial display innovations featured on the 2019 LG TechTour include new Direct View LED displays, LG video walls, Ultra Stretch digital signage monitors and transparent color LED film displays.
Renewable energy solutions, led by LG's flagship 60- and 72-cell LG NeON2 high-efficiency solar panels and LG's new energy storage systems (7.6kW DC-coupled and a 5kW AC-coupled solutions), will also be showcased during the 2019 LG Tech Tour.
Enterprise mobile solutions highlighted in the LG TechTour bring LG smartphone advances to B2B customers. Unlocked versions of the new LG G8 ThinQ and LG V40 ThinQ smartphones "offer business customers flexibility, performance and cost savings," according to the company announcement.
"The LG TechTour is designed to bring together partners, customers, prospects and LG representatives," said Garry Wicka, VP of marketing for LG Electronics USA Business Solutions.
"Most importantly, unlike at a traditional trade show, customers from coast-to-coast will have the opportunity for a deep-dive, hands-on experience with our game-changing innovations," he said in the LG announcement.
Inside the LG TechTour
At each LG TechTour stop, company executives will be onsite to discuss product innovations, partner technologies and industry trends. Attendees can enjoy a hands-on experience with LG's latest and greatest commercial display technologies, while enjoying food and beverages, unique experiences, giveaways and more.
Here's the schedule for the 2019 LG TechTour:
May 14: Washington, D.C.
July 24: Dallas
Aug. 22: Irvine, Calif.
Sept. 12: San Jose, Calif.
Sept. 26: Chicago
Oct. 17: New York City
Featured technology and service partners at the LG TechTours (which vary by location) include Agosto Skikit, Milestone/Chief, TSITouch, Hughes, IGEL America, Userful, Peerless, Barco, Datapath, Omnivex, TriplePlay, PingHD and Intuiface, among others.
If you enjoyed this article and want to receive more valuable industry content like this, click here to sign up for our digital newsletters!