The House of Worship Technology Market in 2021
Houses of worship have tricky acoustics, audio challenges, & budget-conscious customers. It all adds up to sales issues for integrators.
Leave a Comment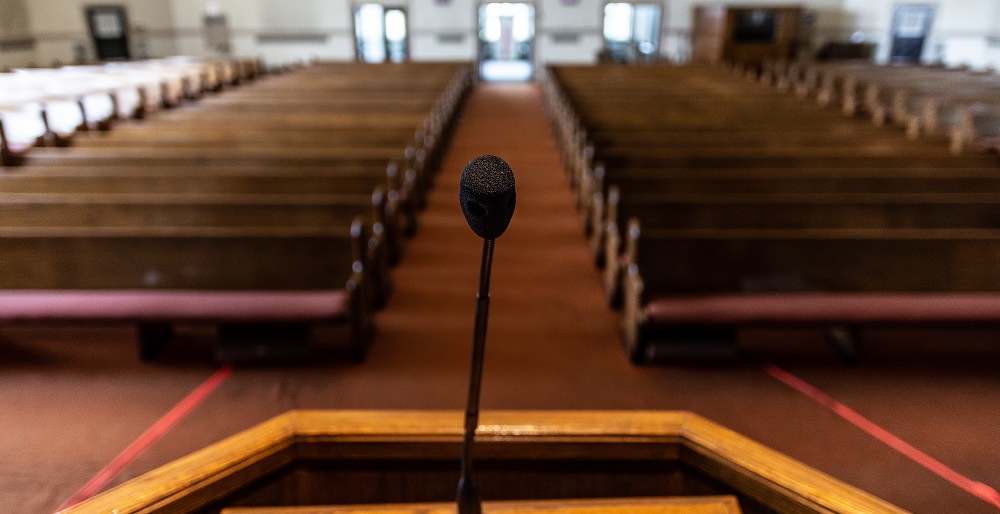 Customers in the House of Worship market often expect "church pricing" — but integrators can no longer rely on product margins to make a sustainable income, and could do well to educate these clients on what precisely makes for a quality, reliable system worthy of investment.
Some of the typically-misunderstood features — things we've heard some clients refusing to pay more for — include:
Energy Ratios
Many listening environments have a "sweet spot" for which the sound system performance is optimized. In houses of worship, every seat must be optimized for adequate signal-to-noise ratio and suitable early-to-late energy ratios.
A minimum of 25dB signal-to-noise ratio and an appropriate early-to-late energy ratio for a client's type of worship, for every seat in the audience area, will make sure adequate coverage is provided.
Uniform Coverage
Many auditoriums are plagued with "hot" and "cold" spots in the sound coverage. This can usually be attributed to interaction between multiple loudspeakers, and is unavoidable when more than one loudspeaker is required to deliver sound coverage for the audience.
A good design assures that there is even coverage in the audience area, and that no seats are rendered unusable by loudspeaker interaction.
Church Versatility
While it is possible to design sound systems that are optimized for speech or music, HOW systems must perform well for speech and music. Since the attributes of these two types of systems are often at odds, this is a very difficult task.
Accuracy and clarity are required for speech reproduction, while maintaining the extended frequency response and power handling required for music.
Wireless Microphones and Radio Frequency Interference (RFI)
Wireless microphones provide some excellent benefits for houses of worship. These are actually small radio stations that broadcast on a specific frequency.
The selection of frequency is critical to the mic's proper operation. The operating frequencies for wireless mics must be carefully selected to work properly in the presence of other RF broadcasts in your area.
Calibration, Training and Documentation
A properly calibrated sound system will be much easier for personnel to operate. A significant amount of expertise is required to make a system "user friendly." The proposed system must be calibrated using advanced audio and acoustic instrumentation.
A church is a critical listening environment for speech and music. As such, the sound system must provide adequate acoustic gain, intelligible speech, even coverage and extended bandwidth to all listener seats. The best value in a sound system is one that meets all of these criteria. Such a system will provide years of trouble-free service and serve to complement your HOW customer's worship services.
How the market changed during the pandemic
Shawn Thornton, Account Manager at Haverford, says streaming and web conferencing for the house of worship market absolutely exploded as social distancing measures were enacted worldwide.
"But we really noticed that congregations were not just looking to stream their services, but also to provide their worship communities with a place to communicate after services. This made cameras, the overall AV systems, and platforms such as Zoom and Microsoft Teams a necessity."
Houses of Worship also had to quickly adapt to support their communities and their understanding of how to use these technologies.
"Prior to pandemic, the role of broadcast was drastically different," Tim Corder, Diversified, says. "Now, it isn't an option not to have broadcast (for larger ministries, at least).
Corder says one of the biggest opportunities for integrators to grow in this market is to broaden their offered solutions. Broadcast solutions are becoming simpler to use, giving these clients more confidence with them.
Related: These House of Worship Technology Fails Have Us Hoping for Divine Intervention
"The content that they produce has real value," he says. "Many clients want to dedicate space in facilities to the purpose of capturing audio/video content. Only some churches previously built spaces devoted to content creation; now, that's becoming the norm."
"We see many houses of worship now looking to add displays in the sanctuary and overflow areas, even in outside locations," Thornton says.
"Some other solutions they're looking to integrate include enhancing sound systems, adding additional camera angles, providing new streaming applications, editing and mixing capabilities. Full-scale productions have become the goal."
Instead of a sermon simply being streamed, now there are live guest speakers, stage music with live bands, and two-way participation from remote congregants, all incorporated into a live stream.
Parts of this story were originally published on Aug 18, 2017 and have been updated recently with new content.
If you enjoyed this article and want to receive more valuable industry content like this, click here to sign up for our digital newsletters!