AES Audio Product Education Institute Explores Intellectual Property Issues Across Production Chain
AES hosts sessions on IP protection, counterfeiting and authentication to discuss challenges and strategies in manufacturing audio products.
Leave a Comment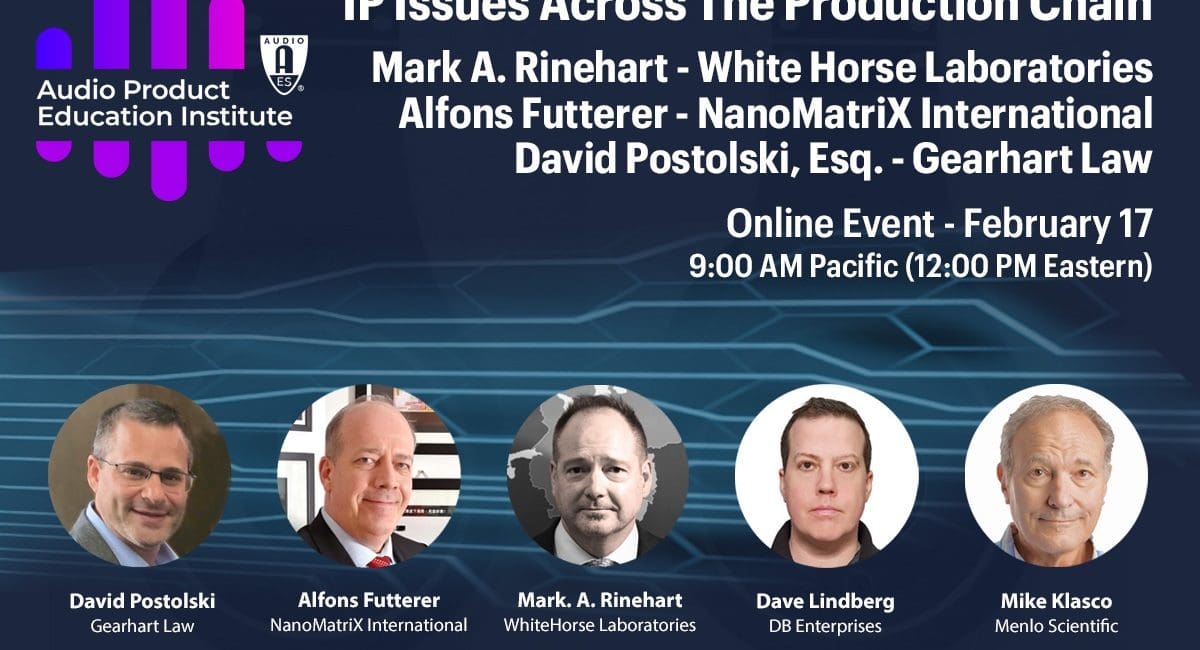 https://audioproducteducationinstitute.org/ip-issues-across-the-production-chain/
The AES Audio Product Education Institute (APEI) will host its fifth online event addressing Supply Chain & Sourcing on Wednesday, Feb. 17 at noon EST.
This webinar "will address the vital concerns of brand and Intellectual Property protection," according to the Audio Engineering Society announcement.
The discussion "will include advice on how brands can safeguard their reputation when sourcing and dealing with suppliers, how manufacturers can ensure their critical IP is protected all the way across the supply chain, and what intellectual property strategies should be implemented by inventors, entrepreneurs and emerging companies," the announcement says.
Related: NAB Show and Audio Engineering Society to Colocate Conventions in 2021
In this new webinar, part of a series presented by supply chain and sourcing experts David Lindberg of DB Enterprises and Mike Klasco of Menlo Scientific, the focus will be on the issues surrounding the protection of Intellectual Property while navigating the production chain and getting products to market.
The webinar will feature three experts on the topics of counterfeiting, authentication and legal protection:
Mark A. Rinehart of White Horse Laboratories) presenting on the topic "Protecting Your Business IP… and Reputation";
Alfons Futterer of NanoMatriX International discussing "Advanced Anti-Counterfeiting Materials"; and
David Postolski, Esq., of Gearhart Law sharing his experience about "Securing your IP and Protecting your Brand."
Rinehart will discuss the topic of counterfeiting and fraudulently represented product across the supply chain.
Futterer will share his experience on protecting the authenticity of ingredients used in production, and profiling a brand's risk exposure to counterfeits, parallel trading and production overruns.
Postolski will explain the potential legal challenges faced by inventors, creators, artists, start-ups, entrepreneurs, early-stage companies and emerging companies.
The AES Audio Product Education Institute's Supply Chain and Sourcing Webinar #5 is part of an ongoing and multi-faceted event series that "underscores the AES's commitment to providing its membership and the industry at large with timely real-world information."
Guest presentations will be followed by Q&A discussion time with attendees.