Atlona HDVS Series Receiver Boasts 4K Scaling, Signal Processing Engine
Showcased at ISE 2018, Atlona HDVS Series Receiver features Atlona CrystalScale Technology, its professional 4K scaling and signal processing engine.
Leave a Comment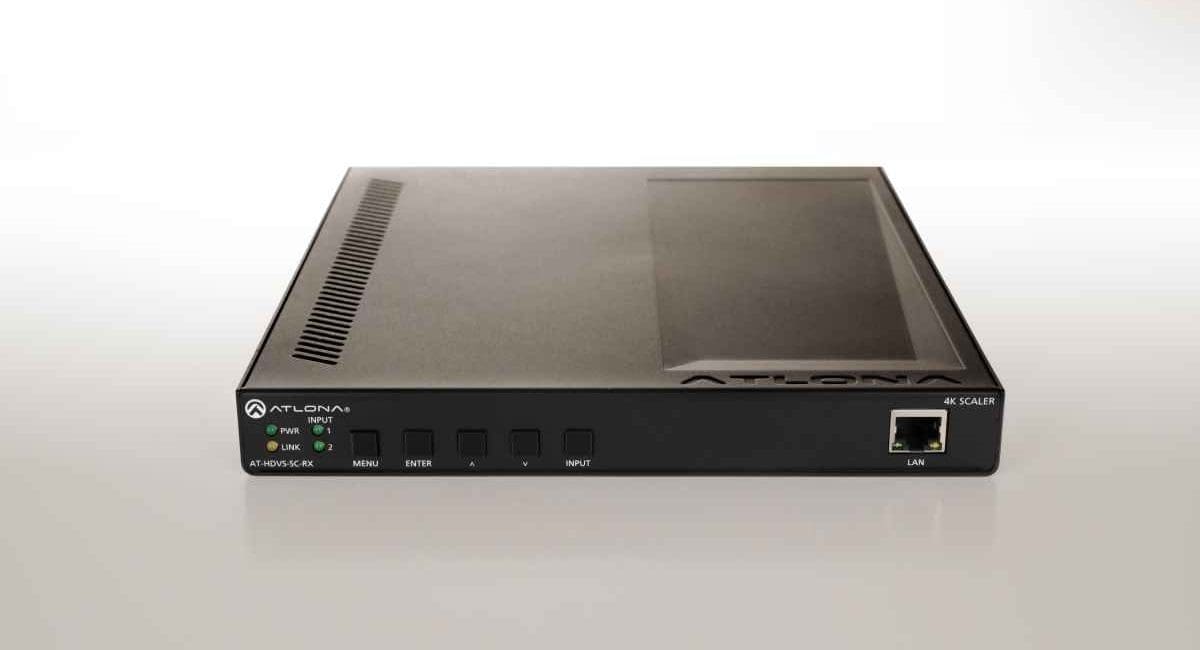 At ISE 2018, Atlona will introduce the AT-HDVS-SC-RX. The Atlona HDVS Series Receiver is the first HDBaseT receiver with Atlona CrystalScale Technology (ACT), a 4K scaling and video wall processing engine.
The maker of AV and IT distribution and connectivity solutions  will demonstrate the Atlona HDVS Series Receiver at its stand 5-U80.
They can check out the 4K scaling power and the scaling receiver's ability to drive high-resolution content across large video walls with exceptional ease and cost-efficiency, according to an Atlona press release, which adds that its practical mix of an up and down scaler with high video quality, automatic display control and an HDBaseT signal receiver makes it an ideal solution for standalone displays in classrooms, huddle rooms and other meeting spaces.
More from Atlona's press release:
The HDVS-SC-RX carries over the most pertinent features of its 1080p-only predecessor, the HDVS-200-RX, including image adjustment capability, audio de-embedding, and the ability to automatically match incoming signals to the display's native resolution.

For the first time, the company has engineered Atlona CrystalScale, the core signal processing engine to fully optimize imagequality and switching performance. This includes new features to support mirror/flip and 90° image rotation, motion-adaptive video de-interlacing, 3:2 pull-down, aspect ratio control, and internal test pattern generation.

The Atlona CrystalScale engine really shines in corporate environments where complex, data-laden spreadsheets are presented. The premium scaler inside the HDVS-SC-RX makes a significant difference when showing small numbers and detailed graphs.

The 4K scaling receiver also adds a second HDMI input, allowing users to incorporate additional content from a local computer or wireless base. This offers yet another advantage for customers that want to drive impactful, high-resolution 4K and UHD content across larger flat-panel displays and video walls.
"Critical applications such as medical facilities and energy exploration require greater pixel density and color sub-sampling," says Steve Kolta, product manager, signal distribution, Atlona.
"The HDVS-SC-RX offers a highly-refined 4K scaling engine with 4K video wall processing," says Atlona's Steve Kolta.
"The HDVS-SC-RX offers a highly-refined 4K scaling engine with 4K video wall processing, and eliminates the need to invest in customized solutions that have long deterred many users at the point of entry."
According to Atlona, the HDVS-SC-RX integrates cleanly with the Atlona HDVS Series of switching transmitters (standard or wall plate) as well as Atlona matrix switchers and distribution amplifiers with HDBaseT outputs.
When used with Atlona distribution amplifiers, customers can cost-efficiently scale the output architecture to support video walls of any size.
The HDVS-SC-RX can be remotely configured, managed and monitored over the Internet via the free Atlona Management System (AMS 2.0) network software platform, and integrates with Atlona's Velocity control system.
The HDVS-SC-RX includes Atlona's 10-year limited product warranty and customer support services.
If you enjoyed this article and want to receive more valuable industry content like this, click here to sign up for our digital newsletters!