What Exactly Is Audinate's Dante AV?
During ISE 2019 Audinate explains the components that create its new AV-over-IP solution Dante AV and how it works.
Leave a Comment
One of the big announcements during Integrated Systems Europe (ISE 2019) was Audinate's entry into the AV-over-IP category with Dante AV.
According to Audinate, the protocol delivers perfectly time-aligned video and multi-channel audio, multi-vendor interoperability, Dante's unified control experience for end users and integrators and a complete integrated audio and video networking solution.
At Audinate's ISE 2019 stand, Commercial Integrator asked Audinate VP of marketing Josh Rush to explain a couple of things:
How Audinate provides manufacturers with the Dante AV platform to incorporate into their products
There are two options, Rush said, depending on whether the manufacturer has an existing AV-over-IP solution or if they don't. For those that already have AV over IP, the Dante AV Module "allows them to use Dante for audio, for control, for transport — really all the things that make Dante unique but still use their existing video codec," he says.
"For manufacturers that don't already have AV-over-IP there's the Design Suite," Rush says. "It's a complete product that allows a manufacturer to build an encoder or decoder box that does complete Dante AV over IP."
How it works and about the unique benefits compared to the countless other AV-over-IP solutions on the market
In the video interview, Rush lists several unique benefits. "One of them is with Dante Controller you can now control both your audio and video streams together. The second is that all the streams are independently route-able so rather than having audio embedded with video and then going to the same destination — which is what a lot of solutions offer today — you can now break those apart and route them wherever you want them to go."
Watch the entire video interview to learn more.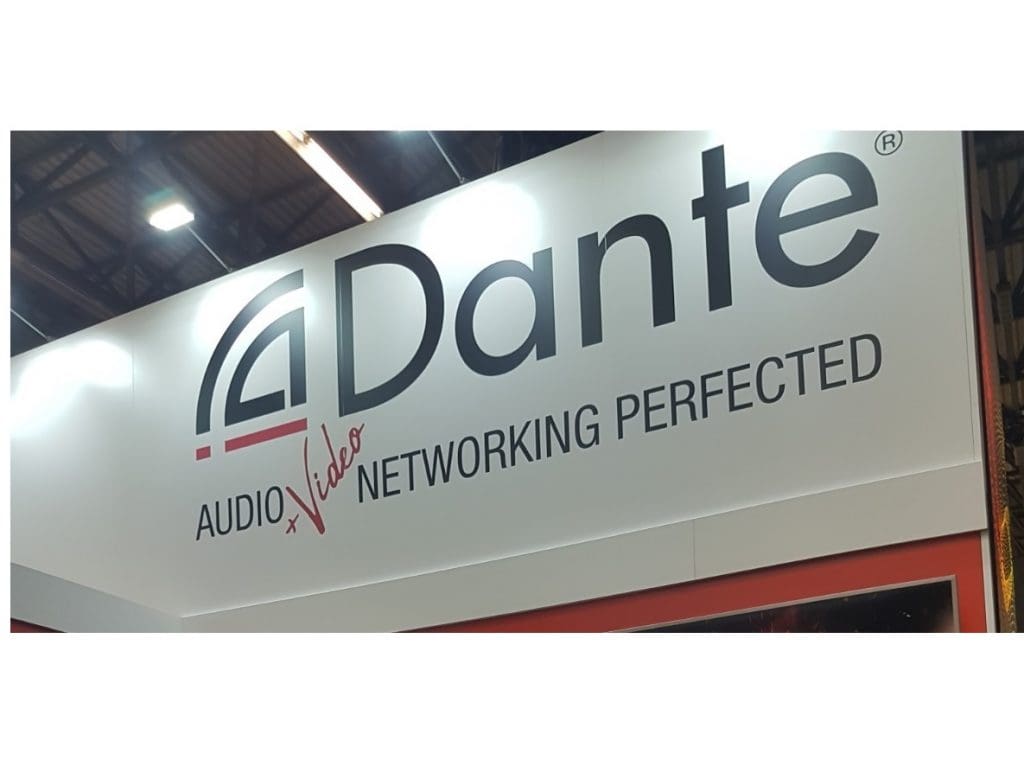 Basics of Dante AV (via press release):
Dante AV solves problems of networked video and audio synchronization, utilizing a single network clock for sub-microsecond accuracy. With Dante AV, audio and video signals are independently routable in a single, easy-to-use interface using the Dante Controller software.

Manufacturers can also take advantage of Dante API to customize their management user interface.

Dante AV solves time alignment issues and eliminates the need for audio de-embedders in applications such as sports bars, live events and multi-zoned AV systems for perfect lip sync everywhere.

The Dante AV Module supports one video channel and 8 bi-directional channels of uncompressed Dante audio. The Module is ideal for manufacturers creating 1G video-over-IP products and includes Dante control, transport and synchronization.

The architecture is completely codec-agnostic, so manufacturers can use the codec of their choice and still get the benefits of Dante.

The Dante AV Module is available with the Dante AV Product Design Suite, providing a complete AV-over-IP endpoint product design for manufacturers that wish to quickly get a product to market.

The Product Design Suite incorporates the Module and includes a comprehensive set of hardware documents and software to create complete, fully interoperable AV products quickly and reliably.

The Dante AV Product Design Suite includes a JPEG2000 codec supporting 4K/60 4:4:4 video for visually lossless results with low latency over a 1Gbps network.

Dante AV Product Design Suite also implements HDCP (High-bandwidth Digital Content Protection) to prevent copying of digital audio & video content as it travels across connections. The Product Suite can be easily customized to suit an OEM's specific requirements and provide competitive differentiation.
If you enjoyed this article and want to receive more valuable industry content like this, click here to sign up for our digital newsletters!