Audinate's Dante AV: Benefits of a 'Complete' AV-over-IP Solution
Dante AV Isn't "just some low-level protocol," says Audinate's Brad Price in a Commercial Integrator video.
Leave a Comment
When Audinate announced Dante AV in early 2019 it entered an increasingly competitive field of solutions in the AV-over-IP category. However, it entered that crowded category with a distinct advantage – it brought with it tremendous recognition of its already-respected Dante audio networking solution.
Not only that, says Audinate senior product marketing manager Brad Price, Audinate says it recognized a need for more clarity around AV-over-IP solutions and realized that Dante AV could provide just that.
Part of what made Dante audio networking successful, Price says in a Commercial Integrator video, is that it's a complete system. "There are a lot of possibilities for using bits and pieces of standards to stitch together methods of communication and so forth," he says. A truly successful solution that can "take a hold of public imagination," he adds, "are well designed to be a complete system that everybody can understand, that has all the kinds worked out."
This is beneficial for system designers, he says, because it allows them to focus on their actual job. "That's what we tried to do with Dante from the word 'go,'" he says. "We wanted to make sure it wasn't just some low-level protocol."
Watch CI's entire video interview with Audinate's Brad Price above.
Enter Dante AV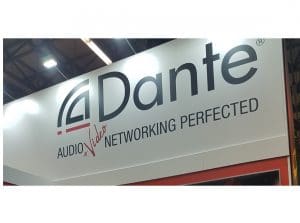 Audinate recognized that on the audio side there was little competition when it came to providing a complete audio networking solution. It set out to do the same for AV-over-IP.
"Dante AV uses the exact same control metaphors, exact same control methods" as Dante audio networking, Price says.
"Dante Controller, our already familiar software, will just work with Dante AV. It'll let you start routing video signals just like you would audio signals without having to think about the underlying fuss. You just simply click on receivers and transmitters and away the signals go."