d&b audiotechnik Shines at Wembley Stadium
As concerts make a comeback, the iconic Wembley Stadium in London, went for a two-in-one solution from d&b audiotechnik.
Leave a Comment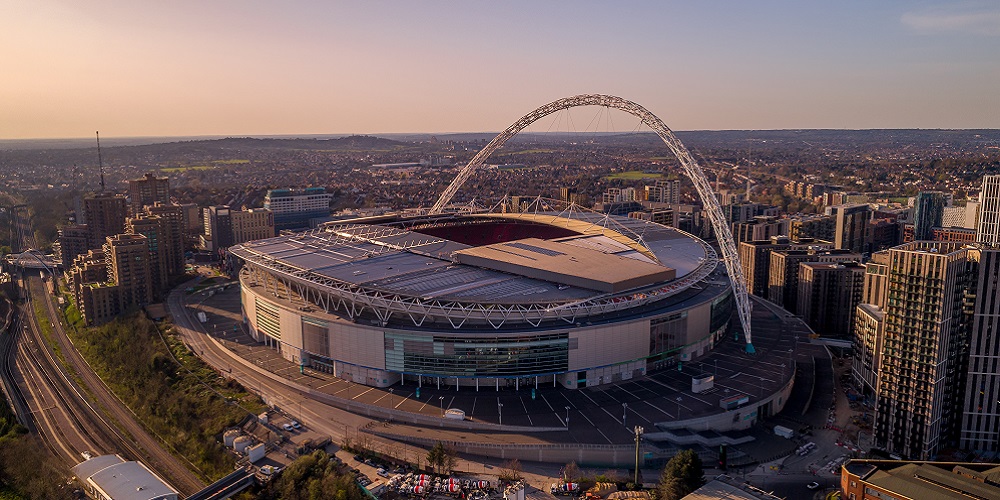 Photos & Slideshow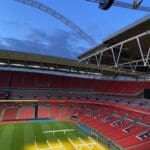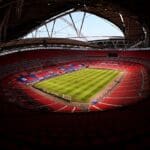 ---
After two lost years for sports and music, Germany-based audio technology and solutions company d&b audiotechnik installed a custom solution for London's iconic Wembley Stadium for its longest concert season yet.
Since hosting its first Football Association (FA) Cup Final in 1923, Wembley has become synonymous with English football. Today, the stadium's sporting calendar invites a global audience with prominent events. These include UEFA EURO 2020 Final and the 2012 Olympic Games. Then there are the A-list artists, from Beyonce to Coldplay, whose legendary concerts have made Wembley a mecca for musicians.
Despite its historic stature, Wembley is not resting on its laurels. Driven by the need to remain world-class, the stadium is continuously evolving and benchmarking itself against the competition. "One area that we knew would add value to our guests and clients was upgrading the bowl audio," explains Liam Boylan, stadium director. "The previous system was not specifically designed to be used for the delivery of music and that was becoming increasingly apparent; we wanted to offer our clients a state-of-the-art system that they would never consider not using!"
He continues, "d&b offered a solution that would elevate the audio experience for our fans — for all of our events — and thus keep our standards as high as possible."
Need for Upgrade
In simple terms, the brief was straightforward: ensure the person sitting in row one, level one, experiences the same quality of sound as the person in row forty-eight, level five. Additionally, the system needed to be lightweight to stay within roof loading limits. It also had to appeal to both the music industry and sports organizations. Additionally, it needed to integrate with the existing network as part of the stadium's life safety system.
Mervyn Nock, audiovisual manager for the FA, remarks, "With the d&b system, PAVA compliance was a given, so instead of thinking about baseline intelligibility we could focus on performance quality expectations. Before the installation, we rigged an array of d&b loudspeakers to give Wembley's senior leadership team and various stakeholders an A/B comparison. The difference surpassed everyone's expectations; not only was music much clearer, cleaner and brighter, but speech was so much more intelligible, more authoritative."
System Design
Steve Jones, head of d&b education and application support EMEA, was then tasked with the system design. "Because the Wembley bowl is so high and so steep, we needed to propose a single system that was up to the task of properly covering the large vertical geometry from front row to the back of the upper tiers, provide horizontal consistency and be suitable for both sports events and augmenting concert productions," Jones adds.
"I'd be asking what would the system do when it was in sports mode," he continues, "and what did that full coverage need to be. And then with, in effect, a smaller array formed from the top cabinets, check that we still had a system that could deliver concert sound levels into the top tier. My next consideration was informed by our observations of concert productions at Wembley; the best results involved the deployment of a ring delay system."
Jones set about honing his design, moving between the venue's two principal modes of operation. However, he soon had other questions. "This was the light bulb moment when I realized that for optimum performance from a single system, I needed to talk to Wembley's technology consultants, Vanguardia, about the possibility to rotate the arrays and deploy them at an overall lower height, in the North and South stands," he reveals. Eventually, after lots of discussion, Jones and the consultants were able to define the arrays' optimal height and position to do both sports and concerts.
Flexible, Uncompromised Sound
Ultimately what Jones, in collaboration with Vanguardia, structural engineers OPS and integrator RG Jones has achieved is more than a two-for-one solution. "Thanks to ArrayProcessing it's now possible for Wembley to create upper and lower zones, and to easily offer multiple performance layouts," expands Jones. "And switch from sports mode to concert mode without any compromise in quality."
As any venue knows, flexibility is essential to owning a truly multipurpose reputation, and Nock is in no doubt about the scope afforded by ArrayProcessing.  He states, "There's always been a strong, valued partnership between UEFA and Wembley over the years, and they were pleased to see the d&b system installed and available to use for UEFA European Championship 2020. During the championship, a 20m long temporary press area was built over six to eight seating rows and Union of European Football Association (UEFA) requested a lower sound level in this area; this was achieved by a reduction of as much as 12dB with spectators in front, behind and to the sides still experiencing the full sound level. It's been invaluable."
As sports fans and music lovers make their way back to the bowl, there's an elevated audio experience waiting in the stands, in all 90,000 seats. "We must be a stadium that artistes want to use and fans want to go to," concludes Boylan, "And to do that, you have to remain ahead of the curve and not rely on history alone. The d&b audio system is a huge part of that and I am delighted to say that the sound in our stadium now matches our iconic name."
System Details
The main loudspeaker system, including corner fills, comprises Special Version Stadium (SVS) V-Series and Y-Series line arrays. SVS models are acoustically identical to their standard versions, with extra protection for use in harsh environments and full consideration of wind loads and seismic activity. The complete system integrates with Wembley's existing control infrastructure via MediaMatrix.
Also Read: Puppet Production of 'Animal Farm' Comes Alive With d&b Soundscape
A critical advantage of the d&b system is the ability to rotate the arrays. During sports events the arrays are in their default position, on axis with the spectators' seating position. In concert mode, they are rotated to optimize the acoustic path between the stage and the audience in the upper tiers, enhancing the listening experience.
Installation specific 30D amplifiers are housed on two 50m high gantries running along the length of the pitch, alongside floodlights, control networks and power distribution, broadcast technology and IT infrastructure.
Nock observes, "Obviously with a new installation there is very little maintenance, but with the amplifiers' system diagnostics functionality, the status of the system is relayed to the main PAVA maintenance graphical user interface and also onto the stadium's building management system, instantly flagging any issues should they appear."
"With so many different types of events at Wembley, d&b's R1 software enables us to quickly configure the system and cater for any event specific PA requirements, for example reducing the sound levels in temporary press/broadcast locations," he adds.
The Installation
The sound system installation took place during winter 2019 by the AV company, RG Jones. Just three months were allocated to design, fabricate and install the new system with several large projects taking place simultaneously including relaying the pitch and installing an LED floodlighting system. Due to the tight timescales and number of interfaces, the program was planned to the highest level of detail. The project teams met daily to collaboratively resolve risks, address technical uncertainties and to monitor safety, progress and quality.
The commissioning of the audio system was completed in time for the EFL Carabao Cup Final in February 2020, just weeks before the first COVID-19 lockdown. "The program was delivered safely and to very tight timescales. Coordination between contractors and the added risk of working at height were the biggest challenges but the installers and project teams, including d&b, were fantastic at working together and resolving any issues that we were faced with," Laurence Young, project manager, Wembley Stadium, exclaims.
Young adds, "For me, the moment that truly encapsulated what has been achieved was at the UEFA EURO 2020 Final and experiencing the d&b system, together with the new LED lighting system, in front of a capacity crowd."
Jon Berry, sales and installations director, RG Jones, also praises the d&b system at Wembley. He notes, "I think the highlight of the project, as is usually the case, is when good content is being played through the system and the resulting audio experience leaves you feeling, 'wow' this is something special."
He continues, "Of course, overcoming the engineering difficulties to deliver the UK's first rotatable stadium loudspeaker system suspended from wire ropes — and in our national stadium, the iconic home of football — makes you feel pretty good too."
UEFA EURO 2020
Following the Carabao Cup, football at Wembley was audience-free or at significantly reduced capacity until UEFA EURO 2020 in June 2021, at which point resident DJ Tony Perry put the new audio system through its paces. He praises, "The sound at Wembley during EURO 2020 was incredible. I received messages from so many fans saying it was the 'best atmosphere they've ever experienced at a football match'. This level of fan interaction would not have been possible without such an incredibly enhanced sound in the stadium."
Perry then declares, "I've been fortunate to play at many stadiums. At Wembley this summer, there was a notable difference in clarity and depth. Whether the stadium was at its lowest 20,000 cap audience, or during the epic closing ceremony, the sound was remarkably well balanced. Perhaps what stood out most, was how the sound maintained clarity both at low level, and when being pushed to its loudest. It's something I hadn't experienced in a stadium environment before."