Primacoustic Introduces PrimaPro Calculator
Primacoustic has introduced its online PrimaPro Calculator to help integrators design commercial and residential spaces.
Leave a Comment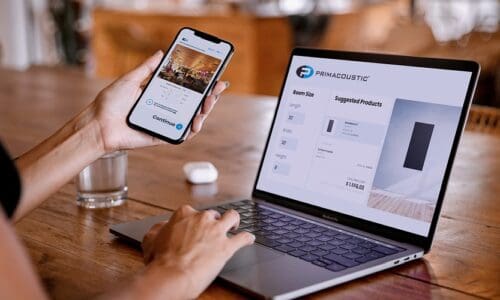 Primacoustic has introduced the PrimaPro Calculator, a user-friendly, step-by-step tool that takes the guesswork out of an acoustic treatment project.
The Canadian manufacturer says the PrimaPro Calculator app will make it easy to explore the possibility of starting or expanding on an acoustic treatment project. Available online, the app provides users the ability to configure residential and commercial environments.
According to Primacoustic, there is no one-size-fits-all formula for acoustically treating a room. There are numerous factors that dictate the proper acoustic panel selection including room dimensions, available wall and ceiling space and the intended application of the room. Previously, the company accomplished the analysis with a quote calculator only available to its internal team. The new PrimaPro Calculator now simplifies that process.
Also Read: Primacoustic Panels Help Students with Auditory Sensory Issues
"The PrimaPro Calculator app is aimed at giving customers another tool to make choosing acoustic treatment easy," says Rob Cooke, managing director for Primacoustic. "This app is as simple to use as it is powerful. It uses precise calculations behind the scenes to generate acoustic treatment recommendations for any space."
The PrimaPro Calculator app design also enables ease of use, says the company. In fact, the whole room analysis process takes only a few minutes. It first prompts the user to enter a few key details about their space. This ranges from room type and dimensions to panel placement (wall, ceiling or both). The app then does the background calculation and presents the user with a complete package of acoustic treatment options.
This article originally appeared on our sister-site, CEPro.com
If you enjoyed this article and want to receive more valuable industry content like this, click here to sign up for our digital newsletters!