Soundmasking Systems Maintain Speech Privacy for Tenants in Calgary's Tallest Building
Hundreds of AtlasIED soundmasking speakers and controllers create secure, comfortable working environments for some of Canada's largest financial, legal, healthcare, and oil companies.
Content from our Sponsor
Leave a Comment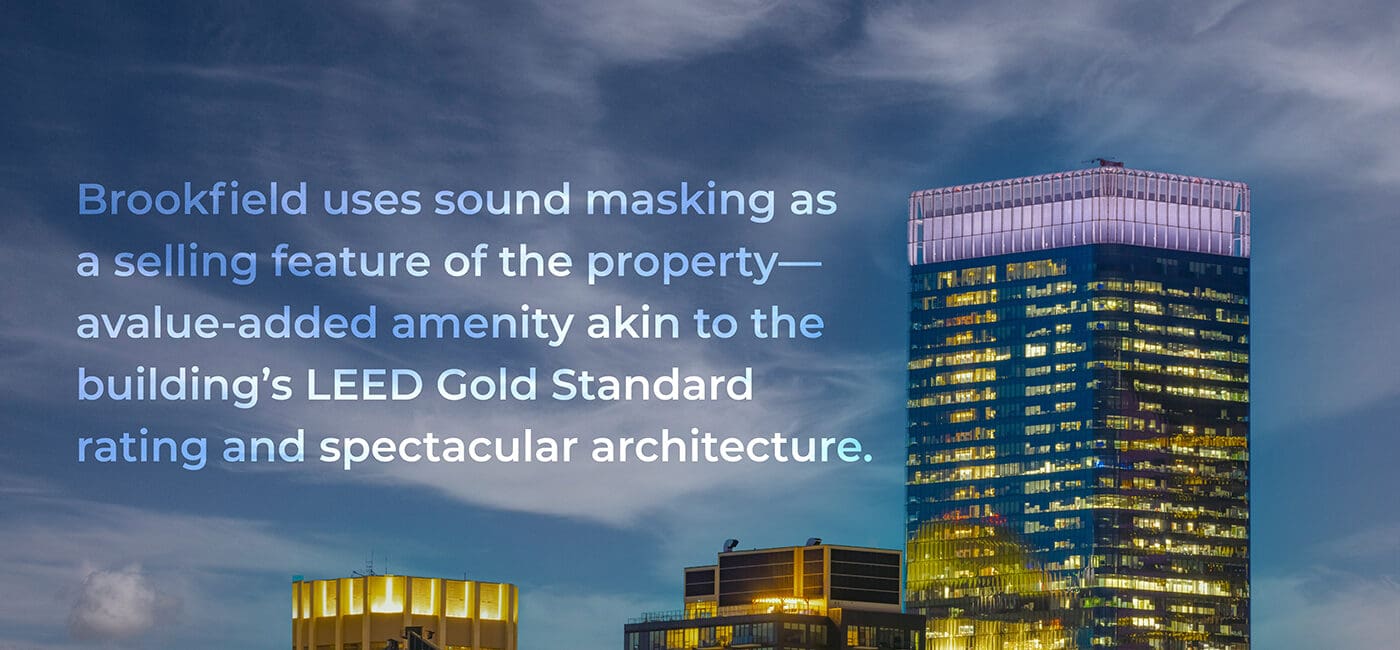 Brookfield Place's claim to fame may be that of Calgary's tallest building. But it's also a monumental showcase of advanced soundmasking technology, with businesses on 40 of the 56 floors outfitted with hundreds of white and pink noise-generators, speakers, and controllers from AtlasIED. As the property management firm's chosen soundmasking contractor, AtlasIED dealer Vibra-Sonic Control custom designed, engineered, and calibrated speech privacy solutions for a large variety of new offices, boardrooms, and meeting spaces of five vastly different clients.
Although the focus of each customer's business differed — from banking to oil production — they all required the same comprehensive level of soundmasking for speech confidentiality and acoustical comfort. Vibra-Sonic didn't have to dig deep into AtlasIED's commercial audio portfolio to find a solution that would suit all configurations. "AtlasIED's M1000 soundmasking speakers paired with ASP-MG2240 amplified soundmasking controllers were the obvious choice," says Vibra-Sonic regional manager Paul Kamoh. Together they create a system that's easily scaled and configured for the specific needs of each client, making AtlasIED the single soundmasking source for Brookfield Places' first tenants. "Plus, we knew through our 20-plus years carrying AtlasIED equipment that the M1000s and ASP-MG2240s would satisfy the strict confidentiality requirements of Brookfield businesses including a law office, healthcare facility, financial institution, as well as meet National Research Council guidelines for optimal speech privacy," Kamoh continues.
After analyzing the infrastructure, acoustical characteristics, and soundmasking needs of each office space, Vibra-Sonic created a comprehensive blueprint indicating speaker and controller locations to ensure optimal performance. The plan rolled out as Brookfield Place was under construction, allowing the electrical contractors at Western Electric to easily tuck the equipment above the ceiling for a clean, unobtrusive installation. "Speech privacy and employee productivity may be the main rea-sons to implement soundmasking; attractive aesthetics help seal the deal," Kamoh says. "It's important for productivity and comfort that employees aren't distracted by speakers and that the noise generated by the system becomes a natural part of the environment. The small footprint and installation versatility of the AtlasIED M1000s allow us to position and calibrate the speakers so that the sound is diffused and evenly distributed for a peaceful effect, all while masking confidential conversations and minimizing unwanted, distracting ambient noise."
When the property management team of an entire 56-story commercial building includes soundmasking as a selling feature for their spaces, they clearly consider it to be an essential amenity that not only attracts tenants but retains them. "It's be-come something that most corporate businesses simply expect," Kamoh says. Be it for speech privacy, acoustical comfort, or both, soundmasking creates the type of working environments that today's businesses crave, and for Brookfield Place, the streamlined solutions met every requirement—quick and easy to install, scalable for a diverse clientele and repeatable for future tenants.