Almo Professional Named U.S. Distributor of iMAGsystems AV over IP Solutions
Almo Professional A/V has been appointed the exclusive U.S. distributor for the Australian company iMAGsystems' line of AV over IP solutions
Leave a Comment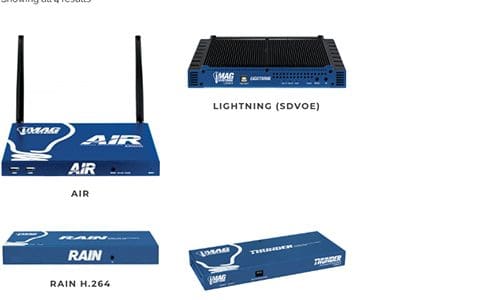 Almo Professional A/V has been named the exclusive distributor of iMAGsystems.
Based in Melbourne, Australia, iMagsystems designs and produces AV over IP solutions for a range of commercial AV applications. Almo will showcase its new partner's AIR Wireless, LIGHTNING (SDVoE), RAIN H.264 and THUNDER (JPEG2000) during its annual E4 AV Tour, which is scheduled to stop in Nashville on Oct. 25 and 26.
"Thanks to our partnership with iMAGsystems, we are able to bring an SDVoE Alliance manufacturer to our partners with an expertly created line of products that cover all of the existing AV over IP protocols," explains Sam Taylor, executive vice president and COO of Almo Professional A/V.
"iMAGsystems has extensive knowledge from years of development work, resulting in a deep understanding of the technologies involved in delivering high-resolution AV over standard IP networks. This standard is a topic that we will delve into during the keynote session at the E4 AV tour in Nashville later this month."
Taylor notes the alliance between the two companies will help to "keep the channel clean, while holding the most profitable margins for our partners."
As part of the partnership, Brian Rhatigan, director of business development at Almo Professional A/V, will serve as its lead contact for iMAGsystems technical, design and installation support.
A Closer Look at the iMAGsystems Product Line
The iMAGsystems AV over IP product line includes a choice of four components:
AIR WIRELESS: Designed to serve as a wireless presentation device with functions that include the ability to support BYOD presenter, as well as VGA and HDMI connectivity, and automated display control. The AIR WIRELESS is a one-box solution for meeting room environments.
LIGHTNING (SDVoE): An AV over IP device that is said to transmit uncompressed zero-latency HDMI signals up 4K using standard Ethernet category cables. LIGHTNING employs an SDVoE chipset, and it incorporates the Director software control platform.
RAIN H.264:  According to the company, the RAIN is the most flexible product in the line for AV over IP in enterprise environments. Employing the H.264 codec, RAIN provides AV over IP on existing networks with variable low-bandwidth requirements under 30Mbps per stream.
THUNDER (JPEG2000): Utilizing the JPEG2000 standard, the THUNDER is capable of transmitting AV over IP on a 1G network. iMAGsystems says the THUNDER product is capable of handling a range of resolutions and formats, including systems employing 1080p and 4K displays.
Related: Almo Professional A/V Acquires Insteo, Solidifies Content Creation Service