(Almost) All the New AV over IP Streaming and Collaboration Products From ClearOne at InfoComm 2018
The ClearOne InfoComm 2018 booth will feature its newest innovations from microphones to software to collaboration offerings.
Leave a Comment

ClearOne will debut seven new AV over IP streaming solutions and one software upgrade at InfoComm 2018 [#N1628] at the Las Vegas Convention Center.
"We continue to innovate across all product categories, developing high value-added solutions that cost-effectively meet the real-world needs of our system integration partners," said ClearOne president and CEO Zee Hakimoglu.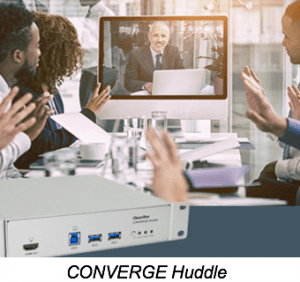 "Customers who come to our booth will see complete end-to-end collaboration solutions that simplify and unify the user experience."
The CONVERGE Huddle conferencing solution for huddle rooms and similarly sized meeting spaces, which is derived from ClearOne's latest CONVERGE Pro 2 line of DSP mixers, will debut at InfoComm 2018.
The CONVERGE Huddle comes equipped with the latest acoustic echo cancellation and noise cancellation audio processing algorithms.
Audio and video collaboration applications can be accomplished through a single cable connection to users' Bring Your Own Devices (BYOD), such as laptops, tablets, and smartphones that run applications such as Spontania, Skype for Business and more.
CONVERGE Pro 2 VT: VoIP, Telco and Increased Flexibility
Also making its debut is the new CONVERGE Pro 2 VT Series that includes both VoIP and Telco interfaces in the same CONVERGE Pro 2 unit, "simplifying designs and purchasing for integrators, increasing installation flexibility and offering freedom of choice," according to the ClearOne press release.
The new models function the same as the existing V and T offerings and models featuring Dante audio technology will now fall under the VTD series. Additionally, all models are Avaya-, Cisco-, and ShoreTel-compliant and support Microsoft Skype for Business built-in client.
The new CONVERGE PA 460 Amplifier is a four-channel x 60 watt or two-channel x 120 watts high-efficiency professional audio power amplifier for auditoriums, lecture halls, conference rooms, boardrooms, training rooms and more.
It features Class-D power amplifier technology, plug-and-play capabilities, protection from overload and auto-standby.
DSP-Compatible Ceiling Mics
ClearOne will introduce the new Ceiling Microphone Array Dante, which features all of the same benefits as the first-generation Ceiling Microphone Array and Ceiling Microphone Array Analog-X with the addition of a built-in Dante audio network interface.
The Ceiling Microphone Array Dante is also compatible with any DSP mixer with a Dante interface network as well as with ClearOne's CONVERGE Pro 2 DSP mixers.
ClearOne will also debut the new WS800 M550 wireless microphone system that operates in the 537-563 MHz range in response to new FCC rules limiting the use of certain frequencies in North America.
The new solution is necessary to give integrators a full range of frequency options and includes tabletop, gooseneck, handheld and belt-pack lavalier models of wireless microphones/transmitters and a base-station receiver with either four or eight channels.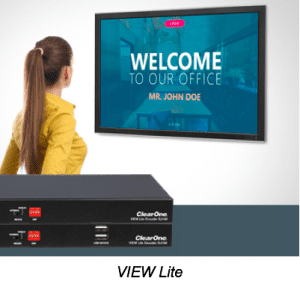 With the addition of the M550 model, the WS800 is now offered in eight frequency ranges.
VIEW Lite AV over IP streaming solution has an encoder EJ100, decoder DJ100 and controller CJ100 that together deliver full-screen, single-image video using JPEG2000 codec standard technology, with a latency of around 1.5 frames end-to-end (glass to glass), with resolutions of 4K30 and 1080p60 with 4:4:4 color space support for ultra high quality video for live AV over IP streaming and distribution applications over an IP network.
ClearOne will also unveil COLLABORATE Space, a video collaboration app that connects hundreds of users joining from any device for messages, calls and meetings.
Available on-cloud or on-premise, it includes a variety of collaboration tools such as screen sharing, file sharing, whiteboarding, co-annotation, meeting minutes, recording and chat.
ClearOne will also unveil a software upgrade for its COLLABORATE Pro 300/600/900 systems, "bringing a rich user interface and user experience to its video collaboration room solutions," according to the company press release.