Extron XPA Ultra Amplifiers Run Cool with Class D Technology
New Extron XPA Ultra Amplifiers feature the company's proprietary CDRS Class D technology for amplification, helping the amps run cooler.
Leave a Comment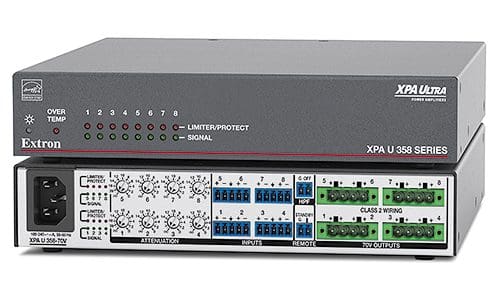 Diversifying its product line, the new Extron XPA Ultra Amplifiers offer professionals integrators more channels of amplification in small footprint packages.
The commercial electronics manufacturer, points out the XPA Ultra line of amplifiers utilize proprietary Class D technology amplification designs, which are unique in the audio industry.
Extron says its proprietary Class D amplification technologies design includes an Everlast power supply, ultra-low inrush signal current, and its patented CDRS Class D amplification circuit.
The new amps deliver a "professional grade signal-to-noise ratio," and meet Energy Star certification standards, the company says.
"Extron pioneered the use of Class D amplifiers in AV applications and our engineers have continuously been developing unique, patented high-performance power amplifier technology," boasts Casey Hall, vice president, worldwide sales and marketing, Extron Electronics.
"The flexibility and performance provided by the EPA Ultra line of power amplifiers ensure our amplifiers continue to be leading the AV industry."
Related: Extron IN1806 Presentation Switcher Aimed at 4K 60Hz Situations
According to Extron, the line of products are also rated to deliver 35 watts or 100 watts of power per channel into 4- and 8-ohm loads, as well as 70-volt systems.
Moreover, the UL 2043 plenum rated Extron XPA Ultra amplifiers incorporate single and side-by-side rack mount, and a newly redesigned rear panel that is designed to facilitate the use of Extron's optional Flexible Conduit Adapter kit.
XPA Ultra highlights:
The XPA Ultra line employs Class D technology to help the amps run cool
Newly redesigned rear panels facilitate the use of the company's companion Flexible Conduit Adapter Kit
Extron states the amps are Energy Star certified, which means they consume less energy than other comparable amplifiers
The Extron XPA Ultra amplifiers are also UL 2043 plenum certified
Extron says the amplifiers produce 35 or 100 watts into 8- and 4-ohm loads, and they are compatible with 70-volt systems.