Listen Technologies Provides Updates to Listen EVERYWHERE and ListenTALK
At ISE 2022, Listen Technologies will demonstrate new product additions and firmware updates to Listen EVERYWHERE and ListenTALK solutions.
Leave a Comment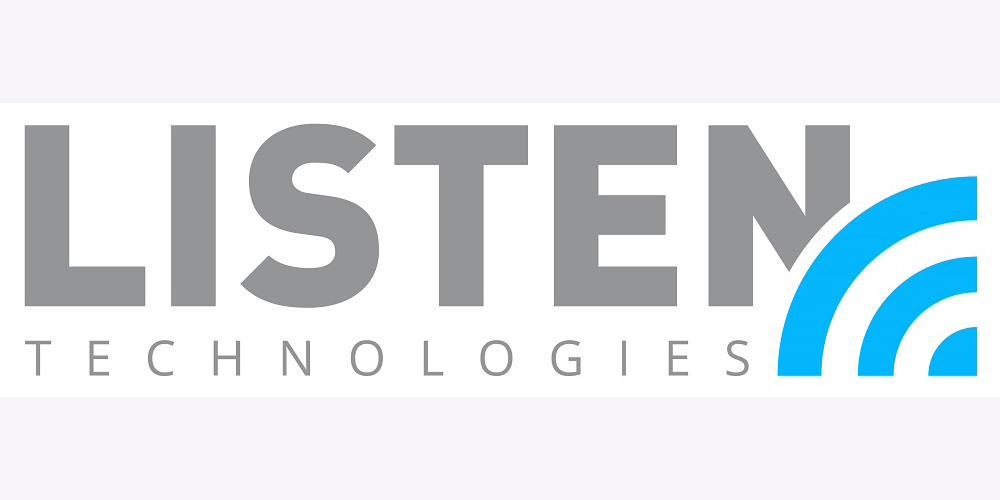 Listen Technologies Corporation, Bluffdale, Utah-based provider of advanced wireless listening solutions, will showcase its newest additions and updates to its Listen EVERYWHERE and ListenTALK product lines at Integrated Systems Europe (ISE) in Barcelona May 10-13, 2022.
With these products, the company reinforces its commitment to providing inclusive audio experiences in any environment. Among the technologies and solutions it will demonstrate at ISE are the new Listen EVERYWHERE Dante-enabled server, a Listen EVERYWHERE private channels feature and firmware upgrades to ListenTALK. Listen Technologies will also introduce a new, advanced neck loop and recent installations of its wireless listening solutions.
"Listen Technologies is thrilled to be exhibiting at ISE again and to see so many of our peers, partners and customers from across the Pro AV industry reuniting at this important live event," says Maile Keone, president and CEO of Listen Technologies. "Despite the challenges of the last two years, our industry has continued to innovate, meet the needs of customers and end users and support one another. ISE is a wonderful opportunity to celebrate our collective success and learn from each other. I always come away from this industry event feeling inspired and re-energized."
Listen EVERYWHERE Product Suite Additions and Enhancements
Listen EVERYWHERE by Listen Technologies streams audio over a Wi-Fi network to personal smart devices. It is also compatible with Bluetooth-enabled hearing aids and speakers and telecoil (t-coil)-enabled hearing aids when paired with a neck loop.
Listen EVERYWHERE remains popular among venue administrators and end users. This is because it is easy and affordable for venues to set up, and lets listeners use their own smart devices to hear live or recorded audio clearly despite hearing loss, noise or distance and offers the industry's lowest latency. It is thus ideal for use in various locations. These include houses of worship, courtrooms, classrooms, theatres, manufacturing plants, museums and corporate boardrooms.
New Features
Listen Technologies will showcase the new Listen EVERYWHERE products and updates at ISE in Hall 3, at Stand N885. These include the following:
Listen EVERYWHERE Server with Dante: The new LW-150P-02-D Listen EVERYWHERE two-channel server has a Dante input on the rear panel. This enables easy routing and management of Listen EVERYWHERE audio on a network via Dante Controller, the easy-to-use software from Audinate1. Networked audio systems using Dante deliver high audio performance, are flexible, and are less expensive to deploy, says the company. The Listen EVERYWHERE server with onboard Dante is also compatible with all Dante-enabled products. The two-channel server is also available without Dante. The LW-150P-02-D is available in Europe, Australia, Canada and U.S.
Listen EVERYWHERE Private Channels Feature: This feature provides a convenient way for venues to create confidential, password-protected audio channels on their networks. When listeners want to stream a channel that is designated as private, they are prompted for a password. They must then enter the correct password to hear the audio. Private channels are ideal in courtrooms, boardrooms, and conference rooms where confidentiality is necessary. It is also useful in academic environments for closed classes or study groups. Venues can also use the private channels feature to offer guests access to premium content.
Expanded ListenTALK Functionality
ListenTALK is a mobile two-way communication system that lets users communicate in any environment. At the same time, it helps maintain safe physical distance. According to Listen Technologies, recent firmware updates enhanced the system's versatility. This made it easier for interpreters to provide simultaneous language interpretation without additional equipment. ListenTALK transceivers (combination transmitter/receiver) are easy to set up and group. Up to 30 groups can be created or languages can be interpreted in the same space in Europe. Thus ListenTALK emerges as a suitable solution for trade shows, conventions and other large events.
Also Listen: AV+ Podcast: How Assistive Listening Technologies can Democratize AV Experiences
New, Advanced Neck Loop for Adults and Children
The LA-438 and the LA-439 Advanced Neck Loops from Listen Technologies provide a reliable and effective way for listeners with t-coil-equipped hearing aids and cochlear implants to utilize Listen EVERYWHERE and ListenTALK. The LA-438 is an adult-sized neck loop while the LA-439 is a smaller version that better fits children. Each neck loop slips comfortably over the wearer's neck and transmits the audio signal wirelessly from their smart device or ListenTALK receiver to their t-coil device. This leaves their hands free for added convenience. The new neck loops are also built with a more powerful driver for a more efficient loop. In addition, they offer superior clarity and better sound, says Listen Technologies.
Application Stories
According to Listen Technologies, the versatility of its solutions and creativity of customers and partners are evident in recent installations. Some of the case studies that Listen Technologies will highlight at ISE include:
"Resilient, creative, resourceful, and flexible are some of the adjectives that come to mind when I think of Listen Technologies' partners and the Pro AV community," remarks Sam Nord, vice president of global channel sales at Listen Technologies. "I am looking forward to connecting live with our channel partners at ISE to demonstrate Listen Technologies' newest products and solution features and to hear about the innovative projects they are leading and supporting across so many different industries."
If you enjoyed this article and want to receive more valuable industry content like this, click here to sign up for our digital newsletters!