Measure SPL Readings Remotely with the Studio Six Digital dBPod Smart Sound Level Meter
The Studio Six Digital dBPod smart sound level meter provides an easy way to measure SPL levels, allowing integrators to do so remotely.
Leave a Comment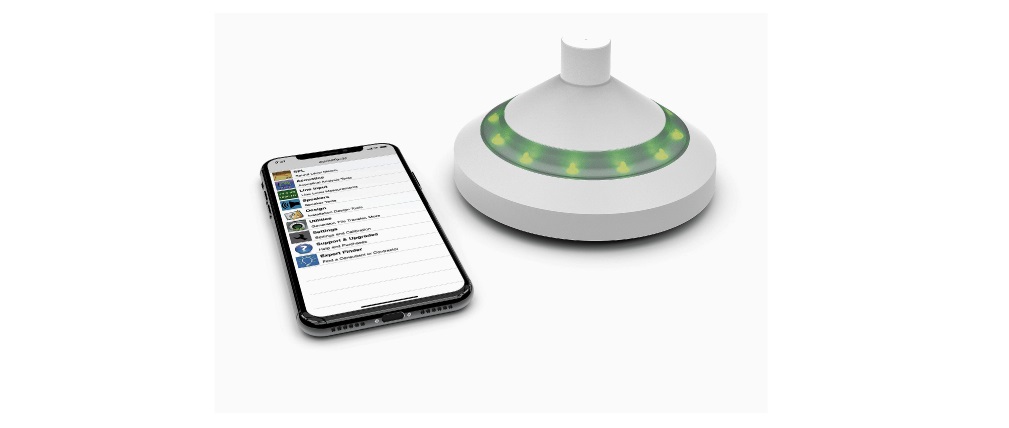 At InfoComm 2019, Studio Six Digital introduced its dBPod smart sound level meter. The company says the DBPod is an advanced sound pressure level (SPL) meter that allows users to measure sound onsite or from remote locations.
"The dBPod represent one of the most significant product introductions in the decade-plus long history of Studio Six Digital," states Andrew Smith, founder of Studio Six Digital.
"We identified market demand for a self-contained professional sound pressure meter with a simple visual interface, providing our customers with instant access to SPL data.
"We anticipate adoption of this device for applications requiring regulated noise levels such as hospital corridors, airports, outdoor concert venues, houses of worship and so much more."
Smart Sound Level Meter Advanced Features
A key component of the dBPod is its use of a MEMS wideband omnidirectional microphone that is combined with an audio interface, as well as a microprocessor, flash memory, a lithium-ion battery and an output jack, the company says.
The SPL meter can be used as an installed device, hardwired for power, connected to Wi-Fi and mounted to a stable surface.
Studio Six Digital points out the dBPod does not incorporate outboard controls. The only interface elements built into the product's exterior is an LED indicator that communicates status–below threshold is indicated with a green light; nearing threshold is indicated with a yellow light, and exceeding the threshold level the LED turns red.
Related: These AV Installer Tools, Gadgets and Software Solutions Make Life in the Field Easier

The built-in battery provides two hours of wireless operation, and the unit's companion app enables users to monitor SPL and frequency spectrum locally from their iOS or Android products.
Moreover, Studio Six Digital notes that threshold SPL level can be set to specific settings depending on the application, and the settings can be accessed from the cloud.
Additionally, the dBPod also incorporates a Bosch accelerometer that can be used for three-axis vibration analysis.
The dBPod meets ISO Class 2 SLM standards for all audio and filter parameters.
This article premiered on our sister site, CE Pro