Vanco Launches Beale Street Audio Gear at CEDIA Expo 2019
From speakers and subwoofers to an amplifier and accessories, new Beale Street Audio solutions provide flexibility and superior sound.
Leave a Comment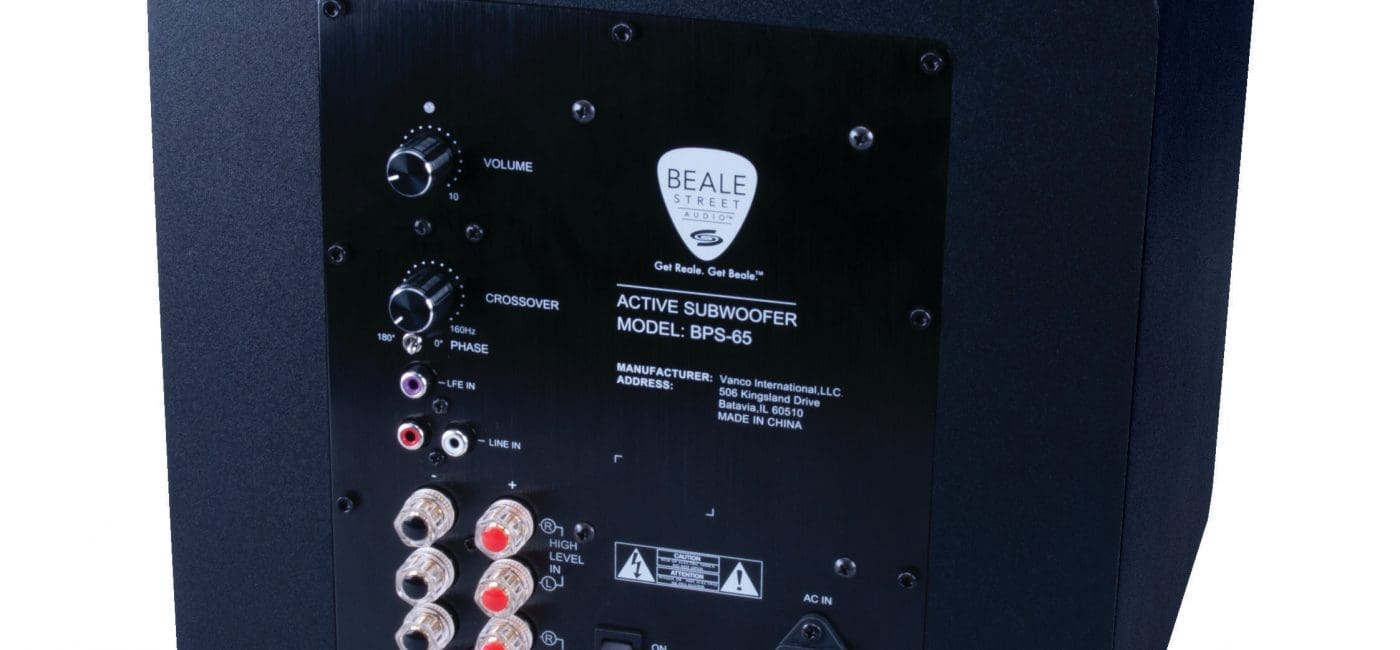 Vanco International LLC announced the addition of seven new products to its Beale Street Audio line at CEDIA 2019 in Denver last week.
The two new in-room subwoofers, two in-wall LCR speakers, an amplifier and pendant speaker enclosures offer distributors and dealers flexibility and in-wall, in-room and open-ceiling AV installation solutions. Several of the products feature Beale Street's patented Sonic Vortex technology.
Here's more about the Beale Street Audio products launched at CEDIA 2019:
BPS-65 and BPS-80 In-Room Subwoofers with Sonic Vortex
The Beale Street Audio BPS-65 and BPS-80 in-room subwoofers featuring Beale Street's patented Sonic Vortex technology are compact but mighty.
Engineered with a black matte wood cabinet featuring black cloth magnetic grill that conceals the Kevlar woofer (6.5-inch for the BPS-65 and 8-inch for the BPS-80) and butyl rubber surround, the new in-room subwoofers bring balanced sound even when listeners are off-axis.
Both models feature a 220-watt amplifier compatible with 110-volt, 240-volt, 50Hz – 60Hz and 4-ohm impedance and a sensitivity of 90dB.
On-board inputs and controls include stereo and mono audio line level (RCA), stereo speaker level and passthrough, audio sensing and adjustable phase settings and subwoofer crossover frequency.
The BPS-65 has a frequency response of 38Hz – 300kHz, and the larger BPS-80 takes performance up a notch with a frequency response of 28Hz – 300kHz.
IWLCR4-MB and IWLCR4-BB In-Wall Speakers
For the first time since Vanco's acquisition of the Beale Street Audio brand in 2017, the company is releasing new speakers featuring Beale Street's patented Sonic Vortex technology.
The IWLCR4-MB and IWLCR4-BB were designed as a complementary two-way, full-range, LCR and center channel solution for the rest of the line.
With a form factor that fits between the studs and a depth of four inches, the IWLCR4-MB and IWLCR4-BB offer an in-wall speaker solution that doesn't sacrifice sound quality, consistency, or efficiency thanks to the Sonic Vortex design.
The Sonic Vortex transmission line uses multiple ports with fins that produce unprecedented levels of bass output (up to a 6dB increase over standard ports) and room energizing dynamics. The result is 3D sound from any audio source without special electronics or encoded multi-channel audio content.
The IWLCR4-MB features a 4-inch green ribbed injected polypropylene woofer with butyl rubber surround, 1-inch aluminum dome tweeter, and frequency response of 89Hz to 24kHz.
The IWLCR4-BB features a 4-inch carbon fiber woofer with butyl rubber surround and 1-inch titanium tweeter and a frequency response of 86Hz to 25kHz.
Both models have a nominal impedance of 6 ohms, a sensitivity of 92dB and power handling of 5-120 Watts. Each speaker also features gold spring push terminals for connecting the speaker wire, and magnetic bezel-less white paintable grills.

BAV2500 2-Channel Amplifier
The BAV2500 is a 1,000-watt 2-channel amplifier compatible with 4 ohm, 8 ohm, 70 volt and 100 volt speaker systems. It features DSP processing and a matrix mode that allows any source to be routed to any output.
With accessories included, the BAV2500 can be installed in a rack and controlled from the front panel or alternatively via IP with a browser-based GUI. With an output of 500 watts per channel, the BAV2500 can be incorporated into both residential and commercial installations.
Pendant Speaker Enclosures
The new custom pendant speaker enclosures allow installers to integrate Beale Street Audio speakers into pendants for open-ceiling and exposed environments.
IP44 rated, the pendant speaker enclosures are water-, weather- and UV-resistant and compatible with 4-inch, 6.5-inch, and 8-inch Beale Street Audio in-ceiling speakers featuring the patented Sonic Vortex technology.
Pendant speaker enclosures are available in two different sizes with either a white or black paintable enclosure as well as paintable grill to allow for custom color-matching in any space.
Vanco International's new Beale Street Audio products will be available in early Q4.