Yamaha RIVAGE PM7 Digital Mixing System Offers Integrated Portability
The core of Yamaha RIVAGE PM7 digital mixing system includes the CSD-R7 Digital Mixing Console, TWINLANe-based RPio622 and RPio222 I/O Racks, and Dante-based Rio3224-D2 and Rio1608-D2 I/O Racks.
Leave a Comment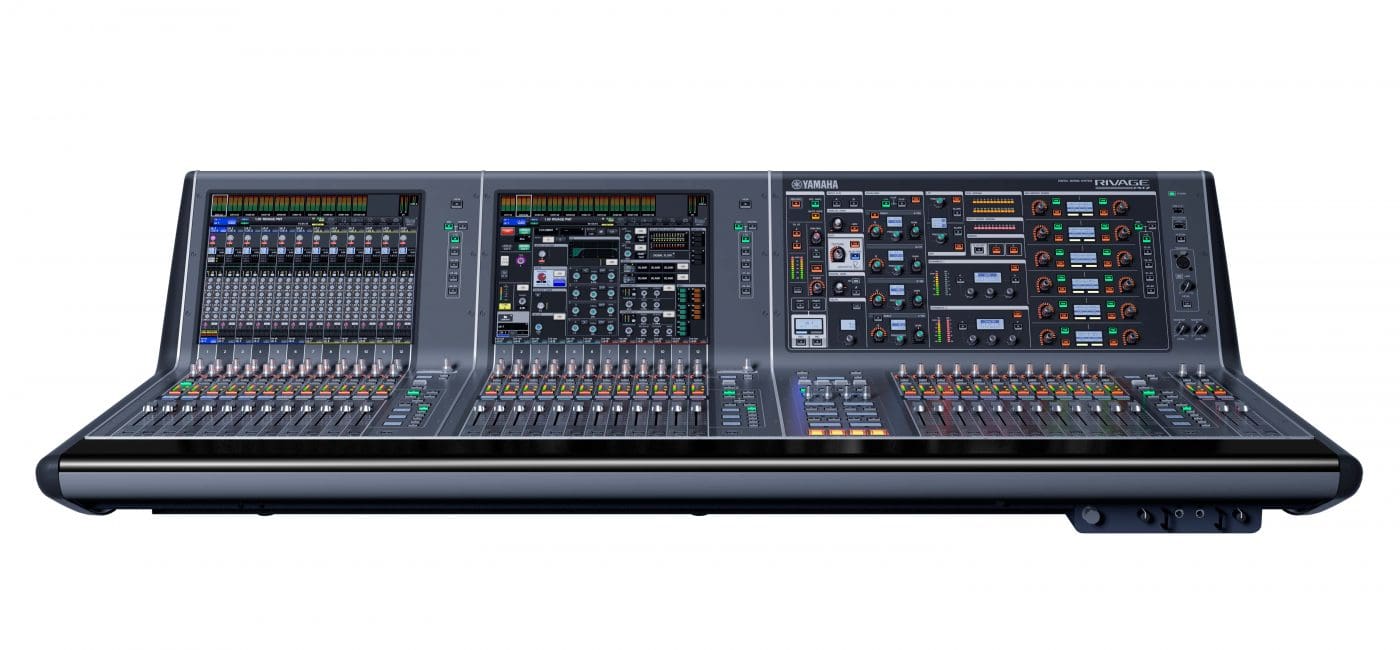 Yamaha Professional Audio says a new addition to its RIVAGE professional audio lineup adds integrated portability and flexibility – enter the Yamaha RIVAGE PM7 digital mixing system.
The core of the RIVAGE PM7 system includes the CSD-R7 Digital Mixing Console, TWINLANe-based RPio622 and RPio222 I/O Racks, and Dante-based Rio3224-D2 and Rio1608-D2 I/O Racks, according to a Yamaha press release.
More from Yamaha's RIVAGE PM7 press release:
The CSD-R7 Digital Mixing Console is the central component of the RIVAGE PM7 system, positioned directly below the current RIVAGE PM10 Digital Mixing System. With an emphasis on preserving workflow, the CSD-R7 is the same size as the RIVAGE PM10 system CS-R10 control surface but with the DSP engine built into the console offering enhanced portability and system flexibility while maintaining high operability.  

The panel layout of the RIVAGE PM7 is the same as the flagship RIVAGE PM10, delivering the same user experience. With 120 input channels, 60 mix buses, 24 matrices, and a comprehensive selection of 48 top-quality plug-ins, the PM7 provides mixing capacity that is comparable to the RIVAGE PM10 (the latter has 144 input channels, 72 mix buses, 36 matrices, and 50 plug-ins).

A Dual Console function also allows the CSD-R7 to be connected to one of the Yamaha RIVAGE PM7 control surfaces (CS-R10 or CS-R10-S). A CS-R10-S, for example, can be used at front of house, for monitors, or as a sidecar expansion console for the CSD-R7, depending on space and system scale requirements.

The CSD-R7 Digital Mixing Console offers connectivity with two types of audio networks, allowing either or both to be used for connection and control of I/O Rack units. The dedicated TWINLANe network uses optical cable to handle up 400 channels of audio.

Combinations of the RPio622 and/or RPio222 I/O racks and HY256-TL or HY256-TL-SMF audio interface cards allow input via Hybrid Microphone Preamplifiers with analog input stages that take the Yamaha "natural sound" concept to new heights, as well as digital sections with immaculate VCM technology models of Rupert Neve Designs transformer and SILK processing circuitry that offer outstanding musicality and dimension.

The system can be equipped with the Dante audio network from Audinate, similar to CL and QL Series digital consoles as well as a range of other Yamaha pro audio products. Rio3224-D2 and Rio1608-D2 I/O Racks, will be released simultaneously as RIVAGE PM7 digital mixing system components, and the HY144-D Dante audio interface card can be combined to provide natural sound input at full RIVAGE PM series quality allowing the on-stage sound to be cleanly captured and shaped as required by the engineer.
"RIVAGE PM10 already has made a deep impression on professional sound engineers who praise it for its incredible sound quality and quick workflow," says Marc Lopez, director of marketing, Yamaha Commercial Audio products, Yamaha Professional Audio division.
"Our goal with RIVAGE PM7 is to offer the same user experience provided by our flagship RIVAGE PM10 digital mixing system to a wider range of customers."
More on Version 2.0 of the RIVAGE PM from press release:
In addition to the new components, Version 2.0 of the Yamaha RIVAGE PM7 firmware will include a number of new features such as 5.1 surround and mix minus capability for broadcast applications, Rupert Neve Designs Portico 5045 Primary Source Enhancer, the Dual Console function, DSP mirroring (RIVAGE PM10 only), and more.

5.1 surround panning and monitoring are provided for broadcast applications, and two surround buses are available for efficient international feed production. A broadcast Mix Minus function is provided too, allowing an identified source to be removed from a specified remote feed with just a few simple steps.

The easy-operation Rupert Neve Designs Portico 5045 effectively suppresses background noise at microphone inputs for enhanced clarity while significantly increasing the feedback margin, making it a valuable tool for live sound in houses of worship, stadiums, halls, and other environments where feedback and unwanted background sounds can be problem.

DSP Mirroring is a RIVAGE PM10-only function that allows two DSP-R10 DSP engines to be used for failsafe redundancy. If a problem occurs in the main DSP-R10 unit, the second DSP-R10 can take over without disrupting the program.
"Rupert Neve and I and the rest of the team at Rupert Neve Designs are incredibly proud and pleased with the results that Yamaha has achieved with both the Silk and 5045 emulations," says Josh Thomas, general manager at Rupert Neve Designs.
"It's uncanny how close they are, and add an amazing power and flexibility to the already formidable Yamaha Mixer lineup."
The RIVAGE PM7 and V2.0 firmware are scheduled for release soon, according to the company. Click for more information on Yamaha RIVAGE PM7.
If you enjoyed this article and want to receive more valuable industry content like this, click here to sign up for our digital newsletters!