Kramer Audio Matrix with DSP and Interchangeable I/Os Set to Make U.S. Debut at InfoComm 2019
Kramer AFM-20DSP will be on display in booth 2929 at the Orange County Convention Center in Orlando for InfoComm 2019 June 12-14.
Leave a Comment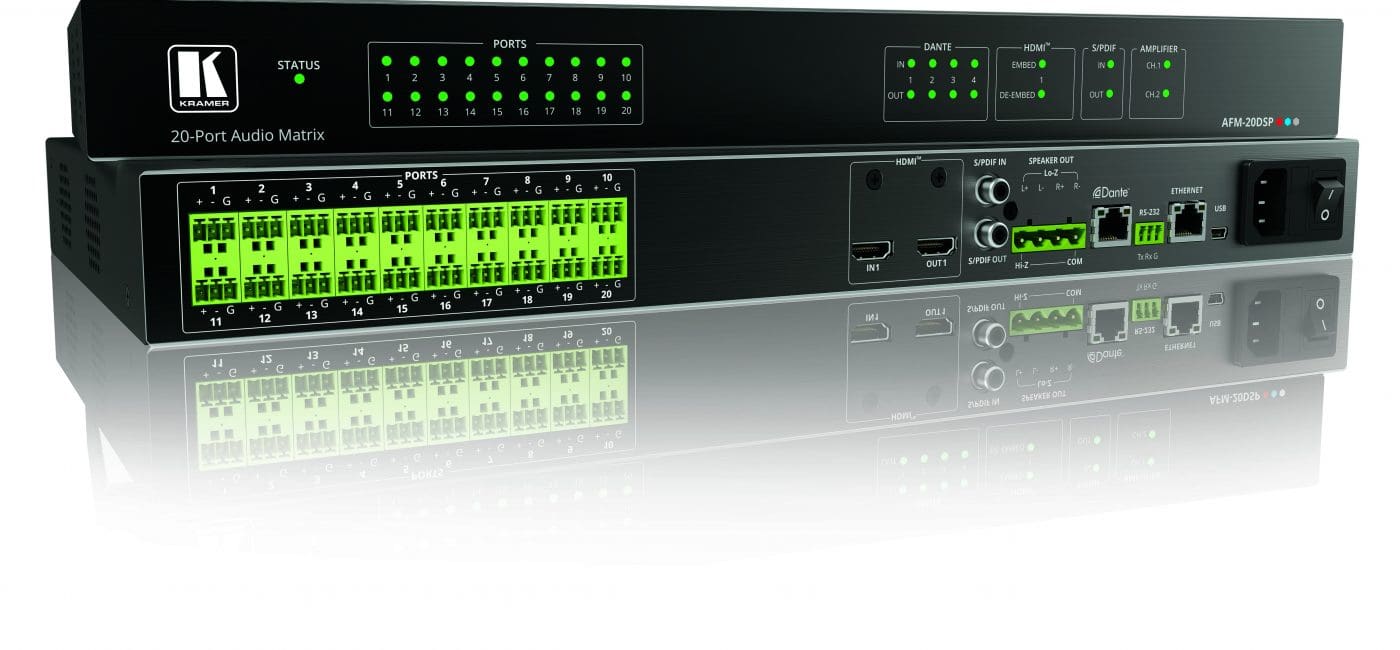 Kramer Electronics unveil its 20-port audio matrix with DSP and interchangeable inputs and outputs to the U.S. market at InfoComm 2019 in Orlando June 12-14 [booth 2929].
AFM‑20DSP "provides configuration flexibility and eliminates I/O limitations with its 20 interchangeable analog audio ports, letting AV professionals get more functionality for less real estate," according to the recent company announcement.
It also "packs eight AEC channels, auto feedback suppression, Dante support, built-in Hi-Z and Lo-Z 120W power amplification and complete DSP functionality powered by Xilica Audio," according to the Kramer press release.
AFM-20DSP "provides HDMI embedding and de-embedding at 4K60 4:2:0" and "boasts both fixed and open architecture, enabling AV professionals to use predefined sound configurations or configure a system from scratch," according to the company announcement.
"When designing the AFM-20DSP, my top priority was to ensure that it would be easy to install and use", said Yuval Kramer, director of audio at Kramer, in the company press release. "We decided to include various critical and unique capabilities into this one box to not only remove technical constraints but also to rule out interoperability issues."
AFM-20DSP can be integrated in existing AV installations but is ideal for boardrooms, multipurpose spaces, auditoriums, sports bars, houses of worship, live events, broadcast facilities and recording studios.
More Kramer InfoComm 2019 Highlights
In addition to the U.S. debut for the AFM-20DSP, Kramer Electronics will be showcasing its VS-34FD 34-port modular 8K multi format digital matrix switcher with interchangeable inputs & outputs, at InfoComm 2019.
The VS-34FD, which is making its U.S. debut, supports HDMI, HDBaseT, DGkat, fiberoptic, DVI, VGA HD-SDI as well as analog and digital audio. The chassis is backwards-compatible with all existing cards with the addition of an adapter and features an 8K-ready chassis for upcoming 8K cards.
All ports in the VS-34FD can be used interchangeably as either inputs or outputs, according to installation requirements.