Lab Gruppen Introduces CA Series Amplifiers for Commercial Audio Installations
Lab Gruppen CA Series amplifiers are Energy Star-certified and are ideal for applications in bars, restaurants, corporate offices, retail stores and hotels.
Leave a Comment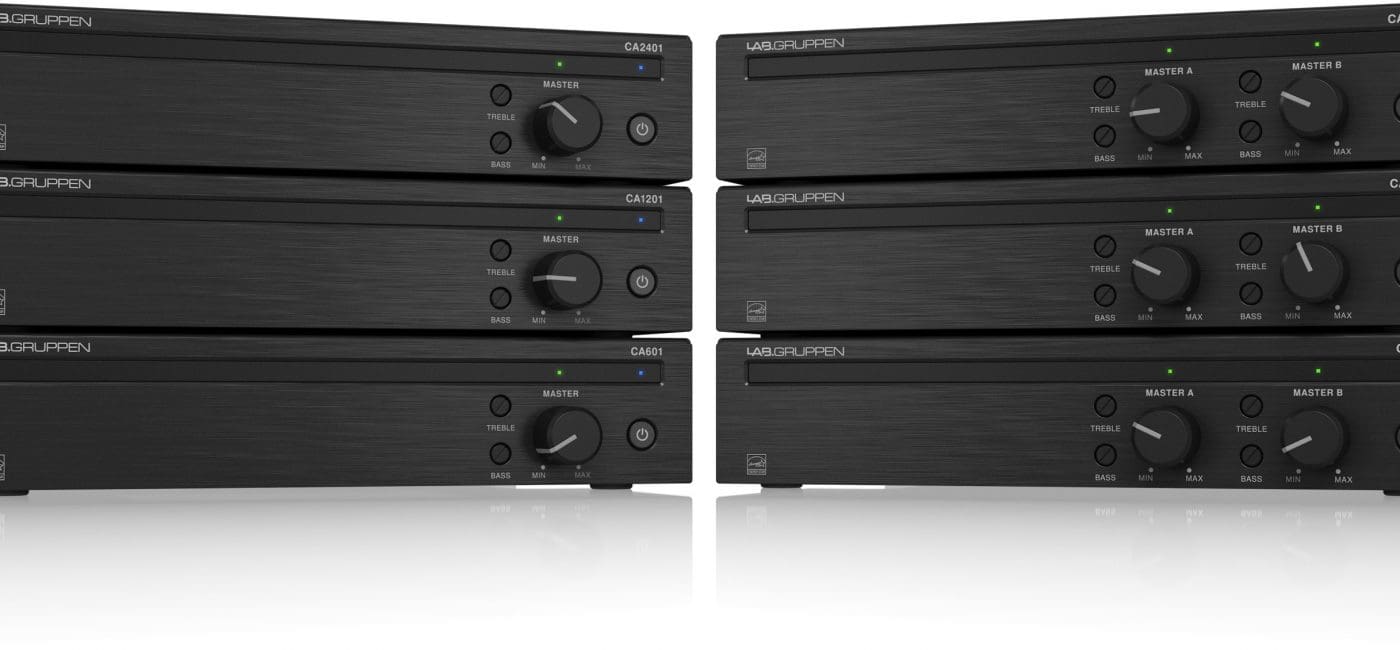 Lab Gruppen recently introduced the Energy Star Certified CA Series amplifiers for commercial installations.
The new CA Series amplifiers are "ideal for bars, restaurants, corporate environments, retail destinations, hotels and many other applications where background music or PA systems are needed," according to the Lab Gruppen announcement.
Lab Gruppen's Energy Star Certified CA series amplifiers have "a flexible power scheme with automatic power On/Off based on the input signal, which reduces consumption when a signal is not present," the company announcement says.
These amplifiers are convection cooled, eliminating fan noise and making the system silent for sensitive environments. They are offered in 60W, 120W and 240W, with each version available in one or two channels.
For installers, the CA series "facilitate faster installations, reduced costs and increased efficiency," according to the Lab Gruppen announcement. "The amplifiers offer flexible mounting options with included brackets for surface mounting and various rack-mounting configurations."
This adds flexibility as a single product and can be housed in a half 19-inch rack or full-rack enclosure. Connectivity is also flexible with a balanced line input and parallel mono-sum RCA. A front-panel master volume and bass/treble control makes it easy to adjust settings.
More About Lab Gruppen CA Series Amplifiers
The CA series can also incorporate a remote volume control with Lab Gruppen's CRC-V series of wall control accessories. The CRC-V is equipped with a single volume control knob, with integrated illumination, and an RJ-45 connector for use with any CAT5 or CAT6 cables in a single-gang/EU wall enclosure format.
The CA series Commercial Install amplifiers can accommodate a wide range of applications such as a single 8 Ohm speaker per channel, dual 8 Ohms speakers or a 4 Ohm load per channel, a line of 70V or 100V high-impedance speakers with transformer tappings, subwoofer and satellite set in 8 Ohms mode, two channel models driving two zones.
These compact amplifiers make a great system solution with Tannoy install loudspeakers. They are the perfect companions to Tannoy CVS and SAT/SUB speaker ranges.
"Imagine this: you have the need for extra speakers in a bar, and you have no space for racks or extensive cabling," said Håkan Alfredsson, product manager for Lab Gruppen. "The CA series amplifier can be placed almost anywhere. Connecting is simple: just plug it in and turn it up.
"Thinking a bit further, we saw a general need for simple-to-use products for all types of small to midsize commercial applications. The CA series fills a gap where Lab Gruppen has not been present until now," said Alfredsson.
CA series commercial install amplifiers will be available for shipping in October 2019.