Network All Your Legacy Audio Gear with Dante AVIO™
Audinate's Dante AVIO™ adapters let you use your legacy audio gear with any Dante connected system – delivering the interoperability, performance and scalability that only networking can bring.
Content from our Sponsor
Leave a Comment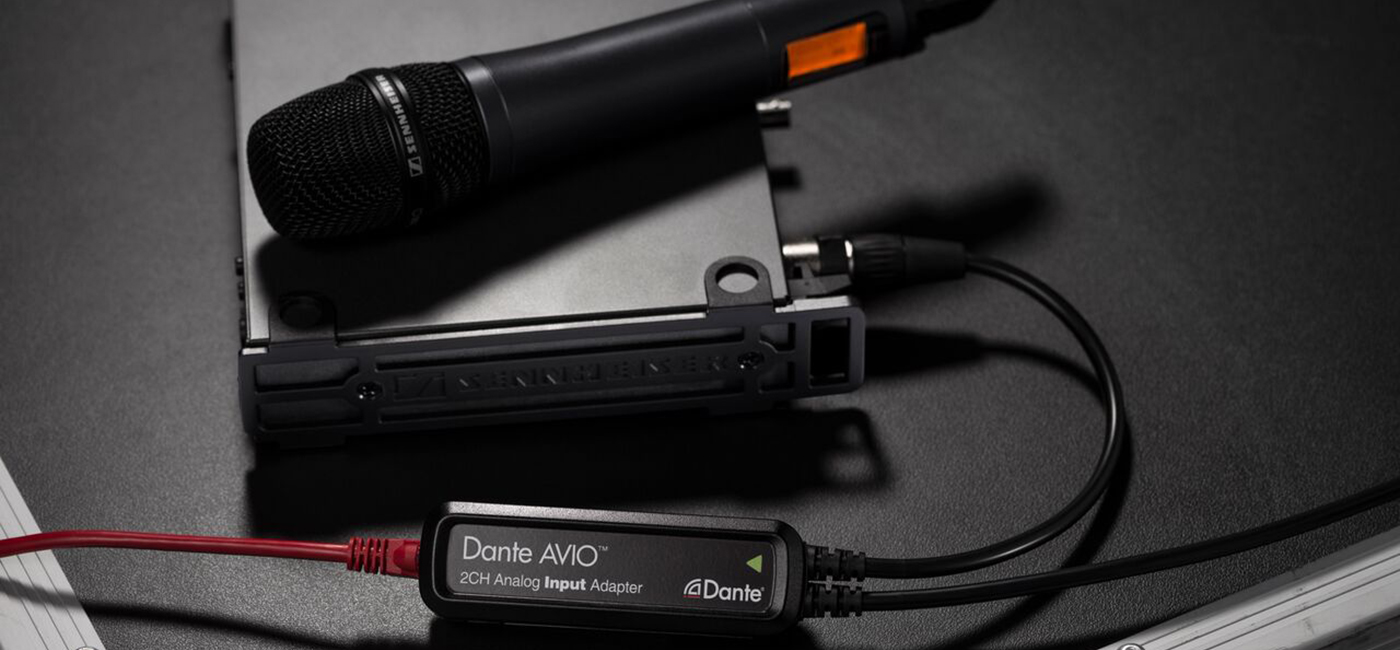 Networked AV technologies have hit an inflection point. The benefits of reduced cost and complexity – along with increased security, management and scalability – are now too valuable to ignore.
But moving to a networked AV solution doesn't mean you have to abandon the high-quality audio gear and AV solutions that have worked in the past. Instead, a simple and intelligent upgrade to legacy products can be undertaken to welcome them onto our networks alongside new solutions.
Dante AVIO adapters bring that upgrade – in a cost effective, compact and built for the road solution. Each Dante AVIO adapter acts as a completely independent Dante network device, bringing all the automation and ease of use to legacy products that have made Dante the most popular audio networking solution worldwide.
When plugged in to legacy gear, an AVIO adapter allows for traditional devices to seamlessly transmit or receive high quality, uncompressed audio streams over long distances without the noise and ground issues common to analog connections. Being part of a Dante system allows for nearly unlimited scalability while providing incredibly low latency and easy configuration.
Available for three popular types of audio I/O – analog, AES3 and USB – AVIO adapters provide key connectivity that every audio pro needs in their toolbox in today's changing AV environment. Dante AVIO adapters enable audio professionals to extend the value of their non-networked equipment, making it interoperable with any of the more than 2,000 Dante-enabled products on the market.
Dante AVIO adapters are automatically discovered and ready to use when connected. No separate power supplies are required – just use a common Power over Ethernet (PoE) switch and Dante AVIO adapters are ready to go. The USB adapter can also be powered via USB.
Each adapter delivers bit-perfect audio reproduction, super-low latency and sample-accurate synchronization across the entire network.
All Dante devices automatically discover one another, and the entire system is managed by the easy-to-use Dante Controller software on any connected PC or Mac. Most importantly, every Dante device can connect to every other Dante device – no questions asked.
Dante AVIO adapters are also fully compatible with Dante Domain Manager for IT-level security and management. AES67 is supported for connection to non-Dante networks.
Audinate designed Dante AVIO adapters to work both in in-house installations as well as on the road. Sonically-welded polycarbonate enclosures and quality hardware are used throughout, while cable assemblies are stress-tested to ensure reliable operation under grueling conditions. Toss them in your toolbox and use them, show after show.
Audinate also worked to ensure the Dante AVIO family of products is a cost-effective addition to any system or piece of gear. The goal is to ensure everyone – and every device – enjoys the benefits of Dante.
A move to the network doesn't mean a need to abandon trusted compressors, equalizers, powered loudspeakers, music players, power amplifiers, or other analog audio devices – simply adapt them to the world of audio networking with Dante AVIO.
Audio networking has never been easier or more affordable, thanks to Audinate's Dante AVIO line of products.