The SpongeBob Musical Brings the Magic of Bikini Bottom to Real Life
Custom Masque Sound audio equipment package delivers powerful results to the touring version of the Broadway hit celebrating SpongeBob SquarePants.
Leave a Comment
When SpongeBob SquarePants, an incurable optimist and earnest sea sponge, and his undersea friends (and one squirrel) decided to come up to the surface for the national tour of The SpongeBob Musical, fans rejoiced.
The task of bringing the magical sounds of Bikini Bottom to audiences across the country fell on the shoulders of sound designer Walter Trarbach, who relied on Masque Sound to deliver a custom audio equipment package capable of capturing the essence of the show and its original pop- and rock-infused songs.
Based on the popular Nickelodeon animated television series, SpongeBob SquarePants, stakes are higher than ever before as SpongeBob and all of Bikini Bottom face the total annihilation of their undersea world in this touring musical extravaganza.
Chaos erupts. Lives hang in the balance. And just when all hope seems lost, a most unexpected hero rises up and takes center stage.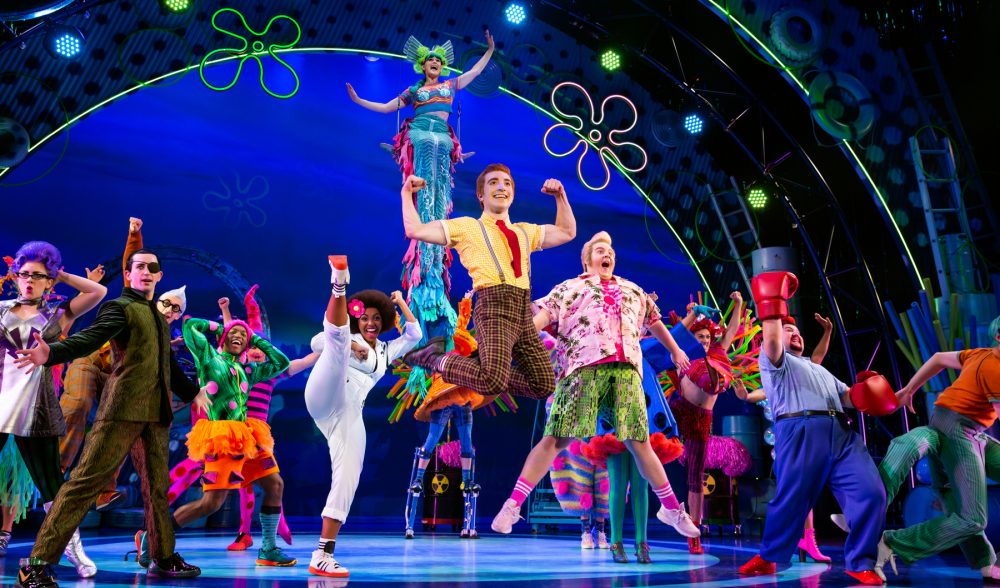 Setting the SpongeBob Musical Scene
The primary goal and number one priority for Trarbach was putting together a good functional sound system that could be installed quickly due to the show's eight-hour load schedule.
"The show itself is pretty complex in that there's a live band on stage, a foley operator on stage and about 10,000 sound effects," says Trarbach. "There's just a lot of facets to the sound of the show so making sure we had the right equipment was very important.
"When you do a tour, especially with a short load in, you need to be very cognizant of keeping it streamlined and workable for your touring engineers," he said.
Trarbach also had to consider truck space when designing the sound for the tour. He selected the DiGiCo SD7 for FOH console and the DiGiCo SD10 for the monitor console, allowing the production team to share the pre-amps between the two consoles, which take up less space on the truck.
Masque Sound supplied a Meyer Sound speaker rig that fit nicely into the allotted truck space. Trarbach and his team primarily used a combination of Meyer LEOPARDS and LINAs. They put speaker towers on each side of the stage and a center cluster position and some front fills.
They used L-Acoustics 5XTs for front fills and Meyer UPA's for stage monitors.
Masque Sound also supplied 40 channels of wireless Sennheiser 5212 transmitters with Sennheiser MKE-1 mics for the actors. For the band, Trarbach used a variety of mics including Shure mics on the drum kit, Neumann on the brass section and AKG for the reed players. The guitar and bass are direct.
The SpongeBob Musical tour is scheduled to run through July 2020 with upcoming stops including Philadelphia, Toronto, Detroit, Phoenix, Las Vegas, San Francisco, Denver, Los Angeles, St. Louis, Charlotte, Houston, Dallas, Tampa and many more.