Eventide DDL 1745 Inducted into TECnology Hall of Fame
The Eventide DDL 1745 digital delay was inducted into the TECnology Hall of Fame during a ceremony that took place at NAMM 2018.
Leave a Comment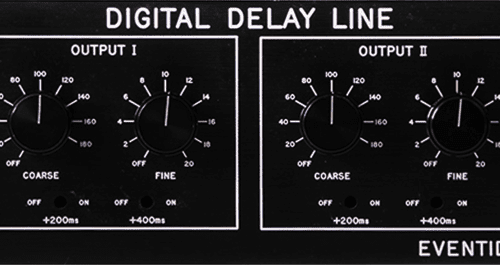 As part of a ceremony during NAMM 2018, the Eventide DDL 1745 was inducted into the TECnology Hall of Fame last month.
Originally introduced in 1971, the DDL 1745 is said to be "the recording industry's first commercially available digital delay." Eventide says the DDL 1745 offered users 2 channels of independent delay from a single input, with a delay range of zero to 200 milliseconds (ms).
Eventide points out the DDL 1745 came into the market at a price of $3,800, which would be approximately $22,000 in today's world.
"The Digital Delay Line was the first piece of digital audio equipment to make its way into recording studios," says Richard Factor, founder of Eventide.
"Until 1971, all signal processing equipment was analog. When Eventide introduced the DDL 1745, it ushered in the digital age. Today digital audio is ubiquitous. The DDL 1745 spearheaded that [digital] revolution."
Related Content: Almo Pro A/V Flexes Audio Expertise Led by These Two Resident Audiophiles 
Eventide DDL 1745 Ushers in the Age of Digital Recording
Back in the early 1970s, Eventide states that recording studios were using the DDL 1745 as a replacement for tape-based delay products that were used to "double" vocals. These tape-based delays the company explains were also used as pre-delays to feed plate reverbs, which the DDL 1745 also replaced.
Through its convenience the DDL 1745 was quickly adopted by recording studios all over the world, according to the N.J.-based manufacturer.
The DDL 1745 joins other Eventide products—the H910 and H3000 Harmonizers—were inducted into the TECnology Hall of Fame in 2007 and 2016, respectively.
The TECnology Hall of Fame has honored some of the most iconic products and solutions in the professional audio industry, including Thomas Edison's original Neumann U47 microphone, the EMT Model 140 Plate Reverb, and Dolby A-Type Noise Reduction.
In addition to its studio products, Eventide also designs and manufactures products for broadcast such as its BD600W+ Broadcast Delay, and the H9 Multi FX Pedal for live music (guitar) that includes delay, reverb, chorus, pitch and distortion options.