KanexPro SW-2X1USBC Switcher Supports USB-C and 4K
The new KanexPro SW-2X1USBC Switcher provides conference rooms and huddle rooms with a switching solution that works with today's connectivity signals.
Leave a Comment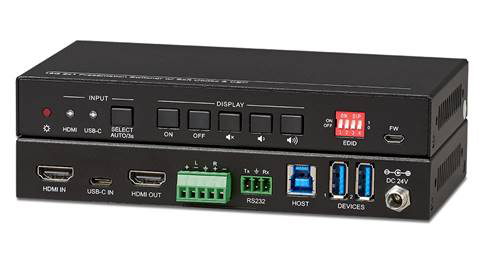 Providing Connectivity for today's generation of USB-C devices, the KanexPro SW-2X1USBC USB-C and HDMI switcher will make its debut at ISE 2019 in Amsterdam.
The show takes place during the week of Feb. 5-8. KanexPro will be exhibiting in booth number 1-N15  at the event.
KanexPro says it developed the SW-2X1USBC to meet the increasing need to connect components such as computers, tablets and other devices that incorporate USB-C as a connectivity option.
"We designed the SW-2X1USBC to fill the void for USB-C and HDMI switchers with USB 3.0," comments Kashyap Khetia, senior product marketing manager, KanexPro.
"The USB-C and HDMI switcher is built to take video conferencing to the next level with intelligent, automatic switching and high-resolution video quality. At the same time, it will also charge devices such as [Apple] MacBook Pros and the latest iPads.
"The SW-2X1USBC seamlessly switches from one source to another without compromising audio quality, video quality or [the] user experience."
KanexPro SW-2X1USBC & HDMI Switcher Compatible with 4K
Integrators can use the product in conference rooms and huddle rooms to switch between HDMI and USB-C signals.
KanexPro explains the HDMI switcher automatically switches between two sources with simultaneous audio output. The product is also capable of de-embedding digital audio to a balanced analog audio output to feed in-ceiling speakers.
According to the Brea, Calif.-based company, the switch supports resolutions as high as 4K x 2K at 60Hz, with 4:4:4 chroma subsampling, and 1080p at 60Hz.
KanexPro emphasizes the HDMI switcher also supports device extension through one type-B USB 3.0 port for host connections to a PC and a pair of type-A USB ports for HiB devices that include video-conferencing cameras, microphones or keyboards.
In addition, the KanexPro SW-2X1USBC USB-C and HDMI switcher incorporates control options that include a front-panel interface, and RS-232 to enable third-party control system applications.