L-Acoustics, AVB Serve as Backbone for Punk Band Die Toten Hosen European Tour
Leave a Comment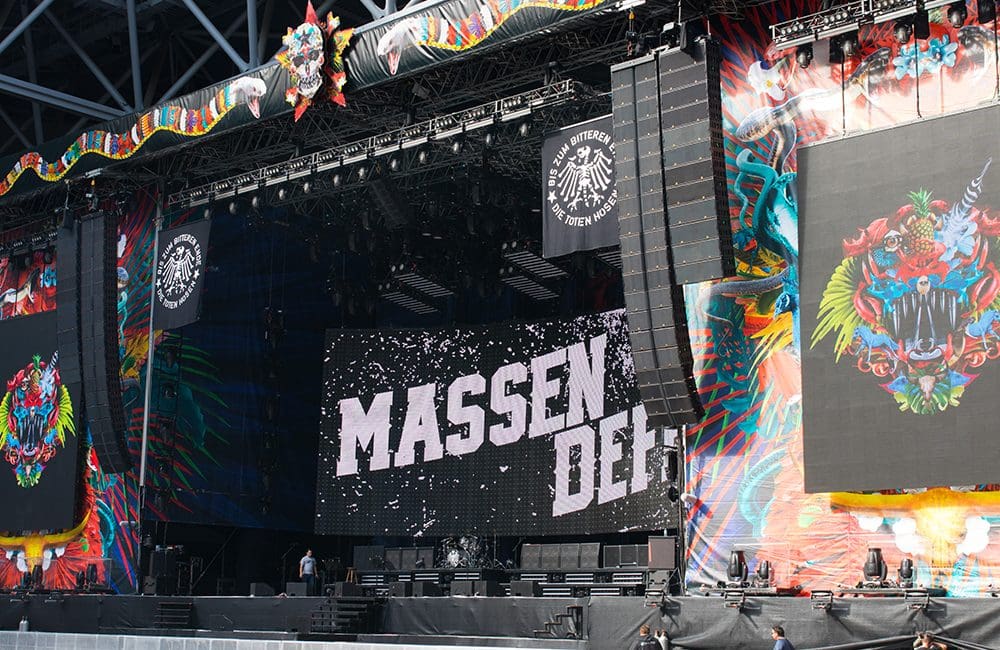 German punk rock band Die Toten Hosen delivered a consistent, eardrum-rattling audio experience during its recent European tour, thanks in part to gear from L-Acoustics and a host of AVB-enabled components brought in by Black Box Music.
For the Die Toten Hosen tour, Black Box Music needed to design a system that could easily accommodate additional delay lines, while maintaining the high levels of sound quality the band requires.
Starting with an L-Acoustics P1 processor that includes the Avnu Alliance Audio Video Bridging (AVB) format, as well as the standards-based Milan-ready protocol that provides user-determined network functions for professional media, the system combines the benefits of AVB and pro AV market-defined device capabilities.
Die Toten AVB-based System Features L-Acoustics K1/K2 Arrays
The AVB system that included 16 K1s, along with four K2s and 12 K1 SBs for the main left and right hangs and 10 K1 and six K2s for left/right side hangs and was capable of integrating into a variety of venues without compromising sound quality.
Related: L-Acoustics NAMM 2019 Exhibit to Feature L-ISA Immersive Audio Demo
Other components within the system included six Kara units located for the center hang, 28 KS28 subwoofers, 16 Kiva2 that were used for near fills and a selection of eight K1s/four K2s and six KS28 that were deployed as delays.
Powering the system were 74 LA12x amplifiers, and signal distribution was handled by a pair of P1 processors and 10 Extreme Networks AVB switches.
"[Front of house engineer] Stefan Holtz and I like new toys, but there is always the motivation to improve the quality of sound," says Guido Esch, audio technician at L-Acoustics KSE. "Therefore, AVB helps a lot because the sound of the PA is way clearer and more defined. We used LA12X and two P1s and AVB switches from Extreme Networks."
Esch notes the 18-month tour, which began in March 2017 in Cologne, Germany, started with a festival show and also featured a winter arena tour, and throughout the band's time on the road, the L-Acoustics system with AVB consistently delivered clear, powerful sound regardless of the venue.
"The band has really high expectations concerning the sound for the audience," adds Esch. "The L-Acoustics P1 and AVB configuration exceeded those expectations with the added benefit of seamless integration. We will definitely use it again."