Key to This Las Vegas Project Not Sight, But Bose Panaray Sound
The Forum Shops in Las Vegas needed something extra to capture the attention of patrons. They went with Bose Panaray & FreeSpace loudspeakers.
Leave a Comment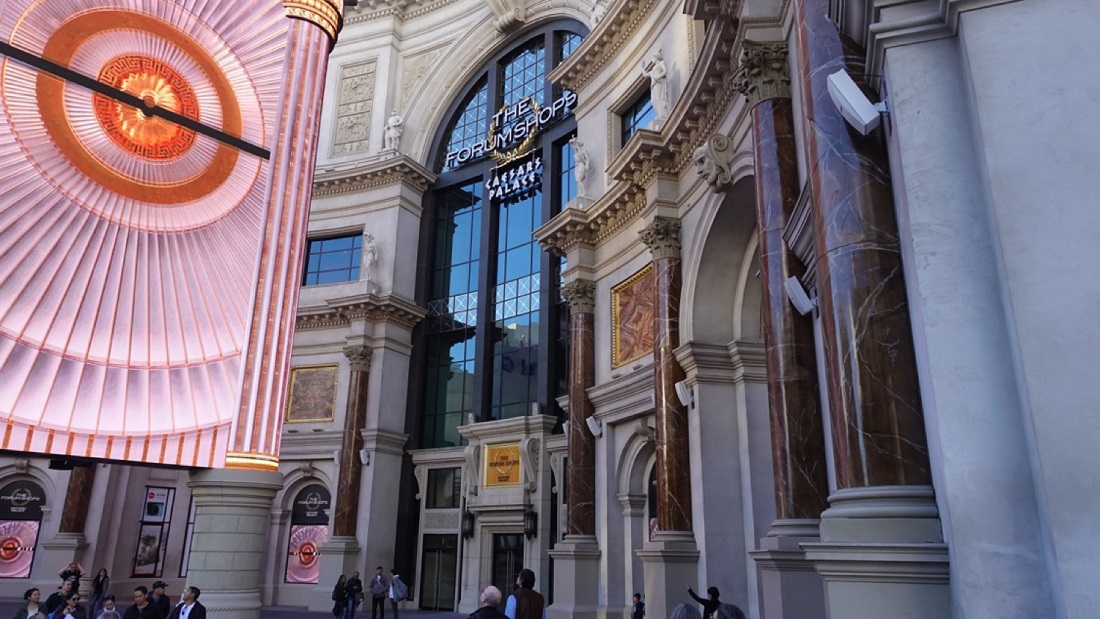 Over 17,700 pedestrians per hour walk the Las Vegas strip on any given day, passing by plenty — but The Forum Shops at Caesars Palace took a different approach with Bose Panaray and FreeSpace loudspeakers.
The 664,000-square-foot shopping mall upgraded the entrance on Las Vegas Blvd. with a massive vertical marquee, digital visuals evoking ancient Rome, and eventually a large-scale distributed audio system employing over two dozen loudspeakers from Bose Professional.
The upgrades were initiated by property owner Simon, with graphics content created  by Moment Factory with support from Acquire Digital. Simon and Moment Factory subsequently worked with Mood Media and Bose Professional to design, spec and install the audio system.
"Our team built 22 animated capsules using 3D architectural illusions to capture tourists' attention from all angles where the Marquee can be seen," says Moment Factory.
Visuals Lacking without Solid Sound
Christian L'Heureux, Producer at Moment Factory, says, the visual elements showed promise early on.
Related: Vegas Golden Knights On-Ice Projection Shows Names of 58 Killed During Las Vegas Shooting
"Immediately, we had visitors stopping to look and take pictures, and that increased traffic to The Forum Shops. But we wanted a more immersive experience, so we added a sound layer to the project – that's where Mood Media and Bose came in."
Bose Panaray and FreeSpace Loudspeakers Setup
The system includes:
16 Bose Panaray 402 Series IV loudspeakers in white
4 additional Bose Panaray 402 Series IV loudspeakers in black
4 MB12 WR weather-resistant modular bass loudspeakers
Several FreeSpace 360P Series II full-range environmental loudspeakers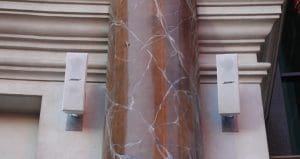 Power is handled by four Bose PowerMatch PM8500N configurable amplifiers, while processing is handled by a Bose ControlSpace ESP-880 engineered sound processor with Ethernet and a Bose ControlSpace CC-64 control center.
How It Plays
"The Forum Shopssystem is simple yet comprehensive in terms of its coverage," says Craig Breigle, Mood's Director of Retail and Development System Sales.
"The Bose Panaray 402's in white are arranged on the building's façade, and the 402's in black are on the bottom of the marquee. The MB12 subwoofers are up inside the marquee, not visible, and they project the bass frequencies down and out through the bottom of the marquee."
"The FreeSpace loudspeakers are in the landscape beds in-ground along the sidewalk, located between the show area and Las Vegas Boulevard."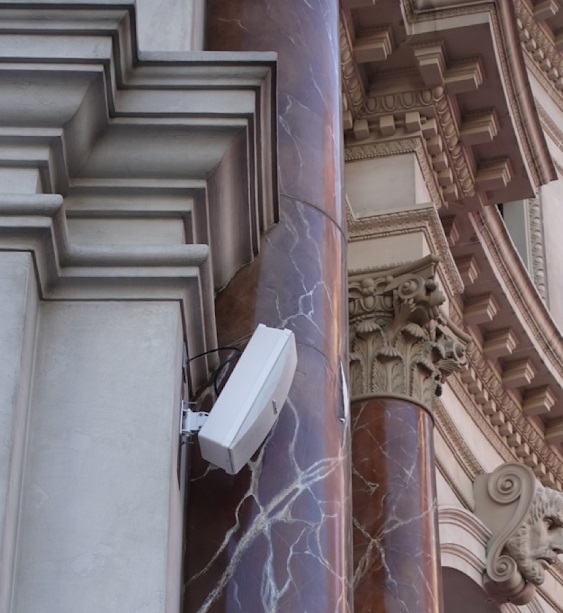 Results: They Want It Louder
"Everyone at The Forum Shops is very happy," says Breigle.
"A manager at Simon was helping us get the final elements set up that night, and I asked him about implementing some of the scheduling features of the system, to maybe automatically turn it down during the wee hours. He told me, 'No, I'd like to turn it up then, actually. This is Vegas!'