Here's Why the Extron SF 10C SUB In-Ceiling Subwoofer Won a CI BEST Award
Extron SF 10C SUB in-ceiling subwoofer stands out from the competition because of many of the things it does—and doesn't do.
Leave a Comment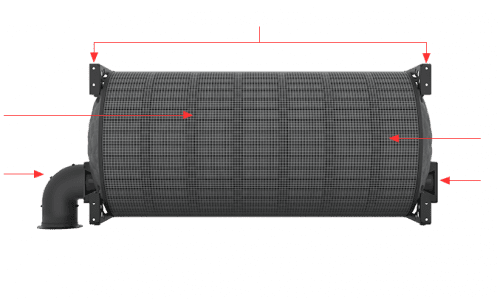 Extron hasn't exhibited at InfoComm shows in a few years, but it was tough to ignore the capabilities of the SF 10C SUB in-ceiling subwoofer when we were handing out this year's CI BEST (Best Electronics Systems Technologies) Awards.
The SF 10C SUB picked up the hardware in the installed loudspeakers and subwoofers category for a product that "complements the Extron range of ceiling and pendant speakers by extending the low frequency response in music and high-performance audio applications," according to the company announcement.
"Designed to be suspended above the ceiling structure, the unique design of the plenum-rated SF 10C SUB allows it to be hidden from view and decoupled from the ceiling grid to greatly reduce rattling," according to the Extron announcement.
The 10-inch (254 mm) low-frequency driver has 800 watts continuous program handling capacity from a direct 8-ohm connection. The 4th order bandpass design and composite in-ceiling enclosure achieves low frequency extension down to 25 Hz with high transient response and low resonance.
The SF 10C SUB can also be installed free standing with the optional SMK F SF 10C floor standing kit.
More About the Extron SF 10C SUB
The SF 10C SUB extends the low frequency range of any ceiling or program speaker system down to 25 Hz. In a system that rolls off at 100 Hz, the SF 10C SUB can add two octaves of powerful bass without distortion.
The plenum-rated SF 10C SUB is suspended in the airspace above the ceiling grid. The included ceiling speaker grille and C-ring provide everything necessary for a finished installation.
The 10-inch driver of the SF 10C SUB, with its 800-watt program power handling and 4th order bandpass enclosure design, provide room filling bass. The direct 8-ohm connection to a power amplifier avoids the low frequency rolloff and distortion associated with high impedance connections through a transformer.
In a 70/100 volt system, the addition of an 8 ohm SF 10C SUB will eliminate the need to push lower frequencies through the ceiling speaker transformers.