Lowell ES In Ceiling Loudspeakers Speakers Offer a Choice of Sizes and Other Options
Lowell Manufacturing introduces a new line of in ceiling loudspeakers that provide a choice of driver sizes to help address a range of audio applications.
Leave a Comment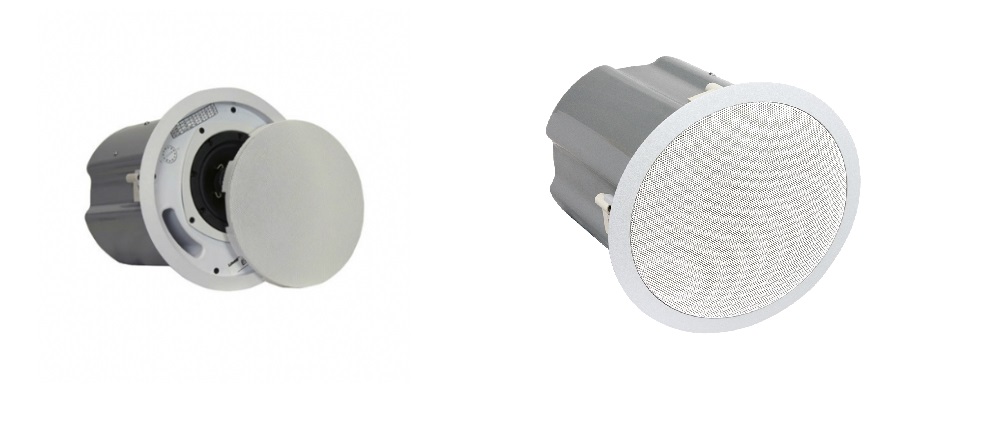 Lowell Manufacturing has increased the selection of audio products it offers through the addition of the new ES series of in ceiling loudspeakers.
The latest products are "containerized in-ceiling" speakers that are available in a choice of four models. According to the Midwestern company, the ES family of loudspeakers employ coaxial driver array, and they were developed to install quickly and easily.
"The ES [line of speakers] continue to be a popular style for our customer base," notes Jeff Garstick, who handles business development for Lowell Manufacturing. "We're committed to providing more driver selections in that easy-install format to have a more complete lineup of speakers with similar aesthetics."
Lowell ES In Ceiling Loudspeakers: Install Options
Lowell says among the four models are a 5.25-inch coaxial loudspeaker, an 8-inch subwoofer, an 8-inch coaxial speaker, and an 8-inch coaxial compression driver loudspeaker.
All of the eight-inch models incorporate transformers with 120-watt transformer taps to provide maximum power.
The speakers were developed to provide users with loudspeakers that offer full-frequency response capabilities, and the ability to accurately reproduce music and speech with high levels of intelligibility.
Related: 7 of the Best Commercial Outdoor Speakers in 2019
Lowell emphasizes the speakers can be used to address commercial installations such as retail, industrial, institutional and residential installation environments.
The company also points out the speakers come with factory-mounted enclosures that employ reversible mounting dogs and press-fit grilles with scrim and pull tools. The products are capable of installing into drywall, wood and tile ceilings, and are available for order now.
Here is the newly introduced Lowell Manufacturing ES in ceiling loudspeakers product line:
8-inch coaxial driver Model ES-82T
8-inch coaxial compression driver Model ES-82CDT
8-inch subwoofer Model ES-8TSUB
5 1/4-inch coaxial driver Model ES-52T
This story premiered originally on our sister site, CE Pro.
If you enjoyed this article and want to receive more valuable industry content like this, click here to sign up for our digital newsletters!