Stage Audio Works Celebrates First d&b Install in Zimbabwe Church
Celebration Church International, Harare, received a comprehensive audio systems upgrade from Stage Audio Works.
Leave a Comment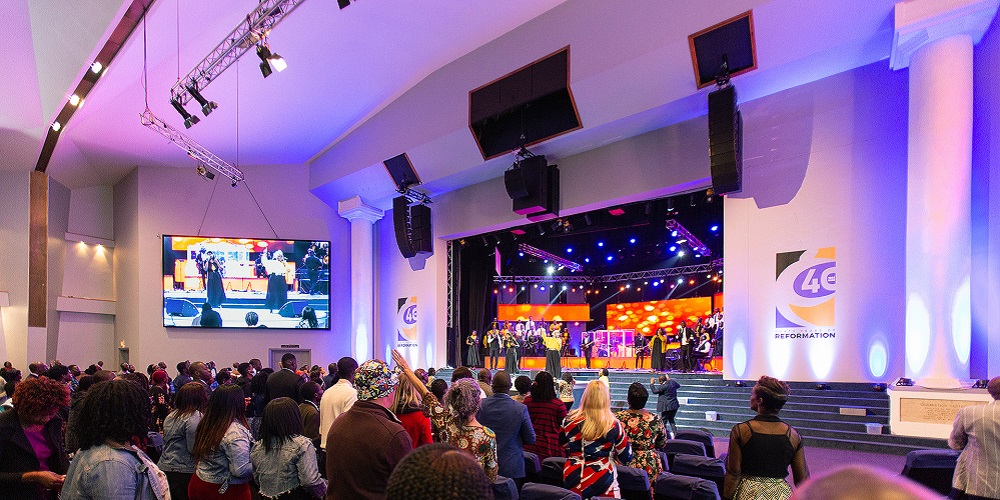 Celebration Ministries is a Christian organization situated in Zimbabwe and across Southern Africa. Founded in 1982 by Pastors Tom and Bonnie Deuschle with just six people in their living room, today, Celebration Ministries numbers over 80 churches worldwide. The headquarters of Celebration Church International is a magnificent building in Borrowdale, Harare, called Celebration Centre. Opened in 2004 after a marathon 14-year build process, Celebration Centre is now a significant Zimbabwean landmark. South Africa-based Stage Audio Works recently completed a comprehensive audio systems upgrade for the church's main 3,800-seat auditorium based on a d&b PA system and Yamaha consoles with Dante networking.
Need for Upgrade
The church took the decision to upgrade the audio systems in 2019 just before the COVID-19 pandemic. Pastor Bonnie Deuschle, who leads the praise and worship teams, and driving force behind Celebration's 300-voice choir, became increasingly frustrated by the limitations of the old system. Consequently, they decided to upgrade the system. However, as Pastor Tom explains, the 'who' was every bit as important as the 'what.'
"We looked at three providers," he recalls. "Ultimately, we chose Stage Audio Works not because of price — overall they were more expensive than the others — but because of their willingness to work with us and solve problems. If I could boil it down to one thing, it would be the relationship. The relationship was more important to Stage Audio Works than the transaction, and we really appreciate that."
Also Read: ASI Audio's 3DME System Uplifts Moody Church's Vocalists
Amplifying the Sound Experience
Alongside this, the technology also had to work and provide the experience that Celebration Church was looking for, says Stage Audio Works' technical director, Nathan Ihlenfeldt. He narrates, "The brief was to provide a high-end audio system that covers all the seats in the main auditorium. One of the biggest considerations was the choir which plays an extremely important part of the worship at Celebration Church. This informed a lot of our design decisions. The main challenge was to provide sufficient gain before feedback for the choir, particularly as the music at Celebration is quite loud and contemporary, but with a significant choral element which is typically associated with softer musical genres."
Ihlenfeldt dealt with that by specifying d&b Y-series as L/R main arrays with an A-series center array. The team flew in all the subs, with an end-fire sub array of 21Ss in the center and flown arrays of 27As behind the main L/R arrays. "We needed a center array because during worship services there tends to be a lot of people gathering right in front of the stage, so the center array acts as a flown downfill for that specific area. It also helps us gain more accurate vocal and speech localization," he notes.
"We opted for A-Series because we didn't need to cover the same distance as the main arrays, and a traditional line array solution rather than the augmented array would have required more boxes to do the same job. A-Series offered us a visually discreet solution that sits just above the proscenium and doesn't interfere with sight lines," Ihlenfeldt adds. Supplementing the main system are 44S front fills embedded into the stairs at the front of the stage, Y7P point source balcony delays and 5S under-balcony delays.
"We were allowed to choose the right microphones for the choir, and we landed on high quality Neumann microphones for this. The balance of microphones for the band are Sennheiser. The cardioid subs are flown to optimize the directivity of the PA system and keep energy off the stage and away from all of those highly sensitive microphones!" observes Ihlenfeldt. "We also initiated a move away from wedges to Livemix in-ear monitoring systems where possible to help keep bleed off the stage."
Bringing Yamaha In
Another key element of the audio system upgrade is the provision of three Yamaha CL3 consoles for FoH, monitors and broadcast respectively. "We especially wanted to provide a solution for Celebration to have a quality live stream," explains Ihlenfeldt. "Until now they'd never had the infrastructure to support this, so we provided a dedicated broadcast console."
Per a statement, Yamaha is the go-to console brand for Stage Audio Works. However, the reasons are far more plenty than just being the local distributor. "Even if we didn't distribute them, we'd use them anyway simply because they are absolutely rock-solid. Even in remote areas with dubious power supply, they just work!" he remarks. "For stability, reliability and ease of use, they tick all the boxes."
Ticking All Boxes
Celebration Church's technical manager, Harris Machingura, expresses his delight with the system upgrade by Stage Audio Works. "It makes life easy both for the technical staff and the choir," he says. "Things flow effortlessly now. Without the worry of the issues faced previously, the technical staff have more creative space to explore new things. It's made a big difference to our worship. We also know that we can rely on Stage Audio Works for excellent support which is very important."
Pastor Tom agrees. "Stage Audio Works have outdone themselves, and we're delighted with everything so far — their timeliness, their willingness to take responsibility and their desire to make our experience a good experience."
If you enjoyed this article and want to receive more valuable industry content like this, click here to sign up for our digital newsletters!