Court Grants Request to Add New ClearOne Patent to Case Against Shure
U.S. District Court in Illinois granted a request for the ClearOne patent infringement case against Shure related to beamforming mic conferencing system.
Leave a Comment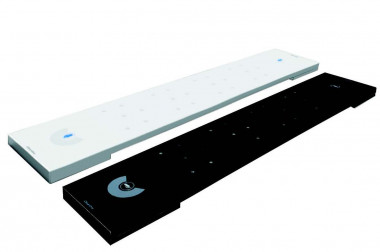 The U.S. District Court for the Northern District of Illinois recently granted ClearOne's request to add a claim of infringement of their new patent, U.S. Patent No. 9,813,806 ("the '806 Patent"), to its existing ClearOne lawsuit against Shure Inc.
The '806 Patent, entitled 'Integrated Beamforming Microphone Array and Ceiling or Wall Tile,' "describes, among other things, a beamforming microphone array integrated into a ceiling-tile form that is designed to be used in a drop ceiling," according to the ClearOne lawsuit announcement.
ClearOne alleges Shure "is infringing the '806 Patent by making, using, selling, and offering to sell the Shure MXA910 beamforming microphone ceiling array product," according to the lawsuit.
"These innovations are the product of extensive research and development that is often rewarded through the grant of strong intellectual property rights, including patents," ClearOne CEO Zee Hakimoglu said in the announcement.
"Shure is using a ClearOne patent without permission, forcing us to defend our valuable intellectual property in court," he says.
ClearOne's existing lawsuit against Shure also alleges that Shure, itself and jointly with others, infringes ClearOne's U.S. Patent No. 9,635,186 ("the '186 Patent"). Although Shure recently added the claim that the '186 Patent was unenforceable, ClearOne rejects this claim and "will vigorously defend the '186 Patent and prosecute Shure's infringement," according to the announcement.
The Court held a hearing Feb. 14 on ClearOne's request for preliminary injunctive relief, seeking, among other things, "to prevent Shure from selling, or encouraging others to use, the Shure MXA910 and the Shure P300 audio conferencing processor in certain configurations that infringe the '186 ClearOne Patent," according to court records.
A preliminary injunction is extraordinary relief and requires, among other things, a clear showing that the party seeking relief is at risk of irreparable harm. The Court is expected to issue its order in approximately two weeks.
In its original lawsuit, ClearOne company officials say they developed a beamforming microphone conferencing system, which uses a small beamforming array to replace up to a dozen individual mics, in 2010.
If you enjoyed this article and want to receive more valuable industry content like this, click here to sign up for our digital newsletters!