Lower MSRP Expands Adoption of ClearOne Wireless Microphones
ClearOne claims recent lower cost MSRP structure has led to expanding market adoption of wireless microphones.
Leave a Comment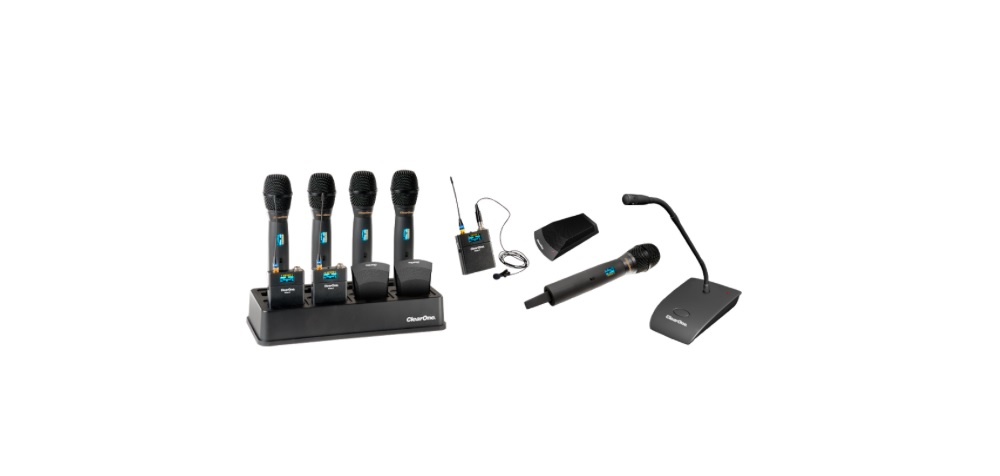 Integration firms always embrace a good reason to go back to their customers and discuss logical upgrades. ClearOne says it's providing just that. It recently offered lower-cost manufacturer suggested retail price (MSRP) for its WS800 and DIALOG 20 professional wireless microphones.
The company claims that the lower MSRP has expanded the market for wireless microphones and created a logical upgrade path for integrators to pursue with their customers.
More on ClearOne Wireless Microphones (via press release):
Leveraging its ability to provide AV integrators with complete end-to-end system solutions that deliver the highest level of performance value, ClearOne® (NASDAQ: CLRO), the leading global provider of audio and visual communications solutions, said that its recent, lower cost Manufacturer Suggested Retail Price (MSRP) structure for its WS800 and DIALOG® 20 professional wireless microphones is making it easier than ever for integrators to convince customers to both upgrade their wired microphones with new, state of the art wireless products and help integrators to specify wireless microphones a standard component in many more new projects.

According to ClearOne Sales Director of Wireless Microphone Solutions, North and Central America John Nygren, the MSRP pricing structure is 20% lower than the previous pricing and it is designed to help system integrators provide their customers with the most complete conferencing and sound reinforcement solutions.

"Every customer has a budget that they have to stay within," he explained today.

"All too often the budget is exhausted by the time the discussion turns to replacing wired microphones with wireless microphones, which are an increasingly important component of any complete, modern conferencing and collaboration system."
"Our recently introduced pricing structure makes it possible for systems integrators to continue the conversation all the way through to wireless microphones," Nygren says.
"With this lower pricing structure, more projects can now include a professional AV installation wireless microphone system — and still remain within the customer's budget. We are effectively creating a 'win-win' situation for the AV practitioners and the end user customers."