Sennheiser Introduces TeamConnect Intelligent Speaker for Teams Rooms
Sennheiser introduced TeamConnect Intelligent Speaker, known as TC ISP, as its new Microsoft Teams-certified unified communications solution.
Leave a Comment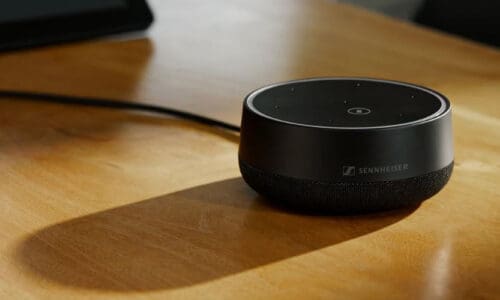 Sennheiser, the German-based manufacturer of headphones, microphones and wireless transmission systems couldn't wait for ISE 2022 in May to share what it's been working on to help shape the office of the future — the company introduced its new TeamConnect Intelligent Speaker (TC ISP) at a virtual webinar today.
According to Sennheiser, the new TC ISP expands on its TeamConnect family, built on a foundation of innovation and beamforming technology with the integration of Microsoft Teams.
The device is designed for small to medium sized rooms of up to ten people, whether participants join remotely or are in the room. It features an omnidirectional speaker with a 3.5 meter radius and seven beamforming microphones, ensuring perfect speech intelligibility. Users can connect the device to a laptop or Microsoft Teams display in a meeting room.
The speaker also transcribes the meeting in real-time while identifying up to ten different voices in the room. The TC ISP features one button for mute or unmute, without any clicking noise and an LED ring to indicate whether the device is on mute or unmuted, or interacting with Cortana. The Microsoft Cortana voice intelligence allows users to control the mic verbally for video conferencing and team meetings.
For remote participants or those who are hard of hearing, live transcription gives them a new seat at the table for immersive and supportive collaboration – all without any drawbacks or limitations, explains Sennheiser. The corresponding transcription documents are available immediately after the meeting.
"Sennheiser is known for our industry-leading TeamConnect Ceiling 2 microphone with TruVoicelift," comments Anne Guhn, product manager at Sennheiser. "This addition to our TeamConnect family offers an opportunity for us to expand into a different sized meeting room, at a price point that some might not expect from Sennheiser."
Addressing Privacy Concerns
When it comes to the voice and transcribed data, a Microsoft spokesperson at the webinar says [Microsoft] does not control or use the meeting data, the data stays with the customer.
Users can opt-in to store audio biometrics in the cloud, in compliance with Microsoft Office 365. System Administrators can control by policy, what makes sense for their organization and geography.
Currently, the device is only supported in English for U.S, Australia, and India. As a global first-company, Sennheiser is looking forward to expanding the languages in the coming months.
A recording of today's product introduction can be found by visiting  sennheiser.com/business-events.